Tournament schedule
There is an event among numerous weekly tournaments that are held on slot machines at Max Casino, which is dedicated to the fight of detectives against criminals. This is the slot tournament Criminals and Detectives, which is arranged on three models from the company Playtech: Cops N 'Bandits, The Sopranos and the Pink Panther.
It is possible to win up to five hundred loyalty program points of Max Casino in this exciting competition. You need neither pay an entry fee, nor take any additional steps.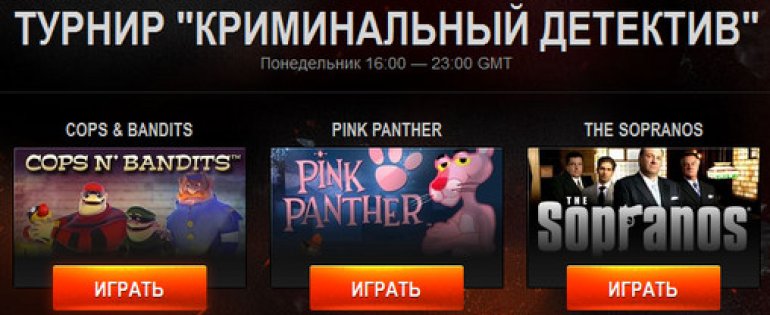 Timetable
The Criminals and Detectives Tournament on slot machines is held every Monday at 4.00 p.m. GMT and ends at 11.00 p.m. GMT.
How to take part in the tournament
Every customer of Max Casino, who is willing to play slot machines on real bets, can participate in the tournament. The player should just play the above-mentioned video slots on any bets during the competition. Thus, it is possible to make bets on one of the models or on all of them one by one.
When the client plays fifty spins, it means that he qualifies and now he is competing for the prize pool. It is not necessary to apply to the participation in the Criminals and Detectives Tournament. Follow the current achievements of participants in the special table on the site of Max Casino.
Prize pool
Ten players, who receive the highest total payments for fifty qualifying spins, will be announced as winners of the contest. Winners are awarded comp points:
the 1st place - 500 points
the 2nd place - 300 points
the 3rd place - 150 points
the 4th place - 100 points
the 5th place - 80 points
the 6th place - 70 points
the 7th place - 50 points
the 8th place - 30 points
the 9th place - 20 points
the 10th place - 10 points
Prizes are distributed as soon as possible after the end of the tournament. How to dispose of comp points, the winners decide themselves. Please visit the website of Max Casino to learn the rules of using these points.
Conclusion
Slot tournaments of Max Casino, including Criminals and Detectives, provide gamblers with an opportunity to compete for prize money by playing favorite slot machines from Playtech. In fact, gamblers risk only their bets and can receive payments. But at the same time, if you succeed in becoming a winner, you will be rewarded with additional prizes in the form of comp points. So make conclusions yourself.
Tell us about your opinion concerning the Criminals and Detectives Tournament and about your personal achievements in this contest. Let us share your joy with you.