Tournament schedule
The online Max Casino constantly holds exciting tournaments for clients, where points of the loyalty program are drawn. One such event is a contest called Friday Party Tonight. It is a regular slot tournament, which is conducted on a few slot machines dedicated to amazing parties. We are talking about the following video slots from the company Microgaming: Party Line, Jazz Club, Samba Brazil, A Night Out and Rock'N'Roller.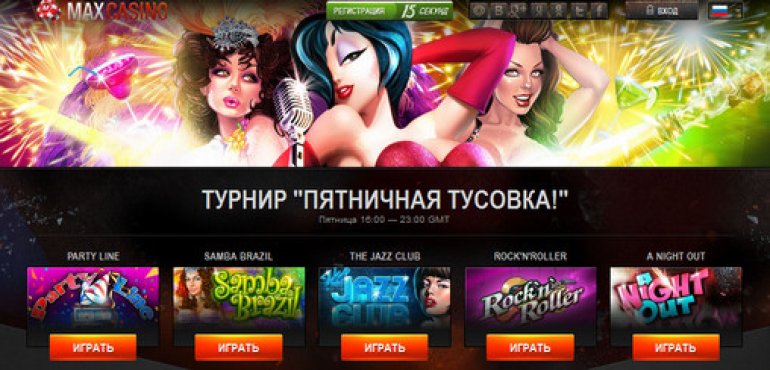 Timetable
It is clear according to the name of the tournament that it is held on Fridays from 4.00 p.m. to 11.00 p.m. GMT.
How to participate in the tournament
Every customer of Max Casino, who has a valid account for playing on real bets, can become a participant of the Friday Party Tonight Tournament. Moreover, it is very easy. If you have such a desire, you just need to make fifty spins on one or several of the above-mentioned slot machines during the Friday Party Tonight Tournament.
Gamblers have to play on real bets (training rounds are not taken into consideration). Winners of the Friday Party Tonight Tournament will be determined based on the total amount of winnings during the qualifying rounds.
Thus, participation in the Friday Party Tonight Tournament occurs automatically as soon as you start playing the suitable slots.
Prize pool
Prize-winners of the Friday Party Tonight Tournament are ten lucky participants, who will show the best results during fifty spins. They will receive payments in the form of comp points of the loyalty program, which then can be redeemed for real money according to the established rates. Winnings are accrued according to the following scheme:
the 1st place - 500 points
the 2nd place - 300 points
the 3rd place - 150 points
the 4th place - 100 points
the 5th place - 80 points
the 6th place - 70 points
the 7th place - 50 points
the 8th place - 30 points
the 9th place - 20 points
the 10th place - 10 points
Prizes are accrued to winners of the contest shortly after the end of the tournament. Directly during the participation in this event, you can monitor the current results in the special table on the website of Max Casino.
Rules
Detailed rules for the Friday Party Tonight Tournament, as well as the conditions for obtaining and redeeming comp points are explained in the user agreement of Max Casino. Familiarize yourself with them before starting the game.
Hurry up to take part in the Friday Party Tonight Tournament. It has been held at Max Casino for the past few weeks. Do not forget to share your personal achievements with us.