Mobile casino gambling
It is impossible to imagine a modern person without a smartphone or tablet with Internet access. And it is quite natural that today's mobile casinos and gambling of various genres are very popular. On the Casinoz portal, you will find a list with the description of the best mobile casino games that can be run on different devices. You would not need a computer to play, as all cell phones and tablets running any version of Android, iOS or Windows are suitable.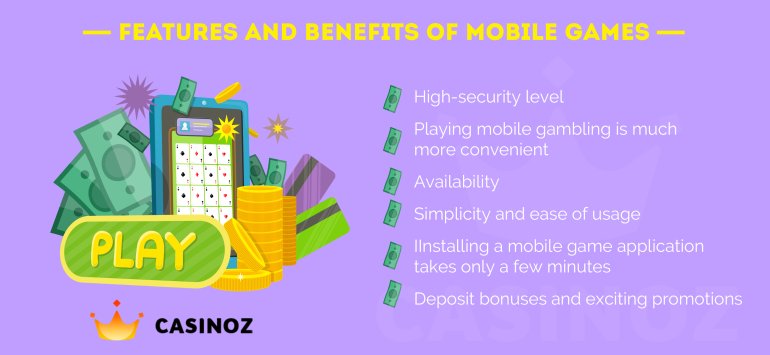 Modern mobile devices performance is quite high, so the games have excellent graphics, dynamism, and relatively large touch screens provide comfortable and convenient control.
Features and benefits of mobile games
High-security level. Serious online casinos always care about the safety of your data and money.
Playing mobile gambling is much more convenient than sitting at a computer or standing behind a gaming terminal in some underground "casino."
Availability. You can enjoy the game anywhere in the world, the only requirement – the Internet access availability.
Simplicity and ease of usage. Even a novice player will be able to deal with the mobile game.
Installing a mobile game application on Android, iOs or Windows takes only a few minutes and usually does not cause any difficulties;
Most mobile casinos offer their clients Deposit bonuses and exciting promotions, allowing you to play for free and for real money.
Mobile games review
Casinoz invites you to get acquainted with the reviews of all new interesting mobile gambling games that can carry you away. In the catalog on our website you will find information about these entertaining online games:
Roulette;
Slots and slot machines;
Card games: blackjack, poker, baccarat;
Video poker;
Craps.;
Lotteries and instant lotteries.
As well as online casino reviews, where you can play any of the games, customer reviews and ratings, game rules, recommendations, tips, strategies, and other useful articles.
How to start playing mobile browser online games
Many online casinos provide their customers with downloadable versions of games, while others offer to play the browser version.
To play your favorite game on a smartphone or tablet, you need to follow a few steps:
Select a game from the list on our website;
Click «play for money» or «Play for free»;
You will be redirected to a page where you can download and install the game on your device or run the browser version of the game;
You can also choose a mobile casino from the list at the page bottom with the game overview.
If you have a stable Internet connection, the whole process will take a few minutes. Turn your smartphone into a mobile gaming machine and enjoy the game at any time.