The Partypoker Grand Prix Poker Tour (GPPT) with the $250,000 guaranteed prize pool took place last weekend at the national Scottish football stadium Hampden Park in Glasgow. Drew Kirkland became the winner of this competition. In addition to the title, he obtained 41 thousand dollars as an award.
At the beginning of Day 2 (May 15), there were 190 participants. Each of them was provided with a minimum guaranteed prize of 330 USD, including a $109 ticket to the next GPPT Tournament. As soon as gaming sessions of Day 2 came to an end eight hours later, nine participants of the final round were selected. Each of them could reckon upon the guaranteed amount, reaching at least $3,000.
John Burns was the first eliminated player. His ace-queen was inferior to a Kirkland's ace-king. Burns' 9th –place finish allowed him to win 3,000 dollars. He was followed by Anthony Gray (an 8th-place finish and $4,000), who had lost his battle with Paul McTaggart. A Chris Bartlett's ace-queen was beaten by a Ryan Pearson's pair of tens. Bartlett took the 7th place and obtained 5,500 dollars. Mark Armstrong was the next eliminated gambler (a 6th-place finish and $7,000.) He was defeated by McTaggart, who could easily become a favorite among the remaining finalists, but he left the table immediately after his last victim. Playing with Jonathan Gray, another gifted Scottish player, McTaggart constantly raised during his last hand. The flop brought a jack, three, and deuce. A nine appeared on the turn. A three showed up on the river. So, McTaggart had a queen-jack, and Gray could boast a pair of aces. McTaggart occupied the 5th position in the final standings and received 9,250 dollars.
The 4th place and 12,250 dollars were earned by Lauris Kulins. His king-nine was beaten by a Gray's ace-jack. A little later, a Gray's pair of sevens was higher in rank than a Pearson's king of hearts and ace. Pearson was forced to abandon the tournament with a 3rd-place finish. He received 16,130 dollars.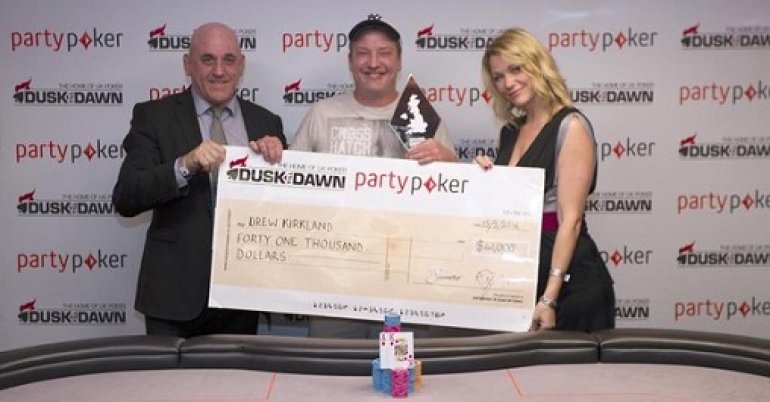 At the beginning of the heads-up round Gray had 22.5 million chips compared to Kirkland's 11.7 million. However, the advantage moved to Kirkland, when a Gray's pair of sixes was beaten by his ace-king. The fate of the tournament was determined in the very similar hand. Gray had a pair of eights, and a Kirkland's hand consisted of a king and ace of diamonds. Jack, six, and seven appeared on the flop. The turn included a king, and the river brought a four. Therefore, Gray took the second place and 25 thousand dollars.