Jim Murren, Chairman and CEO of MGM Resorts International, always tried to find a way to surprise visitors of his gambling houses. In addition to the expected high-quality gambling-related offers, restaurants, and shops, customers of MGM Resorts in Las Vegas have a great opportunity to get aesthetic pleasure from visiting resort complexes. According to Jim Murray, art can create the magical atmosphere of Las Vegas and inspire the visitors to return again and again.
According to the principle of developing and spreading the culture, a sculpture called Bliss Dance was erected by Marco Cochrane in the park of MGM Resorts. Its height is 40 feet. The statue is located in the western part of Las Vegas and links three establishments of MGM Resort: Monte Carlo, New York New York, and T-Mobile Arena.
The sculpture weighs over 7,500 pounds. During the day the dancing woman's skin made of steel mesh glints in the sun, and at night it is illuminated by 3,000 colored LED lights. The statue, whose price is over two million dollars, is a symbol of female power and self-confidence.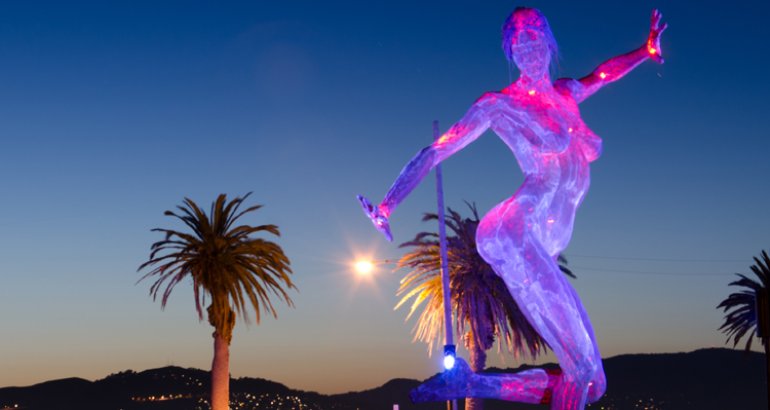 "Bliss Dance" is an exhibit item of the MGM's collection. The commitment of the company to art has no analogues in the gambling world. Confirming the Murray's hypothesis, the sculpture has attracted the mass media and casino visitors. The CEO of MGM Resorts International said:
"This is our treasure that attracts more and more customers to our establishment. This makes our business more corporate and broadens the mental outlook."
The conception of uniting the world of art and the gambling industry by MGM Resorts dates back to 2004. It was initiated by the opening of CityCenter. At least 15 works of art are located in various gambling houses of the operator. Each of them costs at least one million dollars.