A new research has found where the most addicted gamblers are residing. The largest number of addicted gamblers was found in Nevada and South Dakota.
The researchers, financially supported by WalletHub, compared the situation in all the U.S. states, using two categories of criteria. First of all, "a state's friendly attitude towards gambling" was assessed. It included accessibility of gambling (casinos, lotteries, bookmakers, sports betting) and opportunity to take part in illegal gambling activities.
"Gambling-related problems and treatment of gambling addiction" served as the second criterion. The number of gamblers diagnosed with problem gambling, accessibility of treatment, and the number of arrests associated with gambling were determined in the states.
Nevada scored 57 points. So, it is considered to be the heaviest gambling state. It left South Dakota behind with 56.62 points. In both states, there is the largest number of casinos and slot machines per capita. In addition, the highest number of lottery tickets is sold in South Dakota, while Nevada has no state lottery.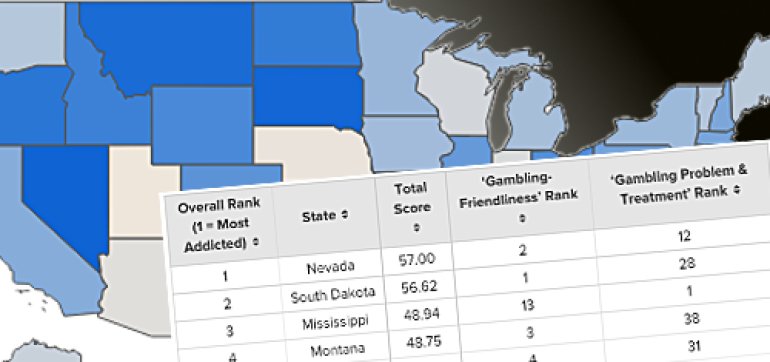 Both leading states indicate the direct correlation between accessibility of gambling and casinos. Nevertheless, despite the fact that gambling houses are prohibited in Hawaii, this state occupies the 27th position due to the large number of
addicted residents
and lack of treatment for gamblers.
Gambling is also illegal in Utah, but the state managed to avoid the fate of Hawaii. Utah was found to be the state with the lowest level of gambling-related arrests. One is tempted to ask a question: Is this caused by fighting illegal gambling in Utah or do the police of Hawaii arrest illegal gamblers more actively?
Minnesota and Mississippi earned the dubious honor of receiving the first place for the highest number of adult residents with gambling-related disorders. They are followed by Louisiana, New Jersey, and Ohio.
The last place in the rating is occupied by Florida, where the lowest level of gambling-related problems is observed.