It is believed that no one reads the introduction. Thus, we will not test your patience and immediately proceed to the essence of our publication.
The article covers the most interesting and exciting slot machines about the representatives of the criminal world. Pickpockets, robbers of banks and museums, thugs, hired killers, bootleggers and even godfathers of the Italian Mafia are the heroes of video slots, which will be discussed in this review.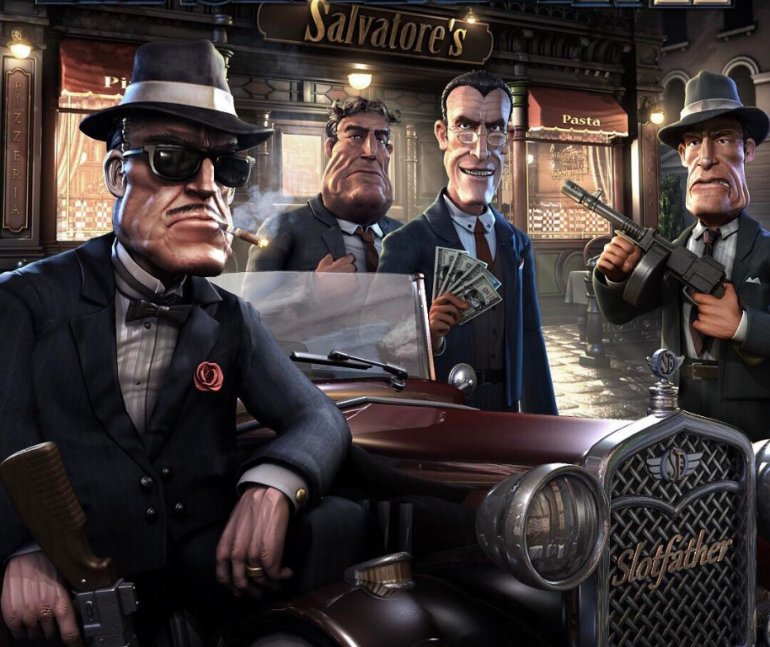 We selected the best models of leading software developers. Your feedback and opinions of our experts were taken into account while compiling this list. The games are enumerated randomly, since our list cannot serve as rankings.
The famous criminal slots inspired by the legendary Godfather are among the best models in the extensive portfolio of Betsoft. They are among the most popular mafia slots. The models are characterized by their incomparable 3D graphics with magnificent animations, colorful characters, and unusual gameplay features.
Detailed information on the first and second versions of SlotFather can be received from our reviews if you follow the links. Users should try their luck playing a round on equal chances, which is designed in the non-trivial style in both slots. In addition, bonuses, free spins, and other prize options that are offered in the slots await customers. You will surely enjoy them.
Habanero also offers a slot machine about gangsters. It can boast its original design, different languages available, wide betting limits and, of course, fascinating gameplay options.
The Gangsters video slot pleases users with numerous combinations of simple pictures, several special symbols with extra features, bonus rounds, and exciting free spins. All gamblers who make bets with real money automatically compete for progressive jackpots.
A slot machine released by Booming Games will make you familiar with some secrets of the Japanese mafia. You will get acquainted with the brutal methods of the legendary yakuza that controls illicit gambling. The model has an unusual design with stylish graphics and vivid colors.
Huge payouts (multipliers can reach 20,000x), bonus rounds, two special symbols, and bonus spins in which a casino pays for you are supposed to be the major advantages of the Gangster Gamblers video slot. The game can be run directly in the browser, so you can quickly test it without installing software on your PC.
According to the standards of online gambling, this model released by Playtech is out of date. However it is too good to be excluded from our list. As it is clear from its title, protagonists of Cops N' Bandits are policemen and gangsters. Developers of the video slot depicted its characters in the cartoon style, providing them with funny features.
The Cops N'Bandits slot machine will please you with a huge variety of paid lines. There are also special symbols with unusual features, free spins, and bonus rounds. All extra bonus features are very interesting, so you should definitely wait for the participation in them when testing this video slot.
Novomatic has also released a video slot about bandits. The model called American Gangster is designed in the style of color comics dedicated to the ongoing struggle of law enforcement officers with criminals. Customers will surely enjoy its impressive design, user-friendly interface, wide betting opportunities, and various options.
Paid combinations made up of simple symbols are often formed in American Gangster. Some pictures bring winnings, acting in accordance with the special rules. The slot offers a traditional round, in which users can double their payouts, and free spins, in which standard payouts are increased. The video slot is available in different languages.
Criminals, specializing in robberies of museums, banks and other establishments, often become heroes of video slots manufactured by different brands. The model called Thief by NetEnt will make our customers familiar with a skillful female thief, who cannot by stopped by neither lasers, nor numerous guards, nor sensitive alarm sensors.
A set of functions implemented in the game is quite impressive. Unique symbols, non-trivial bonus options, profitable free spins, and other cool features can be met in this slot. We want to emphasize that the Thief video slot is spectacular and can boast bright animation, impressive sound effects, and user-friendly interface.
Developers of the Prohibition video slot have provided users with the opportunity to find themselves in the United States during Prohibition, when the bootleggers earned huge fortunes selling illegal alcohol. This is really a great 3D slot developed by EvoPlay. It can impress with its spectacular 3D graphics and realistically creates the vivid atmosphere of the era.
In addition to standard images that make up combinations on the lines, there are three types of special symbols in the game: jokers, scatters, and bonuses. There are also three bonus rounds. You will shoot bottles and choose items, receiving payouts for successful attempts. You should test Prohibition if you like high-quality 3D video slots.
A courageous detective who is the protagonist of the video slot called After Night Falls by Betsoft is not afraid of chasing the most desperate thugs and skillful robbers appearing on the streets after the sunset. Thanks to his efforts, the number of crimes in the city is decreasing, and, on the contrary, the number of bandits in prisons is increasing. Join this brave man in his good deeds and you will be rewarded with generous payouts.
After Night Falls has great 3D graphics, unique bonuses, interesting free spins, unusual symbols with special features, and a round on equal chances, which are similar to the features of the best slots released by this brand. To put it briefly, this is one of those online games of chance that must be tested personally.
New York Gangs has nothing to do with the Hollywood blockbuster starring Leonardo DiCaprio. Moreover, it depicts events that took place much later than those described in the famous movie. You will find yourself in the 1920s when ruthless gangsters controlled most business spheres.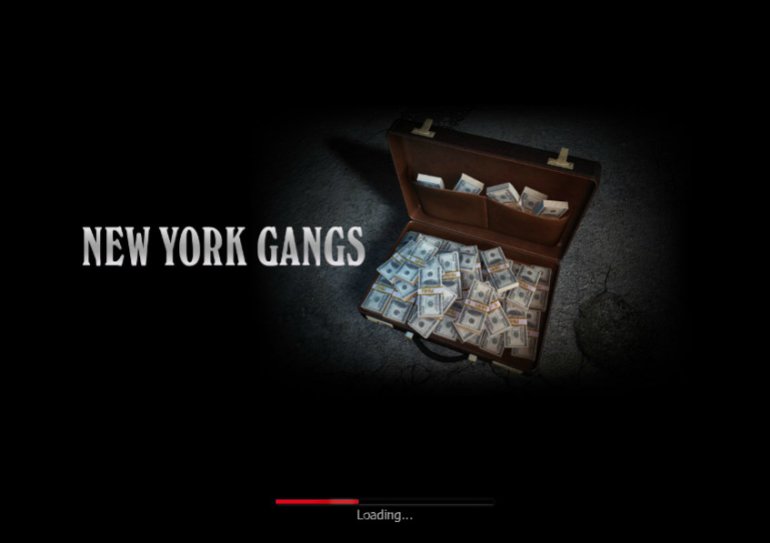 In fact, the game is far from being a novelty, but we recommend that all fans of slots about crime should test it. A large number of payouts, interesting bonus games, and special images are the major features of the brainchild of GamesOS.
One can hardly imagine that NetEnt can miss the opportunity to dedicate a cool slot to such popular topic. In this case, its model is called Kings of Chicago. It is designed in the unusual style. All images on the reels are playing cards. Chicago gangsters are depicted in some of them.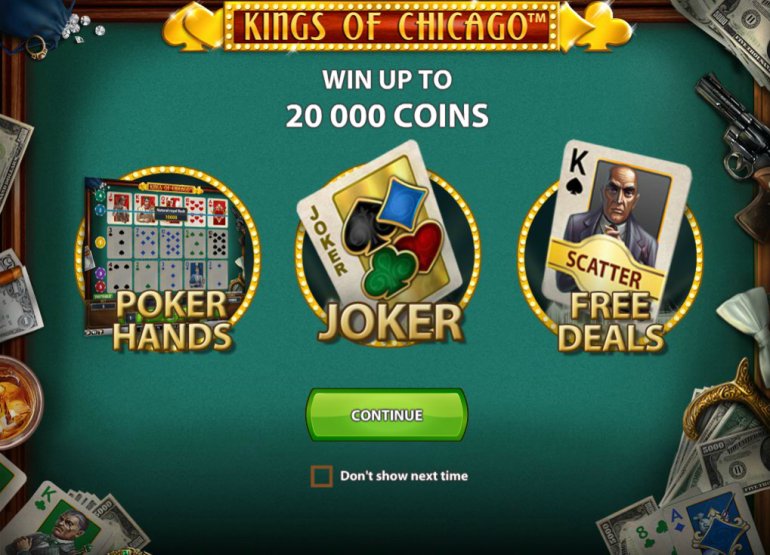 The use of cards offers great opportunities. For example, poker hands paid in accordance with special multipliers are formed in this game. In addition, free spins and extra bonuses are available in Kings of Chicago. You should not pay a lot of attention to the fact that the game was released a few years ago. Even now it will not allow gamblers to get bored.
And now let's discuss a novelty, which was released much later than all of the aforementioned games. The Heat Is On video slot by Microgaming is a fascinating gaming machine about a sexy female criminal and an equally attractive policewoman. According to the laws of the genre, the former runs away and the latter chases her. It is up to you to find out how the eternal struggle between the police and criminals will end.
Jokers, scatters, numerous winning combinations made up of simple images, free spins in which the house wagers instead of you are the basic gameplay features of the slot machine called The Heat Is On. Run and test it personally, sharing your impressions.
Conclusions
It's not an easy task to cover all slot machines about bandits. We have tried to mention all really interesting models and deliberately ignored out-of-date video slots that cannot compete with modern developments of leading brands.
If you think that we have missed some cool games, write about them in the comments. Feel free to share your opinion on the above mentioned video slots and rate them.