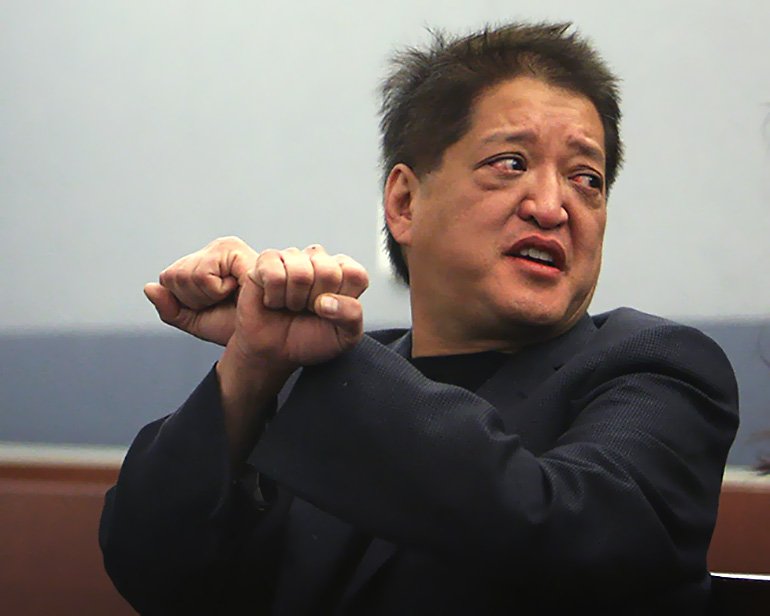 American multimillionaire of Japanese origin Terrance Watanabe has the following records in huge losses in the casino : 5 million for one-stop, 127 million for the year and about 200 million within a few years of playing.
We want to acquaint you with this unique personality.
Success Story
Terrence's father, Harry Watanabe, moved to the U.S. from Japan in 1932. In the States, he founded Oriental Trading Co. Terrence and his sister took up the family business after school. In twenty years, he as the eldest child required by the Japanese tradition, took control of the company.
I must say, he was a very talented businessman and leader. A modest company was turned into a huge empire which annual revenue in the early 2000s was about three hundred million dollars.
Terrance Watanabe worked very hard and had no time for personal life. His relatives say that Terrence never even had a romantic relationship, because he was completely absorbed in the affairs of the company.
In 2000, Watanabe sold the company for an undisclosed amount, but no one doubted that Terrence earned on it well. Anyway, he had plenty of money.
Watanabe decided to devote herself to charity and catch up more fun. He participated in various projects, became a well-known philanthropist, unsuccessfully dabbled in the restaurant business, but nothing brought him satisfaction.
After all, he filled the emptiness in his soul with gambling. I must say that the person who can devote all day long to his hobby, should not go to the casino. Very high risk of the situation that happened to Terrance Watanabe.
Getting to know the Casino
Terrence first played in one of the Harrah's Casino in Iowa, where he, of course, immediately became a VIP customer. A couple of years later, he traveled to Las Vegas and since then almost always played there.
In 2006, he regularly visited Wynn Las Vegas, where he played at maximum bets and regularly left large amounts in cash. It all ended in that Steve Wynn found out about his compulsive gambling and alcoholic and Terrence was denied of service.
But the efforts of Mr. Wynn did not save Watanabe from financial ruin.
Playing in the Caesars Palace and Rio
In the summer of 2007, immediately after the expulsion of the casinos Wynn Las Vegas, Terrence started playing in Caesars Palace Casino and the Rio Casino. Both places belong to Harrah's.
By that time his appetite seriously increased. He could sit for days in casino playing at bets too high for him. For example, he was allowed to play blackjack for three hands, putting fifty thousand on each box. He also liked roulette and video slots. At the same time he was not interested in any theoretical refunds games, no strategy, no problems with addiction.
Watanabe was also very generous. He often left and right handed casino employees hundred-dollar bills, even being in the red. In short, he was a perfect lient, who cared only about adrenaline.
Harrah's executives did not care about ethics. If a person wants to play - we should help him. Terrence was frankly sold best alcoholic beverages and never discouraged from playing, in whatever state he was. He got expensive gifts. At over half a million loss, he got him15% return (he played five millions in one go).
In general, for about one year Terrance Watanabe lost in the two casinos about 112 million, or 5.6% of revenue corporation Harrah's in Las Vegas. Moreover, he owed ​​them almost fifteen millions.
Trial
Card debt is considered a holy thing only in literature and cinema. In real life, and administrator of any casino will confirm that, players are not in a hurry to repay debts and are trying to ensure that they have written off. Terrence was no exception. He refused to return the money, and Harrah's filed it in court. As a result, he got twenty-eight years in jail.
Watanabe decided that the best defense is attack and made ​​a counterclaim accusing casino employees that they were doing everything for his games. At the same time, if he could prove his innocence, Harrah's would have to return him almost all his losses.
We will not desceibeall the nuances of the process. It ended quite peacefully. Both sides agreed that the proceedings had attracted too much attention and harm their image. They agreed that withdraw lawsuits and Terrence paid half a million dollars to cover the costs.
Yet the process was not in vain. He forced the authorities of many states that have legal casinos, pay attention to how they act with customers and whether cross the line for a game.