 About
The heroine of Fatal Attraction, who had a weekend affair with a lawyer, started revenging. Her most violent deed was the murder of a rabbit that belonged to the daughter of her lover. She cooked it on the stove.
Glenn Close starring in this movie described her character's using the words as a bunny boiler. This expression has become a household word and now the abandoned women who want to revenge their former lovers are called in this way.
It is difficult to say what the developers of Microgaming were thinking about, when they decided to call this arcade game Bunny Boiler Gold. It is not clear whether they wanted the game to be associated with this expression or it was an accident.
Anyway, the rabbit from this game also has a chance to be boiled in hot water and your task is to help it to avoid such a fate.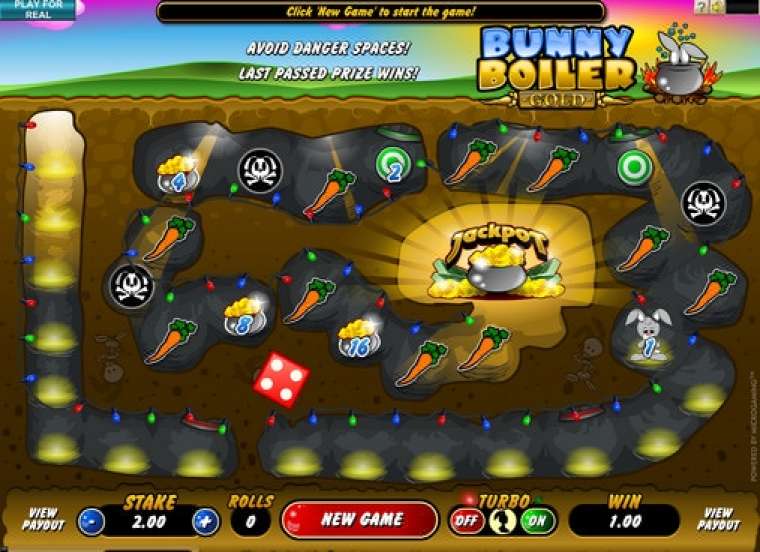 Play Bunny Boiler Gold
Bunny Boiler Gold is an arcade online game released by Microgaming. It was created based on board games for children, whose participants move the pieces on the field, determining the number of moves using dice.
In Bunny Boiler Gold users can wager from fifty cents to ten dollars at Crazy Vegas Casino.
In Bunny Boiler Gold users need to accompany the rabbit in the long hole on its way to the pot of gold, avoiding various traps. Gamers can roll a die six times.
The rabbit will come across different fields. They have the following meanings:
Continue (a carrot) allows keeping playing and moving.
Death (skull and bones of a rabbit) - the protagonist can either die or survive and start the game from this place.
Jackpot (a golden carrot) allows participating in the round that provides the opportunity to win a jackpot.
Jump (a read and white ball) allows the rabbit to jump on the next similar sector.
Prize is a checkpoint and if you have overcome it, the prize is provided.
If the rabbit will be able to reach thirty-five checkpoints, it would find itself near a pot of gold, and you will be able to hit the jackpot.
Bunny Boiler Gold Bonus games
There are no bonus payouts in Bunny Boiler Gold.
Jackpots
The game Bunny Boiler Gold has ten jackpots for which you will compete in a special round. It can be triggered by reaching the final checkpoint or finding a golden carrot on your way. The jackpot sizes range from one hundred to ten thousand bets.
Bunny Boiler Gold Interface
The design of Bunny Boiler Gold looks very similar to various board games for children. You will see a chain of thirty-five positions on which the rabbit will move. The die lands directly on the playing field that enhances the effect of realism.
The control panel has the following buttons and windows:
View Payout allows viewing payouts
Stake is used to select the bet size
Rolls shows the number of available rolls
New Game starts a new game
Turbo enable/disables turbomode
Win shows the payout size
The gameplay is much faster in turbo mode.
Conclusion
Bunny Boiler Gold is an exciting and very amusing game. It not only provides you with the opportunity to compete for a considerable prize but can also significantly improve your mood, since it is very amusing to observe the protagonist of this game. Bunny Boiler Gold has colorful graphics, intuitively understandable interface and suitable sound effects.
Where to play Bunny Boiler Gold for free or real money?
You'll find Bunny Boiler Gold at Crazy Vegas Casino, where it is possible to play it both for free and for money, and some other flash casinos running on software developed by Microgaming. Users can test this game without registration using conditional bets on the portal Casinoz.
User comments
Comments
User comments