 About
Blackjacks with independent side bets, which are paid if the certain hand appears, are common at modern online casinos. Microgaming, which is famous for its huge range of blackjack types, offers several such variations.
However its range has an unusual game with side bets. Its title is High Streak Blackjack Gold. This blackjack is from the famous Microgaming Gold Series of gambling games. Its features are discussed below.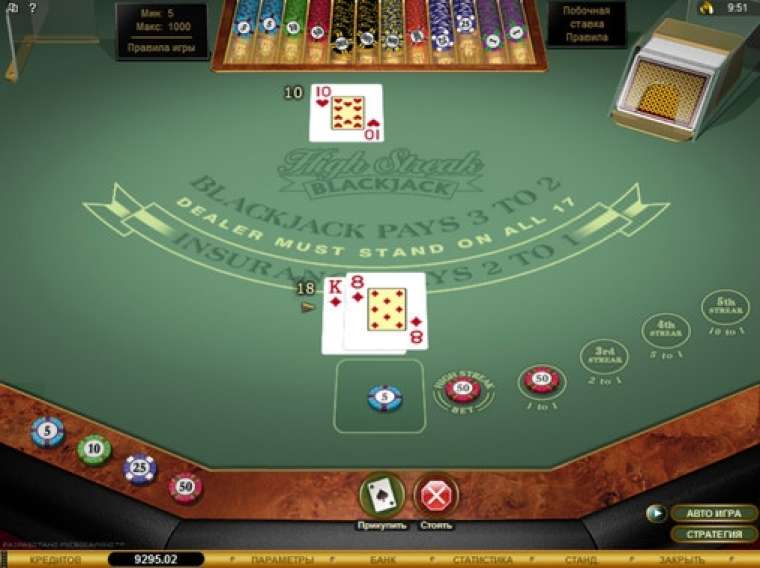 Play High Streak Blackjack Gold
High Streak Blackjack Gold is an
online blackjack
with side bets, which is played using two standard 52-card decks. The cards are shuffled before each deal.
The range of bets at Spin Palace Casino varies from five to one thousand dollars on the basic box and between five and two hundred dollars on the side boxes.
Let's discuss the key rules for this game.
It is a European no-hole-card version.
The croupier stands on any 17.
It is allowed to double on a hard 9, 10 and 11.
It is prohibited to double after a split.
It is possible to split any two cards of the same rank (in other words, a queen and an ace can not be split).
An ace and a ten after a split are considered to be 21.
It is allowed to take insurance against blackjack if the dealer has a face up ace.
There is no surrender.
A hand with 21 is played automatically.
Payouts for the basic box in High Streak Blackjack Gold are standard:
Basic hand - 1:1
Blackjack- 3:2
Insurance - 2:1
The gameplay in High Streak Blackjack Gold does not differ from the standard one.
High Streak Blackjack Gold Bonus games
The basic difference between High Streak Blackjack Gold and other types of blackjack includes unusual side bets. There are five additional fields on the table layout for them. They can not be made without basic bets. They are paid according to the outcome of the game on the basic boxes. Thus, side bets may be higher or lower than the basic one.
Initially, this bet is located on High Streak Bet. If the user wins on the basic box, it is transferred to the 2nd Streak. If he or she wins beats the dealer again, the side bet is paid 1:1 and is transferred to the 3rd Streak. In case of the favorable outcome it will bring the payout according to the 2:1 ratio. The next consequent victories bring the payouts with 5:1 and 10:1 ratios.
After the payout from the 5th Streak, the bet is returned to the player. If the basic box loses at any stage, the client loses his side bet. Both bets remain in place in case of a draw.
The side bet is transferred to the next field after the split only if the payout for two boxes exceeds the wagered amount. Insurance does not affect it.
It is allowed to make a new side bet even if the previous one is still in the game. Therefore, all the five fields can be basically occupied by your chips.

High Streak Blackjack Gold Interface
It is possible to
download
High Streak Blackjack Gold for free with interfaces in different languages at many Internet casinos, so there is no sense in explaining in detail the function of one or the other button. This game has autoplay mode with options and modified basic strategy table.
High Streak Blackjack Gold provides statistics of the current game session. In the settings you can indicate the game, turn off sound effects and make other changes to the design and gameplay.
Like all games from Microgaming Gold Series, High Streak Blackjack Gold has a very realistic interface with plausible animation and detailed graphics.
Conclusion
Side bets in High Streak Blackjack Gold are not similar to their analogues in other types of blackjack. They do not require certain card combinations and are paid after the victory on the basic box. Well, this is a very exciting process that is capable of attracting you for a long period of time.
Where to play High Streak Blackjack Gold for free or real money?
High Streak Blackjack Gold is available at Spin Palace Casino and in other establishments running on software released by Microgaming. It can be usually tested in all such establishments in training mode for conditional bets.