 About
The collection of online arcade games released by Microgaming is full of simple but at the same time unique and exciting models. We would like to offer you a review of the card game called Killer Clubs. It is played according to simple rules but is able to fascinate any user for a long period of time.
Rating
Excellent
8.75 /10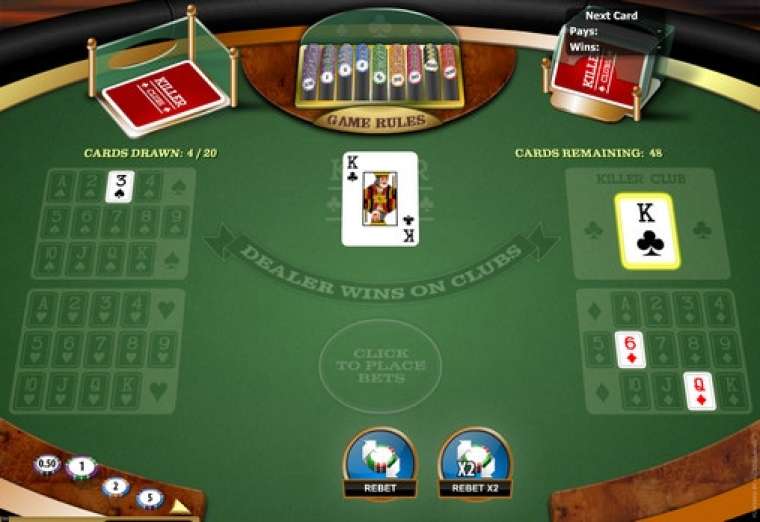 Play Killer Clubs
Killer Clubs is a free online arcade gambling game released by Microgaming.
A standard 52-card deck with no jokers and a table with a special layout are used in it. The cards are shuffled after each round.
Users can play Killer Clubs betting from fifty cents to one hundred dollars at Crazy Vegas Casino.
The aim of Killer Clubs is to reveal as many cards as possible before the first card of clubs, which is called the killer club, comes up. Each new revealed card increases the multiplier, but any card of clubs that will appear from the deck leads to the loss.
Users may collect the payouts at any stage before any card of clubs comes up.
The multiplier for the first round is x1.3. It reaches x1,740 at the end of the last twentieth round. You can not draw more cards.
All revealed cards are displayed in special tables (there are separate tables for spades, hearts and diamonds). There is also a field for the first card of clubs, which terminates the game.
Killer Clubs Bonus games
There are no bonuses in Killer Clubs.
Jackpots
Progressive jackpots are not provided in Killer Clubs.
Killer Clubs Interface
The field for Killer Clubs has unusual inscriptions, which you will not see in other games of chance. We are going to explain their meanings and functions of buttons on the control panel:
Click to Place Bets is used to make a bet
Rebet allows repeating the previous bet
Rebet x2 is used to double the previous bet
Deal is used to deal cards
Clear allows removing the bet
Next Card is used to draw a new card
Collect is used to collect your payout
Game Rules provides the rules for the game and information about payouts
Cards Drawn shows the number of revealed cards
Cards Remaining shows the number of cards left in the deck
The bet size is determined using a coin in the left lower corner of the screen.
Conclusion
As you can see, Killer Clubs is a very simple game. You just need to draw the cards one by one, hoping that the next one will not be any card of clubs. At any time, you can collect the payout and start a new round. Nevertheless, it is quite interesting to play it even for fun, not to mention playing for real bets. So, we recommend that you should try to play it.
Where to play Killer Clubs for free or real money?
One of the online casinos running on software released by Microgaming that offers an opportunity to play Killer Clubs both for free and for real money is Crazy Vegas Casino. Users can test Killer Clubs for fun on the portal Casinoz.