 About
Of course, the gamblers already know video slots devoted to the most unexpected topics. «Peek-a-Boo» video slot is one of them! Here you are going to meet monsters and ghosts which are promising nothing good. Isn't it better to show your courage and just catch all these monsters, night villains and spirits scaring people. So don't you give up against them, don't let the feat catch you and don't scream and yell. Of course, they are going to do everything they can to scare you. But you should remember that you came here to catch all these evil spirits, but not to be scared and bought by them! So, you should be very careful! When three BOO symbols drop out at the reels, you win huge prizes. But when it happens at the fifth active line, you win the highest prize of this game - the jackpot in amount of 6000 coins!
BOO symbol is Wild symbol of this game which can replace all the rest icons at the reels. An amount of the bet per line varies in range from twenty five cents to five dollars, so, taking in account number of available active lines (five), the maximal bet per spin can reach 25 dollars. As it was already mentioned above, the maximal win is 6000 coins here, so the gambler can,aximally win 30000 dollars playing by the maximal bet! This video slot is also provided with the popular AutoPlay function, which lets you play up to five hundred spins automatically. The player can set up «Stop» function in case of Jackpot or other high win, which amount is also selected by the customer. As you can see, «Peek-a-Boo» video slot is not so scary as at the first sight. All monsters' and ghouls' magic, ghosts and night spirits and other kinds of villains and evils spirits can help the players win the prizes in this game!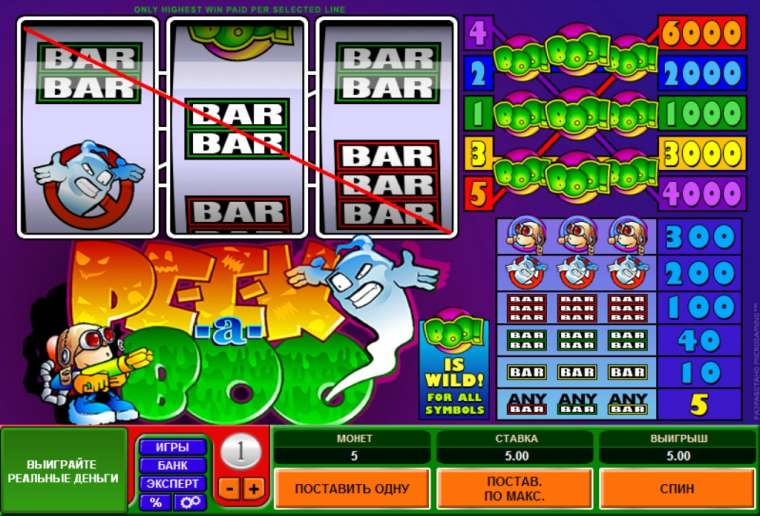 Play Peek-a-Boo
«Peek-a-Boo» is the three reeled non-progressive classic online slot machine developed by Microgaming company. The only extra feature of this game is Wild symbol. An amount of the maximal jackpot is 30000 dollars here.
Coin denomination varies in range from twenty five cents to five dollars. This way, the maximal acceptable bet is twenty five dollars per spin. It is impossible to make any recommendations about the strategy of playing this slot machine. You just need to play and that's it! Of course, you can download this slot machine free and train in the fun mode. Or you can find this game without registration to make sure you can win here. As soon as you finish with it, don't wait to play by the real money!
Peek-a-Boo Symbols, Wild, Scatter
Online slot machines painted in all colors of rainbow are not often met in the web, especially when it is not a five reeled video slot, but a simple classics. However the interface of «Peek-a-Boo» slot machine is designed in such a grotesque-caricature manner that this burst of colors looks natural here. Wild symbol is the logo of the game which contains only scary «BOO!» in a juicy yellow-violet-green sign. You can also see the ghost hunter - the brave boy in infrared glasses and helmet, at another symbol. One of the symbols, which reminds the world famous brand of ghost hunters, is the ghost behind «Prohibited» sign. Three rest symbols are the standard single, double and triple Bars.
Jackpots
The range of acceptable bets varies from twenty five cents to twenty five dollars in «Peek-a-Boo» slot machine, while the maximal amount of the jackpot is 30000 dollars.
Peek-a-Boo Interface
As it was already mentioned above, the design of the interface is surprisingly colorful. At the standard screen for the classic slots, which contains the gaming reels, the payment table and the logo, the logo definitely dominates. «Peek-a-Boo» is written in a wonderful space font. Bright yellow and green letters separate two heroes of the game: the courage ghost hunter and his bounty - the ghost with cruel smile flying like a genie from the text. The hunter looks like a tot because of his huge gear and shoes. Meanwhile, the ghost seems to think he is the one who should be scared of. To find out who wins - you better play.
Bet one – activate one pay line.
Bet Max – start a new spin by the maximal bet.
Spin – start a new spin.
You can set up the coin value with help of plus and minus.
You can activate the automatic game in Expert mode.
Conclusion
The interesting plot line, the excellent visualization, the funny idea - you would definitely like «Peek-a-Boo» slot machine.
Where to play Peek-a-Boo for free or real money?
You can play on nice and beautiful «Peek-a-Boo» video slot in Betfair Casino.Please share your impressions of «Peek-a-Boo» slot machine with us and other readers of Casinoz. You can write your responses in comments to the review and rate this game. Your opinion is very important for us.