 About
Hungarian inventor Erno Rubik became world famous due to tridimensional games and puzzles created by him. The most famous development for the millions of people is Rubik's cube. Erno has created it in 1974.
As originally frames this model was named «The Magic Cube» (in some languages it has the same name even by now). It is acute with sides painted in different colors and consisting of nine small cubes each. Herewith, it consists of nine small cubes, that lets the players turn it by three pieces in different directions. The aim of the game is to fix the cube in such way to make each side of solid color.
Actually, it was not necessary to explain how The Rubik's Cube looks, because this puzzle it still very popular in many countries of the world.
Meanwhile, we would like to talk about Rubik's Slot video slot, which is presented by AshGaming company to the gambling fans of this invention.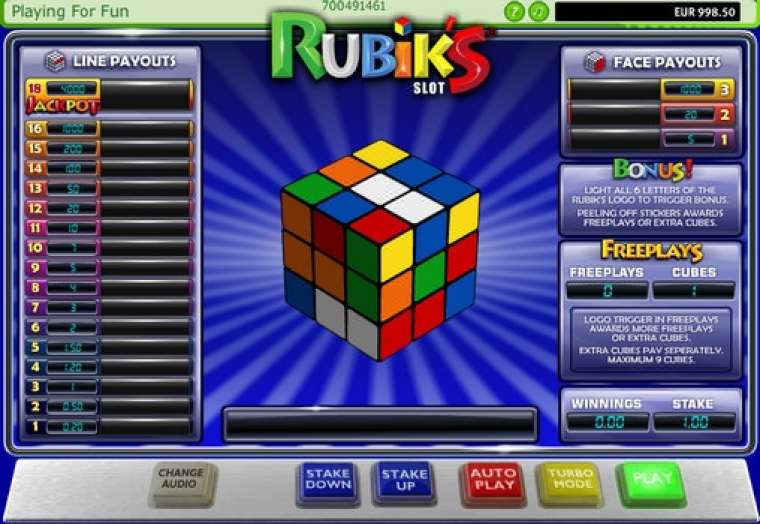 Play Rubik's Slot
Rubik's Slot is a free online slot machine created as a sort of Rubik's Cube. Three sides of it with six lines at each of them take part in the game. It is impossible to change a quantity of active lines - there are always eighteen of them. It is possible to stake from twenty cents to five hundred euro per gaming round.
The winning combinations are formed of three small cubes of the same color, situated vertically and horizontally (but not diagonally). More such lines are compiled in one round, higher the payoff is. It can be from x1 (the calculation is made by the total bet) to x4000 (jackpot).
In case the whole side of the Rubik's Cube is of the same color, the players receives a bonus payout. The gambling feature, which could double up the payoff, is not provided by the rules of Rubik's Slot slot machine.
The theoretical cash back index of Rubik's Slot video slot, officially declared by the producer, is 94,5%.
Symbols
The symbols of Rubik's Slot video slot are squares of different colors. There is no difference in their value and no one of the symbols is provided with any advanced options.
Rubik's Slot Bonus games
After each spin, several letters are lighten up on the logo of Rubik's Slot game. In case all six letters are lighten up, the bonus round is getting started. Here you would have to tear away the stickers at Rubik's Cube one by one. A quantity of free spins or extra cubes can be indicated under each of them. It is possible to continue selecting until you see Start capture.
Then free spins by the previous bet are getting started. These spins can be prolonged.
Jackpots
A progressive jackpot is not raffled in Rubik's Slot video slot. However, if each of three sides of the cube, which are shown at the screen, is of the same color, the player receives a fixed jackpot in amount of four thousand total bets.
Rubik's Slot Interface
Rubik's Slot video slot is provided with unusual interface for slot machines. In the center of the screen you can see the cube. Left to it the payment table is situated. Right to it you can see the control panel with the following informational windows:
Face Payouts - an amount of the payoffs by sides.
Free Plays - a quantity of free spins.
Cubes - a quantity of cubes in free spins.
Winnings - an amount of the payoff.
Stake - an amount of the bet.
In the bottom part of the screen you would find buttons, controlling the gameplay:
Play - start a new round.
Stake Up - increase an amount of the bet.
Stake Down - decrease an amount of the bet.
Change Audio - change music.
Auto Play - an automatic game mode.
Turbo Mode (on/off) - a turbo mode (on/off).
In case turn mode is not active, the cube move a little bit back after you click at Play button and its sides start spinning. However, if it is switched on, the cube stays at its place and sides also stay motionless - only colors are changing there.
Conclusion
Rubik's Slot is a colorful slot machine with the original gameplay. Such models rarely become wide popular, but they still have their fans. We think that this slot machine has its specific charm. Moreover, Rubik's Slot is provided with a great functionality and allow fighting for high payoffs.
Where to play Rubik's Slot for free or real money?
Rubik's Slot video slot can be found in Unibet Casino Black, where it is possible to test slot machines even without registration by the virtual bets, as well as in some other online casinos, powered by the software developed by AshGaming company.
Please share your impressions of Rubik's Slot video slot with us and other readers of casinoz.me. You can write your responses in comments to the review and rate this game. Your opinion is very important for us.