Over the previous week of tournaments in the Global Poker League (GPL) between the teams from the Americas Conference, the L.A. Sunset, headed by Maria Ho, showed the best achievements. Its players were able to score 15 tournament points. This fact contributed to their movement from the 4th place to the 3rd position in the leaderboard. It is now 4 points behind the Montreal Nationals, the leader of the conference. This progress was explained by the efforts of Olivier Busquet who showed his combativity at the poker table. Initially, he won a six-max tournament, bringing 7 points to his team. However, he could get only the 4th place in the second six-max tournament. Then, he played against Tom Marchese in the heads-up round, winning two games out of three and scoring additional 6 points.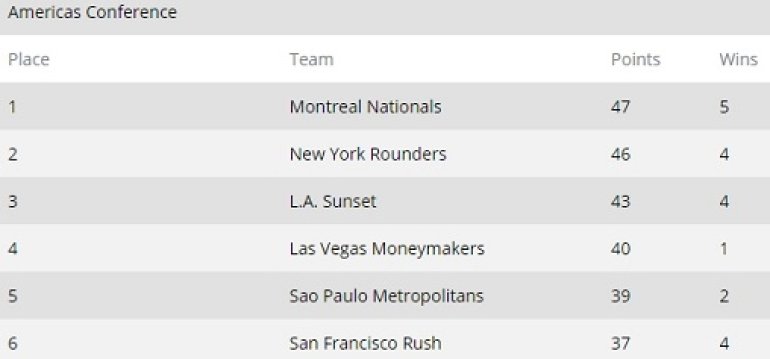 The Marchese's team New York Rounders lost its leading position in the Americas Conference and moved from the 1st place to the 2nd position in the leaderboard, since it managed to gain only 6 points previous week. In addition to the Marchese's loss mentioned above, he had 4th-place and 5th-place finishes in six-max tournaments. This negative session allowed the Montreal Nationals to draw ahead of the New York Rounders in the leaderboard.
Since the Moscow Wolverines occupied the 3rd leading position in the Eurasia Conference, Anatoly Filatov, its manager, decided to take control over the situation and earned 18 points, allowing his team to jump into the 1st place. Mr. Filatov won the 1st and 2nd places in the six-max tournaments, scoring 12 points. He was able to beat Vanessa Selbst of the London Royals in the heads-up round (2:1), gaining extra 6 points.
Two members of the Rome Emperors participated in the tournaments previous week: Todd Brunson and Walter Treccarichi, but their result was unexpectedly bad. Both of them brought only 1 point to the team. Treccarichi gained 1 point for his 5th-place finish in the first six-max tournament. However, he occupied the last sixth place in the second six-max tournament and scored nothing. Mr. Brunson was even less lucky. His opponent in the heads-up series was Jeff Gross, who managed to bring 17 points to his team Berlin Bears previous week. Mr. Brunson lost with the lopsided score 3:0. One point scored in conjunction with the rapid jump of the Berlin Bears in the Week 4 GPL tournaments means that the Rome Emperors is currently occupying the last place in the Eurasia Conference.