This year has already become the best in the poker career of Chance Kornuth. He consolidated himself in this status by winning the Single Re-entry High Roller Tournament with a buy-in of 10,300 euros, which took place in the framework of EPT Grand Final Season 12. The event was organized by PokerStars and Monte Carlo Casino. The Kornuth's total payout for beating over 214 competitors reached 351,108 euros (about 400,000 USD). So, his total earnings in live tournaments of 2016 exceed 1.5 million dollars.
Five gamblers were eliminated from the final round during just a couple of hours (including an one-hour break for dinner): Dmitry Yurasov (a 8th-place finish and 54,180 euros), Felipe Ramos (a 7th-place finish and 74,100 euros), Anthony Zinno (a 6th-place finish and 101,500 euros), and Murad Akhundov (a 5th-place finish and 133,680 euros).
When only four finalists were at the table, Mr. Kornuth offered to make a deal, but Fedor Holtz dismissed this initiative, paying heavy price for this decision. Holtz lost trying to bluff. He occupied the 4th-leading position and earned 169,000 euros. In the final hand in which Holtz and Kornuth were competing in raising bets up to all-in, a pair of fours and deuce appeared on the flop, the turn brought a deuce, and seven showed up on the river. Mr. Kornuth had a queen and deuce, and Mr. Holtz collected a queen and ten.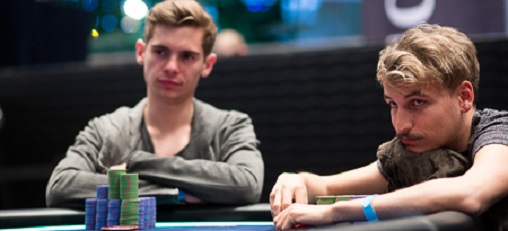 As a result of this battle, Kornuth collected over 5.6 million chips. Philipp Gruissem could get 2.83 million chips, and Sergey Lebedev obtained 2.605 million chips, which contributed to making a deal between them. Contestants agreed that Mr. Lebedev took the 3rd place and received 291,162 euros, and Mr. Gruissem occupied the second-leading position and earned 292,750 euros.
The victory brought Kornuth his fourth six-figure money prize in 2016:
A 7th-place finish in the $25,000 High Roller PokerStars Caribbean Adventure 2016 Tournament –192,780 dollars;
Victory in the AU$25,000 Challenge Aussie Millions 2016 Tournament – 790,560 Australian dollars (approximately 547,874 USD);
A 2nd-place finish in the €25,570 High Roller EPT Dublin Tournament – 360,150 euros (about 407,405 dollars).