 About
Earlier Casinoz portal already told its readers about unusual varieties of roulette from IGT company. We reviewed models Double Bonus Spin Roulette and Triple Bonus Spin Roulette, which surprise by original approach to solving common tasks and unusual innovations.
Today we'll talk about even more amazing roulette from the same manufacturer. The game is called "triple Roulette wheel". It belongs to the same series of roulette, as the previous two, but its main feature, as you may have guessed, is the structure of the wheel. However its distinctive features not end up.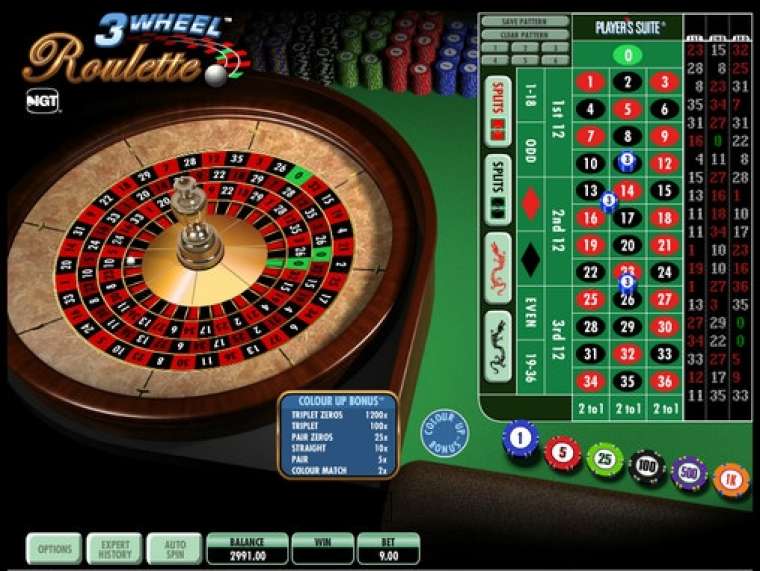 Play 3 Wheel Roulette
3 Wheel Roulette a free online roulette from IGT, which differs from the standard versions of the game by wheel construction, marking table, a set of bets and some other options.
The goal of the game in 3 Wheel Roulette is to predict the winning numbers and make appropriate bets. General principles of roulette remain unchanged we'll just describe its unique features below.
The discussion will begin right from the roulette wheel. It consists of three independent tracks: the widest within more narrow, and the smallest inside. They rotate separately from each other.
Cells for the ball has only the wheel located close to the center. It is one of them, defining the winning number on the track. Then two other winning numbers are set. They are the ones that stop in front of the ball.
In each round of the game on the 3 Wheel Roulette three winning numbers are marked on the table layout. Each bet that a player makes before a spin is made with three chips - one for each wheel.
the course of the game is intuitive to anyone who has ever had the pleasure to play roulette.
Manufacturer have a theoretical return of 97.29% of the game, but we are not sure that it is the same for all the bets that are accepted in the 3 Wheel Roulette. Perhaps this is an average figure.
Bets varieties in 3 Wheel Roulette worth of a separate section, as they are many, and among them there are very unusual. First of all, here are accepted standard internal (for one, two, three, four and six rooms) and external (a dozen speakers, even and odd, red and black, large and small numbers) bets.
Furthermore, Roulette Wheel 3 has two additional bets that are not present in classic roulette:
Rebet - repeat ante
New Bet - make a new ante
Red/black split - bet on all red/black splits, which can be put on the field
Red/Black Dragon - a bet on red/black numbers, extending a snake all over the field (this bet does not include all red or black numbers)
There is no track for betting on neighbors or sectors in 3 Wheel Roulette.
3 Wheel Roulette Bonus games
The 3 Wheel Roulette has also bonus payments which are played at an additional bets. For bonuses you can bet on an additional round field located separately from the main partition and marked Colour Up Bonus.
This bet is paid if you get three wheels certain numbers:
Rebet - repeat ante
New Bet - make a new ante
Triplet Zeros - three winning numbers are zero (payment x1200)
Triplet - three winning numbers are the same numbers (payout x100)
Pair Zeros - two winning numbers are zero, and any other number (payment x25)
Straight - winning numbers are three consecutive numbers like 3-4-5 (payment x10)
Pair - winning numbers are two identical numbers and even some (payment x5)
Colour Match - winning three numbers of the same color, but three zero at this rate are not paid (payment x2)
Put on Colour Up Bonus can be from one to fifty credits.
Jackpots
Progressive jackpot of 3 Wheel Roulette is not played.
3 Wheel Roulette Interface
Briefly describe the functions of the main interface elements 3 Wheel Roulette:
Spin - start a new spin
Rebet - repeat ante
New Bet - make a new ante
Clear All - remove bets from the field
Undo - undo the last action
Double Bet - double down
Double Rebet - repeat rate with a doubling
Rebet & Spin - repeat rate and run the ball
Options - Settings window
Expert History - History of Games
Auto Spin - autoplay mode
Balance - account status
Win - payout
Last Bet - the size of the last bet
There is no need to download additional software as the game runs in flash mode. The game has a payout table, the section with the history of drawings, auto games, some of the settings and a reference section with a detailed description of the rules.
Next to the table layout are the last winning numbers. In 3 Wheel Roulette you can save your bets scheme.
Conclusion
3 Wheel Roulette can significantly accelerate the process of the game, because three wheels involved in each spin, as well as add more intrigue by using the bonus rates. In addition, it should be noted the possibility of additional external interest rates on the main table layout.
The interface and design of 3 Wheel Roulette also gives entirely positive emotions. The model has a striking design, a convenient control panel and is generally user friendly.
Where to play 3 Wheel Roulette for free or real money?
You can play 3 Wheel Roulette for money and for free at Mr. Green Casino. A nice feature of this casino is the ability to play without registration in the training mode. This can be done directly on the casino site.