 About
Manufacturers of online casino software don't please very frequently fans of various types of roulette with new models. It is explained by the fact that this game is so distinctive game of chance that it is very difficult to add something new to it. The addition of new features can easily deprive it of a special roulette spirit without which this game loses its attractiveness for loyal fans.
IGT has recently ventured to launch an online gambling game called Double Bonus Spin. It attracts attention by its unusual design, and its rules are even more surprising. The review provided by the portal Casinoz deals exactly with this unusual kind of roulette.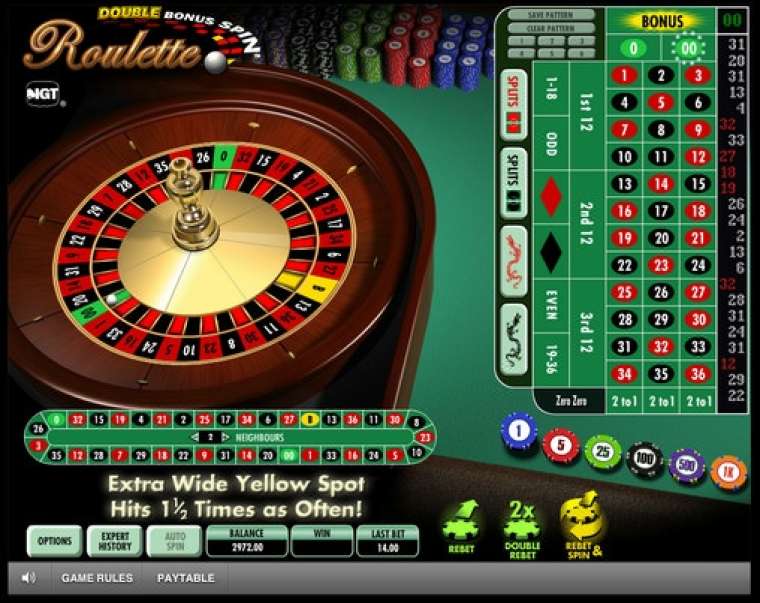 Play Double Bonus Spin Roulette
Double Bonus Spin Roulette is a
non-trivial version of online roulette
, which differs from the classic variations by unusual features of the rules, attractive kinds of bets, and some other nuances.
The main aim of Double Bonus Spin Roulette remains unchanged. The gambler should predict the section on the wheel (number, group of numbers, sector) where the ball will land and make the appropriate wager.
The wheel in Double Bonus Spin Roulette has thirty-nine numbers. There are arranged according to the rules of European roulette from 0 to 36. There are also 00 and B (it means Bonus). The size of B section is half as much as sizes of all the others, so the odds that the ball will land there are much higher.
0 and 00 are located next to each other on the layout near 1, 2, and 3. The next field is Bonus (read about the role of it in Double Bonus Spin Roulette in the next section).
Gamblers can make standard inside bets (on one, two, three, four, five, or six numbers) and outside bets (on columns, dozens, odd/even, red/black, high/low) in Double Bonus Spin Roulette. It is also possible to stake on red or black splits (all splits of the same color that are present on the field), and red or black dragon (color numbers located forming a snake).
The game has a separate racetrack for neighbors. Users can wager on adjacent numbers. It is allowed to make this bet on one-eighteen numbers. We are going to remind you that neighbor bets can be made in standard roulette with the racetrack only on five numbers.
Sector bets (Voisins du Zero and others) in Double Bonus Spin Roulette are not available, since there are additional numbers on the wheel.
It is possible to play Double Bonus Spin Roulette at Mr. Green Casino betting from one to three thousand credits.
Read about bonuses in Double Bonus Spin Roulette below.
Double Bonus Spin Roulette Bonus games
Now let's discuss Bonus field and its implementation in Double Bonus Spin Roulette. If the ball falls into this sector, users who have made a bet on it receive payouts according to the provided multiplier. This triggers a free spin bonus round. It takes place on two independent roulette wheels, one of which is located inside the other.
Firstly, the ball lands on one of them, determining the winning number. And then this number is established for the second wheel, namely the number that comes up opposite to the ball. Then payouts are made according to multipliers from the table. You can find information about them. The largest multiplier is 1,200x.
Jackpots
Double Bonus Spin Roulette does not offer progressive jackpots.
Double Bonus Spin Roulette Interface
The interface of Double Bonus Spin Roulette deserves detailed consideration, because it is indeed non-trivial. To be sure, you'll see a roulette wheel depicted in a very realistic manner. There is a table layout with betting sectors from the right side. It also displays a dialog box that allows saving betting patterns and recent winning numbers.
Below there is a racetrack for neighbor bets. Arrows located inside are used to select the amount of numbers to wager on.
There are a lot of buttons on the control panel. We are going to explain their functions:
Chips with the denomination that ranges between 1 and 1,000 - chips for betting
Spin is used to start a new round
Clear All is used to remove all bets
Double Bet is used to double the previous bet
Undo allows cancelling the last change
Rebet is used to repeat the previous bet
Rebet&Spin allows repeating the previous bet and starting a new spin
Double Rebet is used to repeat a bet and double the wagered amount
Last Bet shows the bet size of the previous spin
Win shows the payout per spin
Balance shows the number of credits on the account
Auto Spin activates automatic mode
Expert History shows the history of already made spins
Options shows settings
Paytable shows the paytable
Game Rules provides information abut the rules for Double Bonus Spin Roulette
Double Bonus Spin Roulette has a very convenient arrangement system for chips. You can click on individual numbers, but if you want to add a lot of chips on many sectors, you can just hover the cursor over them using the left mouse button.
Fans of statistics will appreciate the feature that is hidden behind Expert History. This section allows users to obtain data about the recent few hundred spins with an indication of the different information.
Double Bonus Spin Roulette is run in flash mode, so it can be open directly in the browser.
Conclusion
To be sure, pernickety fans of traditional roulette will hardly appreciate all the opportunities of Double Bonus Spin Roulette, but those who like to play interesting versions of this gambling game will surely enjoy it. The quality of graphics, convenience of interface, stability, and functionality of this roulette are beyond any doubt.
We can not provide our readers with information about the theoretical payout percentage in Double Bonus Spin Roulette.
Where to play Double Bonus Spin Roulette for free or real money?
You will find Double Bonus Spin Roulette at online casinos that offer online games of chance released by IGT. Mr. Green Casino can be considered as an example of such establishments. Its advantage is an opportunity to test any game without registration for free. To bet real money, users will need to open an account.