 About
Casinos in the American town of Reno, Western Nevada, have been operating from the beginning of the thirties of the twentieth century. Moreover, Reno was considered as the gambling capital of the United States until the middle of the last century, but then passed this prestigious title to Las Vegas. Nevertheless, numerous casinos are operating in Reno. Tourists from many US states and other visit them with pleasure.
As it frequently happens, some gambling games, offered in casinos of Reno, have developed specific nuances that are unique to this region. One of such games becomes blackjack. Its virtual version has been released by the company iSoftBet and the portal Casinoz has prepared a detailed review of Blackjack Reno.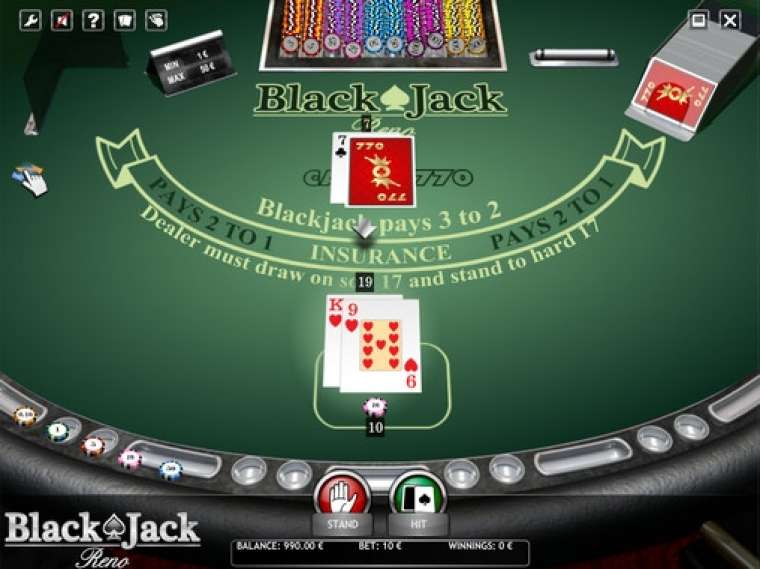 General description
Blackjack Reno is an American online blackjack, which is played according to the rules of brick and mortar casinos from Reno, Nevada.
Users need to beat the dealer, gaining higher score, as in any other traditional blackjack. It is forbidden to exceed twenty-one. Gamblers can also get the payout for insurance or when the dealer goes bust.
It is possible to play only on one box in Blackjack Reno. The bet can be from one to fifty euros.
Let's discuss the rules for Blackjack Reno:
The croupier deals himself two cards, putting one of them face up.
The dealer takes a card to soft seventeen and stops at hard seventeen.
The dealer never checks the presence of blackjack.
Double is allowed only for the first two cards if the score is ten or eleven.
It is possible to split only once in case of two cards, which have the same rank.
The player receives one card to splitting aces.
Ace and ten on the box, formed due to splitting, is not considered as blackjack.
There is no double after splitting.
There is no surrender.
If the ace is face up, it is possible to make insurance from blackjack.
It is allows to double and split after insurance.
If you have a blackjack and the dealer has a face-up ace, even money will be offered (payout is 1: 1).
The dealer takes cards to his box in Blackjack Reno, if the player has a blackjack and the dealer does not even have a theoretical possibility to repeat this combination.
Payouts for combinations are made according to the standard odds: 1: 1 for ordinary combinations, 3: 2 for blackjack and 2:1 for insurance.
Information on how to reduce the theoretical payout percentage in Blackjack Reno is not available.
Bonus games
Rules for Blackjack Reno don't provide bonus games, extra bets and prize payouts.
Jackpots
The progressive jackpot is not drawn in Blackjack Reno.
Interface
Gamblers will be able to understand features of the interface without any difficulty. At the worst, take advantage of our advices:
New Game allows starting new game
Deal allows dealing cards
Cancel All Bets is used to remove all bets from the field
Stand stops taking cards
Hit is used to take a new card
Last Bet allows repeating the most recent bet
Rebet & Deal is used to repeat a bet and deal cards
Split is used to split cards forming two boxes
Double Down allows doubling the bet
Insurance provides insurance from blackjack
Even Money allows splitting the pot
Balance shows the number of credits
Bet shows the bet size
Winnings shows the payout
The bet size is determined by selecting the desired chip value and clicking by the mouse on the box. Players can choose the dealing speed, turn off the sound and make other changes to the gameplay of Blackjack Reno in the settings (there are a lot of options). There is a detailed section with information.
There is no need to download Blackjack Reno, since this game is run directly on the website of the casino.
Conclusion
Frankly speaking, rules for Blackjack Reno provide not the lowest possible house edge. However this variant of blackjack is particularly interesting to fans of this game. There are no complaints of interface, graphics and functionality of this model.
Special applications will help users to choose the optimal strategy for Blackjack Reno. Reviews of some of them can be found in the corresponding section of the website Casinoz. Various
recommendations on blackjack
can also be found in other sections of the portal.
Where to play for free or real money?
Users can play Blackjack Reno at NetBet Casino, where they can try to enjoy this card game for fun even without registration. It is also offered to play for conditional bets directly on our website.