 About
Here is a catch question: who was the forty third president of United States? Think carefully! Of course, it is George Bush! And what has to do with «Dubya»? And what is it at all? How can we explain such an unusual name of slot machine? Dubya is a nickname of George Walker Bush (G. W. Bush). It origins from the Texas pronunciation of W in the initials. Dubya Money slot machine developed by Microgaming was devoted exactly to this president.
Politics is a complicated deal and you are always in sight. However, if you have any disadvantages, spaces in education, you have made a wrong gesture, face or anything else, so take it easy! Press is going to throw you in pieces! Mass media has its own methods, which seems to be quite ruthless, especially when it directed against you. However, now we are talking about george Bush, who has become a favorite of mass media. We should note that there were reasons for it. Of course, being a president is not an easy job and sometimes it even seems to be impossible, but when the first man of the country doesn't make his best, there are lots of reasons for critics and satire.
Rating
Excellent
8.29 /10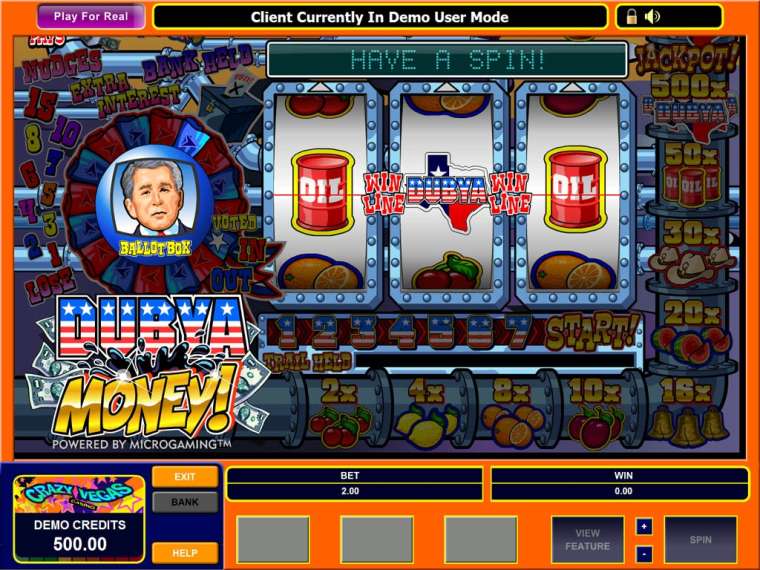 Play Dubya Money
Dubya Money free online slot machine is a mockery of the president. It is how Microgaming company has expressed its opinion and its has used a creative way as it usually does.
Dubya Money is one of online slot machined developed by Microgaming, which can be called a classic slot with its particularity. The base is, of course, a classic slot. It has three reels and one pay lines in the center, although you can see three rows of symbols at the screen. However, don't you think that it is one of those boring online slot machines, which overfill the web. We would like to warn you not to make any early conclusions. There is a special point in this slot machine - it is the bonus round named Oil Field, which can bring you good payoffs.
We have already told about Nudge option in other reviews before. Sometimes this function is activated randomly and lets you moving the reels forward. It would help you to make a winning combination a lot, as well as a proper quantity of numbers to take part in the bonus round named Oil Field. Sometimes it is possible to hold nudges and you can collect up to fifteen of them. It is possible every time when Bank Held is highlighted until you have used all nudges. You are like holding it in a bank. Moreover, this slot machine can give you extra nudges to those, which you have already collected. When Extra Interest button is highlighted, you get such and opportunity and can consider yourself the lucky one.
You can reach your aim by other way as well. Hold option can also help you to make it. Most of our readers have already played slot machined developed by Microgaming and know how it works. The base is a random option, which lets you holding the reels, while the rest are spinning. For example, if you have proper symbols at two reels, you can hold them. Probably, the third proper symbol drops out at the third reel.
It is also important to note that you have an opportunity to select the value of coins which suits you better. It is possible to set is up, because you are provided with eight different levels of coin values. As usually, higher the risk is, higher the potential winning is. Dubya Money is quite an entertaining slot machine and it is not complicated. Probably, you don't agree now, but you would see that its an extremely simple game as soon as you try to play this online slot machine.
Dubya Money Symbols, Wild, Scatter
All the gaming symbols, which you can see at the screen of Dubya Money slot machine, correspond to the topic of the game. Everybody knows that George Bush (both elder and younger) was financed by oil magnates and exactly oil-dollars have lead him to the power. That's why except of the traditional symbols of classic slot machines, which we are used to see in the classic slots, you can also see many interesting thematic icons. Here is a hat of the real Texas man, which oil magnates usually wear, and barrels with oil. Just several symbols and thematic design of the interface gave this classic slot absolutely different look. The rest standard symbols are a logo of the game and numerous fruits, such as lemons, oranges, cherries, watermelons and plums.
Dubya Money Bonus games
The bonus round of Dubya Money slot machine can be activated in different ways. First of all, you can collect a number over seven at the ladder. Some symbols, including fruits, bells, cowboy hats, barrels with oil, display a small number in the bottom corner. When it rises up over seven, the bonus round is getting started.
Sometimes it is possible to hold several spins, that's why it is much easier to get access to the bonus round.
During the bonus game you can win several bonus options. They are activated randomly and everything you can do is click at it to find out your winning.
Win Again! and Spin A Win options guarantee a random winning at the reels.
Nudgemanis option provides you an opportunity to win up to fifteen nudges, which we would discuss below.
Oil Strike is an option, playing which you would have to hold the reels. When an oil barrel appears at the reels, you can win a random multiplier while Dubya Money plays three sets of three bonus rounds.
All these features seem to be quite complicated, but if you try to play Dubya Money slot machine for fun, you can understand, that in fact there is nothing complicated in these rules.
ANother way to take part in the bonus game named Oil Field is to make it with help of Reel Bonus Game. Time after time the symbols with Bonus capture drops out at the screen. When some of such symbols is situated at the center of the line, it activates Reel Bonus Game. Here you would have to stop the highlighted options to win one of them: Boost, Skillshot, Stoppa and Selector. Any of them can give you access to the bonus game named Oil Field.
Jackpots
The jackpot of Dubya Money slot machine is five hundred bets. To receive this prize, you have to pick three symbols with image of the logo of the game at the active line.
Dubya Money Interface
The interface of Dubya Money slot machine is so motley that it flickers before eyes of all these symbols, payment tables and etc. Nevertheless, this motley variety perfectly reflects the aim of the games and the sense of the irony, which was meant by the developers. Here you can see a pipe line, which crosses the interface. It is started from the top, goes down by edge and turns to the bottom. In every part of this oil tube you can see different symbols, as well as what you get when you pick a proper quantity of symbols. In the end of the tube you can see how oil flows, as well as oil-dollars. All these pictures surround the logo of the game - Dubya Money! capture, quite successfully. Moreover, the first word is painted into colors of American flag, while the second one is of traditional yellow color which shots with gold.
The size of bet is fixed in this slot machine, while the value of coins can vary in range from ten cents to ten dollars. It can be corrected with help of + and - buttons, which you can see next to Spin button in the bottom part of the interface. Next to it you can see View feature button. As soon as you click at it, you would see the interface of the bonus game. There is such a plenty of symbols there that it makes you dizzy. So, you are not going to feel bored while playing Dubya Money slot machine.
Conclusion
If you like politics and online gambling games, you should definitely test this original slot machine named Dubya Money. It is not going to disappoint you in payoffs and you would be involved in the exciting gameplay.
Where to play Dubya Money for free or real money?
It is possible to download Dubya Money slot machine free at our website, but if you want to play by the real money, we recommend you to make it in Crazy Vegas online casino.
Please share your opinion about Dubya Money video slot with us and other readers of Casinoz. You can write your responses in comments to the review and rate this game.