 About
How often do you have a desire to exchange one or two of your starting cards while playing blackjack? Surely, this happens frequently, but classic rules for American and European versions of blackjack prohibit to do this even for money.
The company Microgaming has undertaken efforts to correct this omission and released the original model called European Blackjack Redeal in its series Golden Games. So, it is possible to exchange not only you own cards, but also the dealer's cards. Moreover, such opportunity is provided up to five times for each hand and in some cases this may be even free of charge.
Read more about European Blackjack Redeal card game in the review of this game on the portal Casinoz.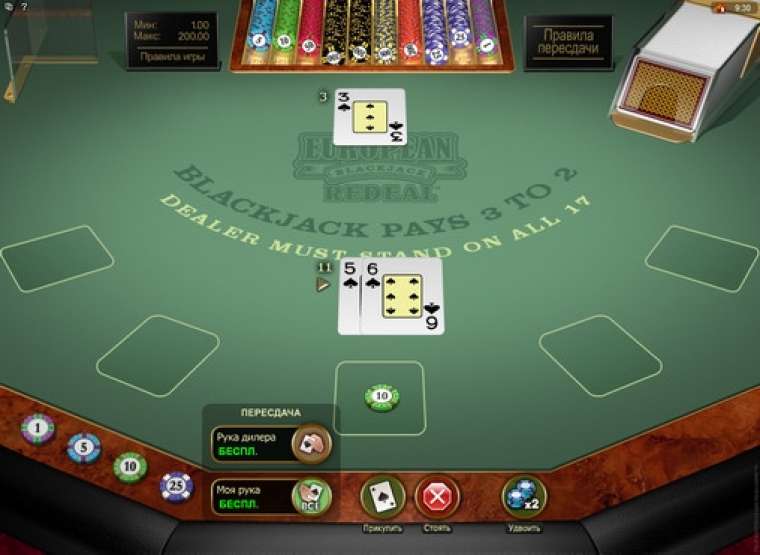 General description
European Blackjack Redeal is an unusual variety of online blackjack where two standard 52-card decks without jokers are used. All cards are shuffled before each new hand.
The aim of the game in European Blackjack Redeal is similar to any other blackjack. It is necessary to beat the dealer, get higher score not exceeding twenty-one. The player also gets payout if the dealer goes bust.
It is possible to play European Blackjack Redeal only on one box. The permitted range of bets is from 1 to 200 dollars.
General rules of blackjack are discussed in the separate article of the section Rules on our website, and here we are going to find out the basic rules for European Blackjack Redeal:
The dealer initially receives only one card that is placed face up.
The dealer stops taking cards upon reaching seventeen points.
Doubling can be done with the first two cards with the score of nine, eleven or twelve.
Doubling is prohibited after splitting.
It is allowed to split on the box one time.
It is possible to split only the cards of the same rank (for example, it is forbidden to split ten and jack).
It is allowed to take several cards after splitting aces.
Ten and ace after splitting is not considered as blackjack.
There is no insurance from blackjack.
European Blackjack Redeal has no surrender.
Up to nine additional cards can be accepted on the box.
If there are eleven cards on the box with the score less than twenty one, it plays automatically.
The payout in European Blackjack Redeal is performed according to usual odds: 1:1 or 3:2 for blackjack.
Now let's discuss the rules for redealing cards on boxes in European Blackjack Redeal:
It is possible to redeal the face-up dealer's card.
It is possible to redeal the last player's card.
It is possible to redeal the player's both cards.
It is possible to redeal up to five cards per each hand.
The cost of redealing is detrmined by the program depending on the situation.
Some redeals are offered for free.
In case of player's black jack redealing is prohibited.
There is no redeal after splitting, but splitting is available after redealing.
There is no redeal after doubling, but doubling is available after redealing.
If the player's score is twenty one there is no redeal.
There is no information about the theoretical payout percentage of European Blackjack Redeal.
Bonus games
Rules for European Blackjack Redeal don't provide bonuses.
Jackpots
European Blackjack Redeal has no progressive jackpots.
Interface
Readers of the portal Casinoz will certainly be pleased to know that they can download European Blackjack Redeal. Actually, they can not only download it, but also play blackjack directly on the websites of casinos. We will not explain the functions of the main elements of the interface. Users can master these functions themselves.
The game European Blackjack Redeal visually simulates the real blackjack. The bet size is determined by selecting the appropriate value of chips and clicking the box. There are two tables from the left and from the right side of the virtual croupier. If you hover your mouse over them, the general rules of the game will be open in one of them, and the other one will provide information about redealing.
European Blackjack Redeal has basic settings, sections with information and statistics.
Conclusion
As far as the excitement of blackjack is concerned, it is very interesting to play European Blackjack Redeal. But its profitability for the customers is controversial. We can provide our readers with some advices about strategy. But we will try to fix this in the near future.
There are no complaints of the convenience of interface, quality of graphics and realisticity of animation. In this regard, European Blackjack Redeal is amazing.
Where to play for free or real money?
Many online casinos using the platform Microgaming already offer this blackjack. Many of them allow customers to test this game in training mode or even provide the opportunity to run a blackjack without registration using conventional bets. It is also possible to play European Blackjack Redeal "for fun" directly at Casinoz.