 About
Not all versions of online blackjack released by different manufacturers are designed in the classic traditions. Some models can only formally be considered as virtual analogues of real games, while their rules significantly differ from those that are adopted in land-based establishments.
Blackjack, which is offered at casinos on the platform developed by Playtech, is an excellent example. Read more and you will find out why we have come to this conclusion.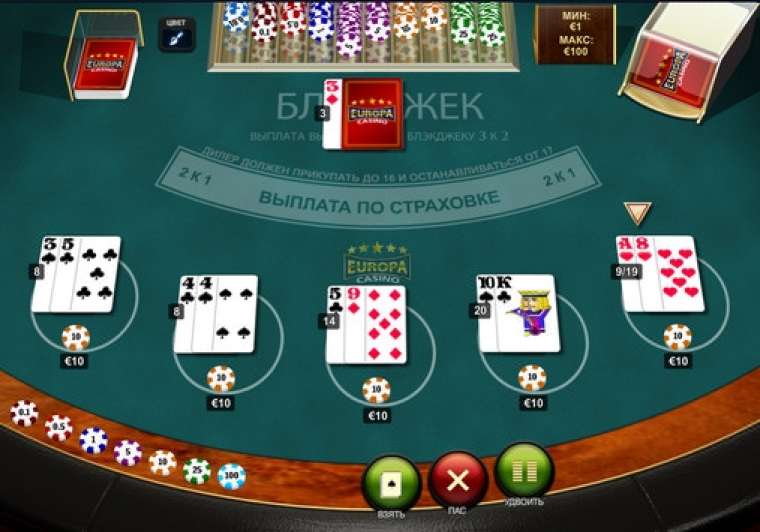 Play Blackjack
Blackjack is a
online American Blackjack
released by Playtech.
Six standard decks without jokers that are shuffled before each hand are used in this game. The main rules for blackjack are not discussed in this review. We will focus only on the characteristics of this model.
In general, the rules of Vegas Strip are supposed to be adopted in this game. However it should be noted that there are some important deviations from them, so it makes sense to enumerate the major rules:
The croupier deals two cards to himself facing up one of them, but he never checks for blackjack (even if it is an ace).
The dealer stands on a soft 17.
It is allowed to split only once.
One card is added to each split ace.
An ace and a ten-value card on a split box can not be considered to be blackjack and are supposed to be a 21.
It is allowed to double (after a split).
If the dealer has blackjack with a face up ten, the losing bet on the box with a double is returned to the player (blackjack with a face up ace means a loss in the similar situation).
It is possible to take insurance against blackjack if the dealer has a face up ace (it is paid 2:1).
If the player has ten cards without bust, he or she automatically wins in case of the absence of blackjack in the dealer's cards.
It is prohibited to surrender.
The ordinary winning box is paid 1:1. The multiplier for blackjack is 2:1. If the scores are equal, the draw is announced (push).
If you do not understand any of the rules mentioned above, read the common rules for blackjack, published in the corresponding section of Casinoz. The article about the most popular variations of American blackjack will help you.
It is allowed to play blackjack betting on one-five boxes in the amount of one to one hundred per hand (for example, at Europa Casino).
Blackjack Bonus games
Bonus payouts are not provided in Playtech.

Jackpots
Progressive jackpots are not provided in this kind of blackjack.

Blackjack Interface
It is possible to download blackjack with high-quality translations into different languages at many online casinos. So we will not explain the functions of various elements of the interface. You will be able to understand them without our help.
The basic strategy table is not available, but there are numerous settings. They allow users to adjust the game speed, enable or disable advices and so on.
Many customers will surely enjoy the opportunity to change the color scheme. So, it is up to you to select the color of the cloth that is the most pleasant for your eyes.
Conclusion
Blackjack released by Playtech is a fairly good model with very favorable rules and user-friendly interface. If you are not a fan of European blackjack, you should definitely play this blackjack for real or conditional bets.
Where to play Blackjack for free or real money?
We recommend that you should test this blackjack at Europa Casino, although you will also be able to find this game at other online casinos released by Playtech. You can also play blackjack without registration in free mode directly on the site Casinoz.