 About
One of the most ancient cities of the world - Luxor, is situated in the south Egypt, at the Eastern bank of Nile. Luxor is ancient Phives, which was the capital of Ancient Egypt in period of Middle and New empires, is the largest historic museum under the sky in nowadays. A new free online slot machine named Lady Luxor is also created in style of Ancient Egypt. Here you would have a unique chance to get into the culture of this ancient country due to the empire of slot machines.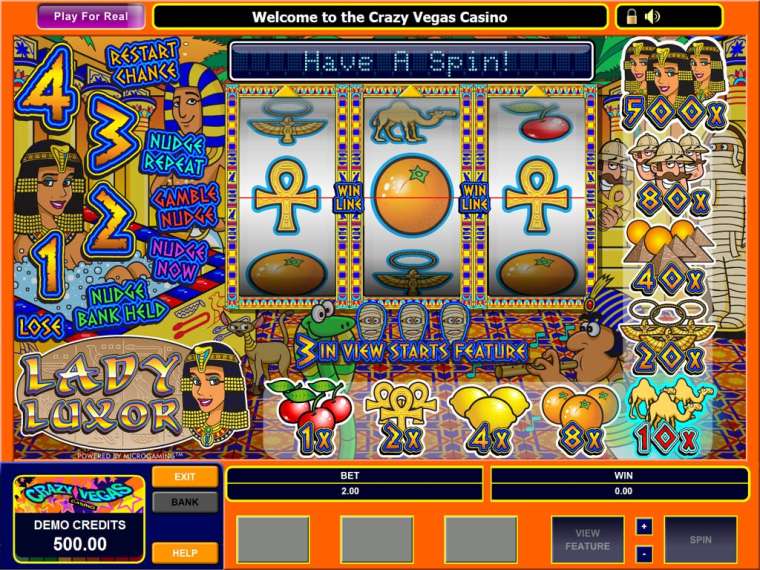 Play Lady Luxor
In spite of the gaming reels of Lady Luxor slot machine are covered with hieroglyphs, cuneiform fonts, symbols of pharaoh power and an ancient oriental ornament - there are no doubts in that this hame is also dedicated to other Luxor - one of the largest casinos of Las-Vegas.
However, there is nothing mysterious in the game. It is quite plain - three reels and one active line.
The table of winning combinations with multipliers of bets is also clear and user-friendly. The minimal winning returns one to one bet. The maximal payoff, which you win in case you pick three Egyptian empresses at the active line, the bet would be multiplied 500 times. The winning combinations are formed of the similar symbols, situated at the active line, starting from the first left reel. The minimal bet is ten cents, while the maximal acceptable is ten dollars. There is also Hold option, due to which you can stop two of three reels if you think that the combination is close to the winning one. Nudge option is not activated always, but can be quite useful sometimes, to move a reel and choose the most beneficial position. Except of Nudges, this game is also provided with Shifta! option. In this case the reel starts moving on its own and a winning is guaranteed to you.
Lady Luxor Symbols, Wild, Scatter
The gaming symbols of Lady Luxor slot machine are images of Luxor impress, oranges, a traveller, camels, lemons and cherries.
Lady Luxor Bonus games
There is such a great quantity of bonus options in Lady Luxor slot machine, that it makes you dizzy. We would try to describe it one by one. You would definitely like to study out this slot machine and unexpected prizes, which you are going to win during the game, wouldn't let you feel bored.
To make this slot machine more attractive, the developers took a decision to provide it with the bonus game. The bonus game is getting started when all mummy's head are lighten up. Then you move to the special screen, where all the actions take place. The bonus game is designed in style of table step by step adventures. A colorful stripe of road, divided into fifty fields leads to Lady Luxor, which is, as it is clear, the main prize of this game. The fields are lighten up and go down randomly. As the bonus game is started, the adventurer or scientist with treasures in his hands runs up from the start field. As it is known, many travelers and relic hunters went for their searches to that places to find pharaoh's treasures and get insufferably rich. However, he is pursued by tricky mummy. Another mummy follows this pursuit from its sarcophagus. If the mummy get the adventurer - the game is lost and the treasures go to mummies. However, in case of lucky final (if the game is stopped in a proper field) you can increase your winning up to 200 times.
When I was playing this game first time, I just lost, because the mummy has get me at once. I have managed to move only by four steps. The same has happened to me in the second time.
There are also different features in this game, such as:
Nile Nugget - here to go back to the main interface and the bonus game with Stop-Skill buttons is getting started. The game goes on at eight outside positions of the reels. Your aim is to stop the game at the highest value.
Win Spins - here you get a series of winning in the game. There are also random bonuses and mysterious options. It means that you don't know exactly, what you get in this game.
Cleo Cash - you go back to the main interface and the bonus option is triggered. Every time the symbol of a mummy crosses the winning line, you receive a prize. For example, if five mummy's heads cross the line, your result is five!
Pyramide Scheme - here you go back to the main interface and the bonus options is getting started. You have to click at Stop button and you would be paid out with the received value. After it, you have another chance. If you are lucky and you click Yes again, blinking starts again. In case you click No, the bonus option finishes and you receive a prize.
Raid the Tomb - three multipliers are displayed at the screen. Then they would be hidden and mixes. You should try to find the highest of them in this round.
Desert Dash - you go back to the main interface and the bonus option, where you would have to choose a reel, is getting started. Then you would have to choose one of three symbols. The aim is to find the options, which are paid out by the highest indexes.
One Hump or Two - digital units are displayed at the screen, while you can see higher and lower values by both sides. You can repeat the process to improve your result. But please be careful: three unlucky attempts and you stay with what you have.
Open Sesame - here you go back to the main interface and the bonus option, playing which you have to click at Stop button, is getting started. Your prize depends on a button, at which the game stops.
Except of all these options, it is possible to win money, nudges and many other prizes in Lady Luxor video slot.
Jackpots
An amount of the jackpot of Lady Luxor slot machine is 500 bets. However, you can't receive payoffs playing this video slot in a fun mode. Any slot machine without registration can't help you to earn the real money as well. You can play only by the virtual money in this mode.
Lady Luxor Interface
Images of pyramids, camels, mummies, Egyptian priests in wigs and amulets of Horus in shape of a falcon are mixed with traditional fruits, which are usually imaged at the reels of slot machines and numbers of bets. Here you can also see a smiling traveller in a corky helmet, which is a scientist, adventurer or just a tomb rider. Lady Luxor, which seems to be one of the Egyptian empresses, takes a foamy bath in a company of a cat, decorated with bracelets. Snake speller plays a melody for a snarky cobra. All the characters, elements, symbols and ornaments are designed in a bright cartoon style. We can't call the design elegant, while its duty is to entertaining, making fun, but not creating of mystic atmosphere.
So, at the left side you can see nudges options, available in this game, such as Nudge Repeat, Nudge Now, Gamble Nudge, Nudge Bank, Restart Change. The numbers around them are used in the gambling feature. At the other side you can see the blinking payment table.
There is Spin button under the reels. It starts a round. You can correct an amount of the bet by buttons with plus and minus signs. Choose the bet, which suits your capabilities.
Conclusion
The typical Egyptian graphics of the logo of Lady Luxor game with a pretty well-born Egyptian catch the eye, so it is impossible to pass this slot machine by. A plenty of gaming options can seem to be too much for some players, especially for those, who prefer classic slots. Herewith, all the rules are situated almost in the same place, in the main interface. Even the bonus options, which are lighten up in a moment when you get another prize, are specified right here.
Where to play Lady Luxor for free or real money?
If you want to spend your time pleasantly, we advice you to spend your time in Crazy Vegas online casino. o delays of technical failures, which can happen almost anywhere, were not noticed here. First you can download Lady Luxor slot machine free at the website, test it and decide, is it worth of playing by the real cash.
Meanwhile, we are looking forward for your responses about Lady Luxor slot machine. Please share your impressions in comments to the review. Your opinion is very important for us.