 About
Many users consider the absence of communications with other clients to be one of the major disadvantages of online casinos. It is especially noticeable while playing roulette, craps and other gambling games that require some active actions from visitors. Live casinos may help you to some degree, but not all players like them for some reasons.
That is why the leading manufacturers of software for online casinos develop multiplayer games, in which clients can wager at the tables, communicating with other users in the chat. Fans of virtual roulette who suffer from a lack of communication will probably appreciate a new version of this game released by Microgaming, which is called Multi-Player Roulette.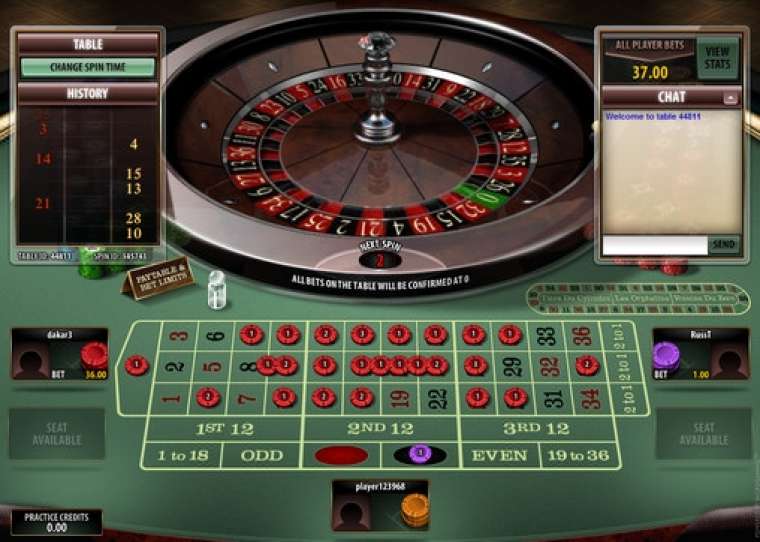 Play Multi-Player Roulette
Multi-Player Roulette is a multiplayer roulette from Microgaming. It has European rules of the game and a racetrack. Users can make all standard inside (on the field), outside (red/black, manque/passe, odd/even, columns, dozens) and call (sectors and neighbors) bets. Payouts are made according to traditional multipliers.
The range of bets in Multi-Player Roulette is determined by the rules of each particular casino. Users can play this game at Spin Palace, but Multi-Player Roulette is only offered to play for real money.
You can select a table at which the ball will be spun each twenty, forty, or sixty seconds. So you do not have to cover the table layout with chips in a hurry trying to place bets as quickly as you can, or to languish waiting when your own only bet on red wins.
Multi-Player Roulette Bonus games
Multi-Player Roulette is a classic European roulette, so it does not have bonus payouts.
Jackpots
Multi-Player Roulette is a classic European roulette, so it does not have progressive jackpots.
Multi-Player Roulette Interface
Even if you have to download the English-speaking version of Multi-Player Roulette and English is not your native language, you will easily master its logical and intuitively understandable interface. It looks like a roulette table above which three-dimensional wheel is drawn. On the left there is a board with the recent numbers. A chat window with additional information is located from the left side.
The boxes of active players are located around the table layout. The countdown of time lift till a spin of the ball is displayed directly on the wheel.
Conclusion
Multi-Player Roulette is perfect for all fans of roulette, who get bored while playing without the support of other casino visitors. But its multiplayer mode is not the only advantage of this game. It has colorful and realistic graphics, user- friendly interface and numerous options. It allows you to bet on the racetrack, which is also interesting to many customers.
Where to play Multi-Player Roulette for free or real money?
Users can
download
Multi-Player Roulette for free at the best online casinos running on software from Microgaming. The logos of some of them with the links to our reviews are available below. However keep in mind that this roulette is not offered without registration, because it is only possible to play it for real money.