 About
The fans of classic kinds of European and American blackjack are usually sceptic to different innovations in their favorite game. That's why it is hardly possible to attract them by progressive jackpots, bonus payouts or side bets.
However there are also those who like original solutions and happy to learn new rules among the fans of this game. Exactly for such gamblers a new online blackjack named «Perfect Pairs Blackjack» was released by Cryptologic company.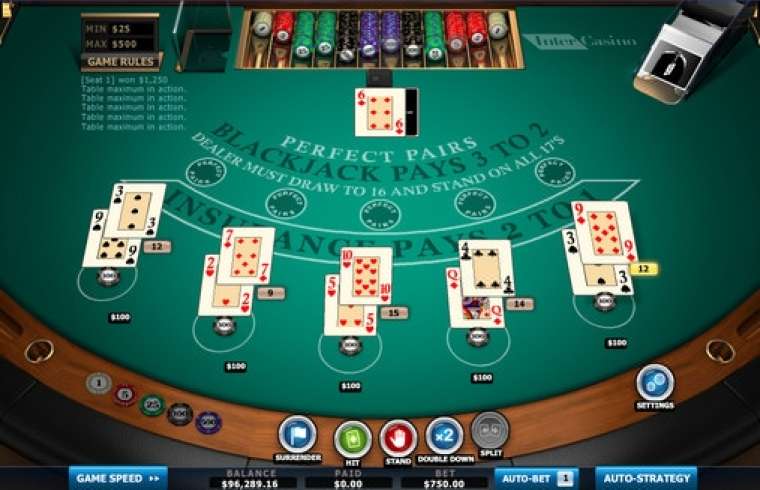 Play Perfect Pairs Blackjack
«Perfect Pairs Blackjack» is an
American blackjack
with side bets which play independently of the main bets.
Five standard decks with no jokers are used in «Perfect Pairs Blackjack» game. All cards are shuffled before each deal.
The aim of the game is to win the dealer getting more points on the box then he has never exceeding twenty one. It is also possible to win on overtakes in courier's hand or by the side bet.
InterCasino offers the customers five tables for «Perfect Pairs Blackjack» which vary by ranges of the main bets: from five to one hundred dollars, from ten to two hundred fifty dollars, from twenty five to five hundred dollars, from one hundred dollars to two thousand dollars and from five hundred dollars to five thousands. It is possible to play on one-five boxes.
Let talk about the main rules of «Perfect Pairs Blackjack» shortly:
The dealer deals two cards to himself, opens one and checks for blackjack if it is ten or ace.
The dealer stands on any 17.
Double is possible on any first two cards.
Double is allowed after split.
It is possible to split cards on the box, but only once.
It is allowed to split different cards of ten points value.
Split aces are dealt with only one card. Blackjack is impossible on such boxes.
It is not allowed to take card to soft 21.
Surrender is allowed at two first cards.
There is blackjack insurance for open ace in the dealer's hand. It can't exceed a half of the betting amount.
A winning box is paid 1:1 or 3:2 in case of blackjack on it. Payoff by the insurance is 2:1. If you are not familiar with blackjack at all, please read our thematic articles at Casinoz.
The gamblers can make side bets on the special fields playing «Perfect Pairs Blackjack». They are paid when two first cards dealt on box make a pair (two cards of the same value). Pairs can be mixed (any suit and color), color (the same color) and complete (the same suit).
Payoffs by the side bets are following:
Mixed pair – 5:1.
Color pair – 15:1.
Complete pair – 25:1.
These bets can vary from one to fifty dollars.
Jackpots
Any progressive jackpots are not drawn in «Perfect Pairs Blackjack».
Perfect Pairs Blackjack Interface
It can be quite difficult to understand all buttons and windows of the control panel of «Perfect Pairs Blackjack» for the beginners. This game is available in English only. Just in case, we would like to describe main elements of the interface and their functions.
Different buttons appear at the control panel only when they can be used, so please don't be surprised not see them on some stages.
Deal – deal new cards.
Rebet – repeat the bet of the previous deal.
Rebet & Deal – deal the cards by the same bet.
Clear Bets – clean the field from the chips.
Hit – take another card.
Stand – stop taking cards on the box.
Double Down – double the bet.
Split – split the cards in two hands.
Game Speed – set the speed of the deal.
Settings – open the user's settings.
Auto-Strategy – tips by the optimal strategy.
Auto-Bet – the automatic game mode.
In case of face-up ace in the dealer's hand, you are suggested to take insurance. You would have to pick one of four buttons (yes or no at every box or at all of them at once).
Important information by the game is displayed in the following windows:
Balance – the state of the account.
Bet – an amount of the bet.
Paid – an amount of the payoff.
«Perfect Pairs Blackjack» is provided with few user's settings and the informational section in English only.
Conclusion
The design and functionality of «Perfect Pairs Blackjack» game can only delight. The model is very beautiful, convenient and easy set. The rules of this kind of blackjack are quite profitable as well. Talking about the side bets, we would like to discussed them carefully in one of the future articles. The optimal strategy of «Perfect Pairs Blackjack» would be explained in the same time.
Where to play Perfect Pairs Blackjack for free or real money?
You can find «Perfect Pairs Blackjack» in InterCasino and some other online casinos powered by the software developed by Cryptologic company. It is also possible to play this online blackjack right at Casinoz even without registration by the virtual bets.