The situation in the standings of both conferences has changed over the sixth week of Global Poker League. However, such changes cannot be called dramatic. The New York Rounders managed to occupy the leading position in the Conference of South and North Americas. It was chased by the Montreal Nationals. This team is one point behind the leader. The Sao Paulo Metropolitans was not very successful: it dropped from the 2nd place to the 4th position in the leaderboard. Other teams of the Americas Conference stayed in the same positions.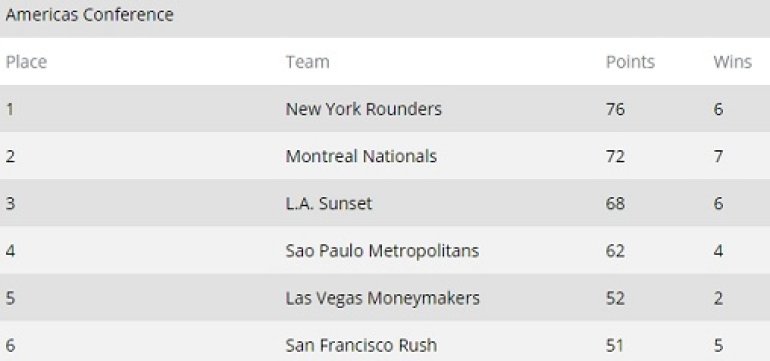 The New York Rounders gained 14 points during the sixth week thanks to the brilliant results of its manager Bryn Kenney. He was able to beat Jonathan Jaffe of the San Francisco Rush in the heads-up round. The teams from New York and Montreal picked up 9 tournament points. However, the results in 6-max tournaments differed significantly: the New York Rounders took the 3rd and 4th places (5 points), the Montreal Nationals gained the 1st and 2nd positions (12 points). In general, the team from Montreal managed to get 21 points because of Martin Jacobson's professional skills. We want to remind you that he is the winner of the 2014 WSOP Main Event. Jacob Jacobson in the 6-max tournaments and Jason Lavallee in the heads-up against Darren Elias of the Sao Paulo Metropolitans played really well.
The worst result for the last week in the Americas Conference was showed by the Las Vegas Moneymakers and San Francisco Rush. They occupied the 5th and 6th places, respectively, since each of them was able to get only 2 points.
The Moscow Wolverines had a very nice week in the Eurasia Conference. This team took the lead. Now it is significantly ahead of other teams in the conference. This week was also successful for the London Royals. This team started the week occupying the 4th position in the standings. However, it managed to finish the week in the 2nd place.
The team from Moscow got 18 tournament points in the previous week. At the beginning of the 6th week the Moscow Wolverines was behind the Paris Aviators. However, the French team was able to pick up only 3 points during the last week, so that they switched places in the leaderboard of the conference. At the moment, the Moscow Wolverines is 14 points ahead of the team from Paris.
Nevertheless, the best result for the last week in the Eurasia Conference was demonstrated by the London Royals. This team succeeded in obtaining 19 tournament points, sharing the 2nd place with the Paris Aviators in the standings. This result was achieved thanks to the