We offer instructions on how to register with Playtech online casinos to readers of en.Casinoz.
To discuss this topic, we will use Winner Casino as an example. This gambling establishment consistently takes one of the top ten leading places in the rating of our site. The interface of the website and its client program are available in several languages, which automatically removes potential problems with the language barrier if English is not your mother tongue.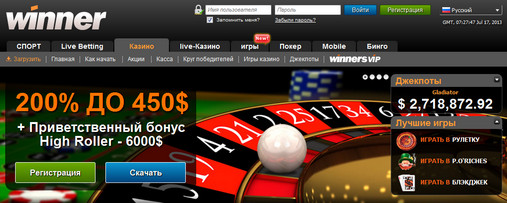 Why Do You Need to Register?
The bulk of Playtech casinos allow testing online gambling games without registration in training mode. Not all models can be tested for conditional bets, but most of them are available for free. To be sure, if you do not want to wager real money, it is unnecessary to open an account at the casino. In this case, it is possible to gamble for fun directly on the site of the gambling house.
If you are not able to fully quench your gambling thirst while playing for fun and you want to wager real funds, you definitely should register in order to be able to make deposits, receive bonuses, and participate in promotions. To put it simply, you can become a full-fledged customer.

How to Start?
So what should you do to open an account at Playtech casinos? First of all, you should find the button "Register" on the website of the establishment. This will be easy, because there are several of them (in the header or web banners).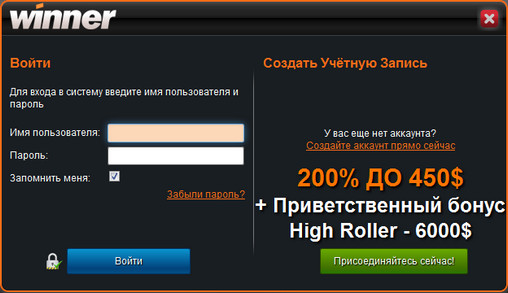 It is also possible to try to run any game in real mode. If you do this, a window with an offer to either log in using your user name or create a new account will be opened. Some casinos allow opening an account only after downloading their client programs.
In fact, if you just get acquainted with the site of Winner Casino, an offer to become its customer will find you. The administration of the gambling house did its best to provide any visitor with this offer. This is true for almost all Playtech online casinos.
How to Fill in a Registration Form?
Before you start opening an account, we recommend that you should read the user agreement. You can find a link to it next to the button "Agree and Register" in the registration form window.
Since the registration form at Winner Casino is available in several languages, the registration process does not seem to be extremely complicated for those whose native language is not English. However it is allowed to use only Latin characters. This rule is valid at all Playtech casinos.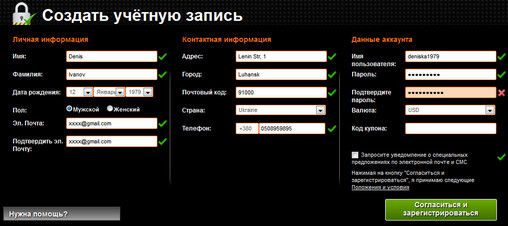 Filling in the registration form, be careful and enter only valid data. Otherwise, you can experience problems while withdrawing money or in other situations when it will be necessary to verify your identity or to confirm that the account is yours.
Your name and last name should be entered at Playtech casinos in the way they are written in your credit card and passport.
If you mention the correct birth date, it is possible that the casino will provide you with a gift.
It is desirable that you open a separate e-mail box for each casino where you are going to gamble. It will be easier to find out whether one or the other casino is engaged in some kind of sending spam or sharing information about your e-mail addresses with third parties. However reputable Playtech casinos are not involved in such activities.
Your address, zip code, and telephone number also must be accurate and valid.
A user name that you want to choose may already be occupied in large casinos running on the platform Playtech, so it is possible that you will have to be creative. Take your time to invent complex passwords (with letters and numbers).
Notifications via email and SMS are provided in the registration form by default. If you do not want to receive them, uncheck this box.
The last window is designed for entering bonus codes, if you have any of them.
Having filled in the registration form completely, check all the data again and click on "Agree and Register".
After that, a message from the casino administration with a user name and password will be sent to the e-mail mentioned during the registration.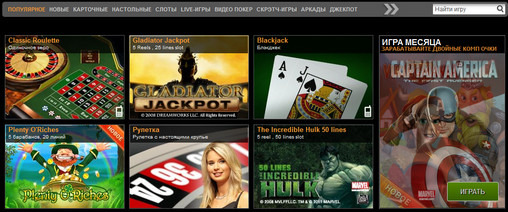 What's Next?
As soon as you have become a customer of any Playtech casino, you can make a deposit in any convenient way and start gambling. Most online casinos running on the platform Playtech allow users to gamble directly on the site or using the client program. Advantages and disadvantages of both methods are discussed in a separate article on the website en.Casinoz. The special manual also focuses on how to gamble at Playtech casinos.
If you have any questions concerning any topic related to the registration, ways of making deposits and starting games at casinos, feel free to contact our support team. Do not act at random to make the situation more complicated.
We hope that this article about registration with Playtech casinos will be useful and help our readers to open an account without any problem.
Name