Poker Pursuit resembles a video poker. It is not very popular among visitors of online casinos. Frankly speaking, many gamblers don't even know about its existence. Others are not willing to learn all its nuances or are afraid to bet, because they cannot play correctly. Let's try to find out what strategy should be used in Poker Pursuit.
Basics of Poker Pursuit
We want to remind you that initially you receive three face-up cards. Two other cards should be revealed one by one later. Before you face up the next card, you should decide whether to increase your bet by one coin or keep it unchanged. Therefore, you should start betting one coin to have a three-coin bet at the end of the round.
The opportunity to increase the bet is perhaps the only difference between Pursuit Poker and traditional video poker games. We can use standard poker terms for convenience. The first three cards are called flop. Turn is the fourth card. The fifth card is called river. You can also use the terms Check and Raise to define the actions with bets.
Read more detailed information about the rules in the special article about Poker Pursuit from Microgaming on the portal en.Casinoz.
How to Play Poker Pursuit Correctly
Although Poker Pursuit resembles both video poker and hold'em, the customer's participation in the gameplay is limited. It is prohibited to draw cards. There is no opponent. Users may increase the bet three times. This gives reason to say that the outcome depends mainly on luck.
That is why you should raise if you have a paid hand in the three or four first cards, because it ensures that you will win a big payout.
You should play carefully if you don't have paid hands. For example, three cards of one suit do not guarantee that you will collect a flush. Even if you have four such cards, this means that the deck has only nine suitable cards and thirty-nine useless ones.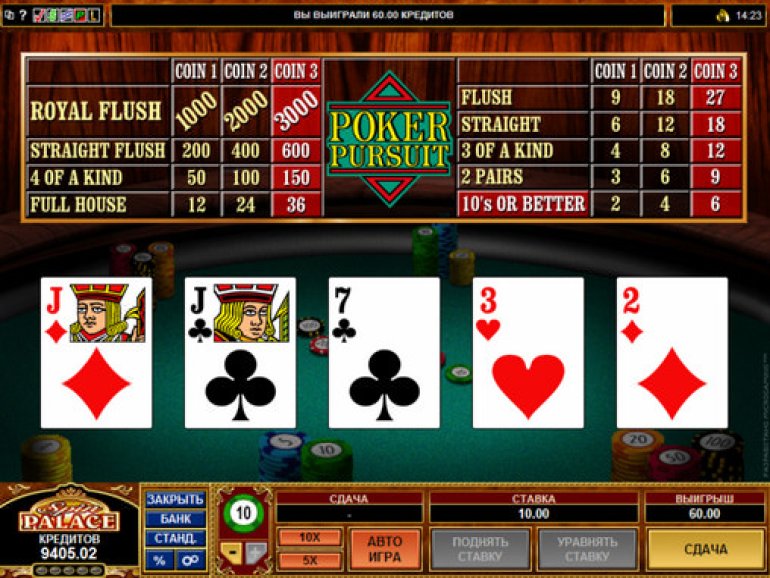 Unpaid pairs (nines and lower) don't seem to be promising hands. It is not an easy task to find another card of the same value or the other pair.
Therefore, you should raise on the first three cards only if there is a paid hand, as well as incomplete straight flush or royal flush. You may risk on the four cards if there is an opportunity to collect a flush or open-ended straight.
In other cases, you should rather bet one coin. If the desired hand is collected in the end, you will still get your payout. No matter that it can be smaller.
Conclusion
You should not be amenable to gambling addiction while playing Poker Pursuit. Be careful. It is necessary to become familiar with this poker at major online casinos running on the platform of Microgaming, for example, Spin Palace Casino that is characterized by the very pleasant design.