High-quality online casinos have an important section, which is opened only by a few customers. Most likely, you have not seen this page and have not carefully studied its content, considering that the information published there is not interesting.
Have you guessed what we are talking about? We are talking about the section called "Responsible Gaming." It focuses on the available ways of countering gambling addiction, identifying its signs and overcoming problem gambling.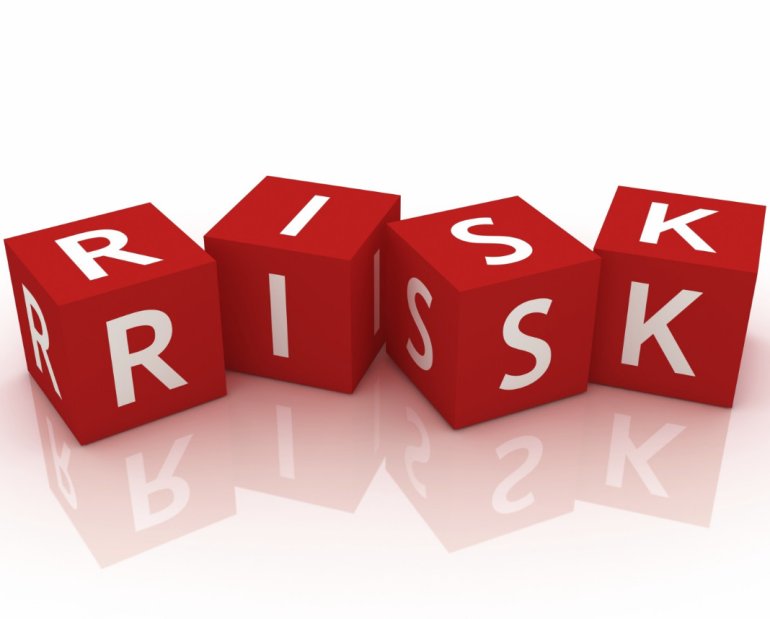 A Couple of Words about Sincerity
It may seem that gambling facilities cut corners when they offer a set of measures aimed at combating gambling addiction. Indeed, they are interested in making you lose as much as possible. Nevertheless, casinos with the competent management understand that you should not lose your last shirt. It is more beneficial for them to save their customers for many years and to make them return every time.
Moreover, many countries have laws that force gambling operators to counteract the development of gambling addiction among clients. They should at least indicate the contact details of organizations that deal professionally with such problems. However most gambling portals are not limited to this.

Let's figure out together how online casinos help customers to cope with problem gambling. Below we enumerate the main methods that are offered in most high-quality and respectable gambling facilities.
Self-restriction
Many online casinos allow customers to personally set various restrictions. The framework should be determined in advance. You cannot exceed your limits during the gameplay.
Let's discuss the major options:
Time limits - In your account you should mention how long you can gamble. As soon as this time is reached, it will be prohibited to gamble. You can continue to play only after a certain period of time.
Deposit limits - Casinos also allow customers to select the maximum amount of money that can be deposited into the account per day, week, or month. If you want to extend the restrictions, you will have to wait (for example, seven days) before the changes become valid.
Betting limits - In the same way, it is possible to choose the maximum amount that can be wagered. The application that monitors your actions will not allow you to increase your bet.
Loss limits - You should mention in advance the amount you can afford to lose. As soon as you reach it, the gameplay will finish.
In all cases, it makes no sense to contact the support service with a request to raise the limit. You will be asked to apply for changes that will become valid after a while.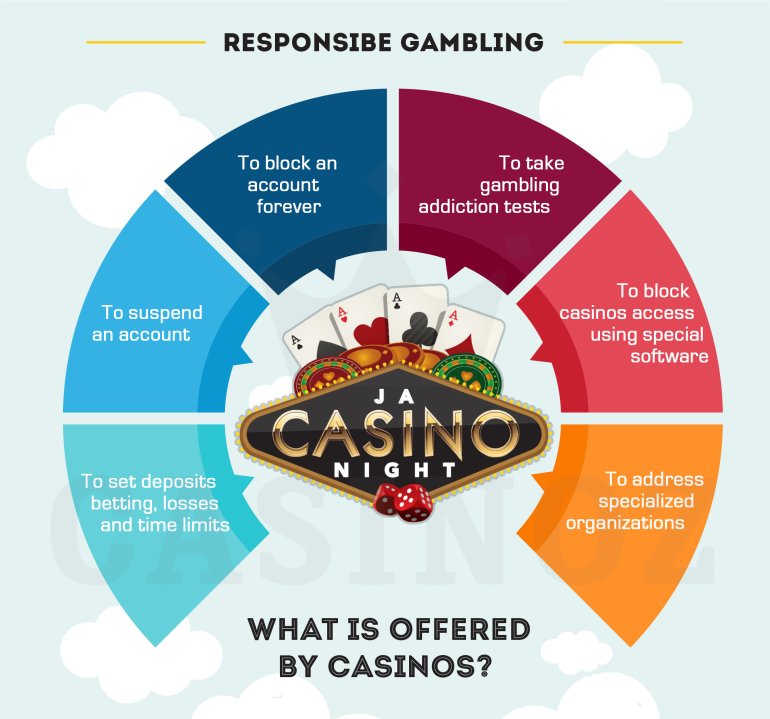 Despite the skeptical attitude of many users towards the self-restriction system, it is a very effective tool to combat problem gambling. In the "moments of enlightenment", customers are angry, so they set strict limits, which restrain them when they cannot cope with their addiction.
Self-exclusion
Any addicted gambler should take time-outs from time to time. You can block your account for a certain period. Before its expiration, you will not be allowed to gamble, even if you beg the staff of the support service or representatives of the administration.
The minimum and maximum periods depend on the policy of the online casino. Their duration can be found on each separate portal.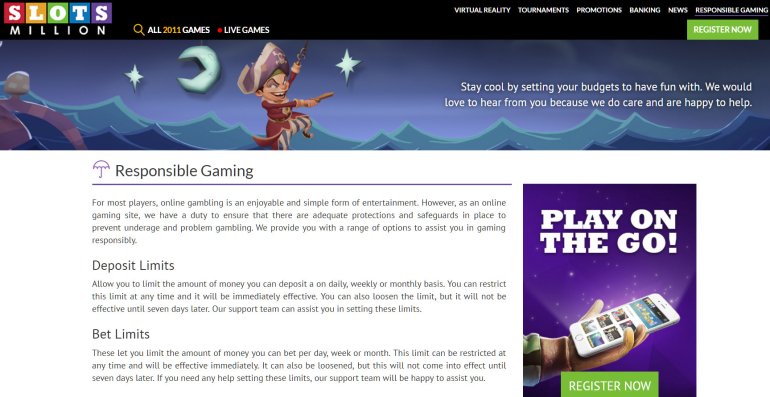 Deletion of Accounts
If you decide that you should stop gambling at online casinos, you can block your account. Basically, you do this forever, but many gambling houses allow reactivating the account in half a year or later.
Reminders during the Gameplay
Some sites remind addicted customers about a protracted gambling session. Between rounds a message with information about the length of gambling session and its results appears on the screen. You may be asked to have a break, but more often you will be asked if you are going to play further.
Cooperation with Specialized Organizations
All honest online casinos indicate contact information of international organizations that are willing to help people with signs of gambling addiction. Among them there are the following companies:
GameCare (www.gamcare.org.uk)
Gamblers Anonymous (www.gamblersanonymous.org.uk)
Gambling Therapy (www.gamblingtherapy.org)
Gamble Aware (www.gambleaware.co.uk)
Employees of the abovementioned organizations are ready to help you if you have faced the manifestations of gambling addiction. Representatives speak different languages, which will facilitate the communication with them.
Tests and Recommendations
Questionnaires with questions that allow revealing signs of gambling addiction, as well as lists of practical tips on how to avoid problem gambling, are published in the section Responsible Gaming of most major online casinos. You should treat them seriously if you do not want to become a victim of gambling addiction.
Such texts and recommendations can also be found in our articles on problem gambling on the website Casinoz.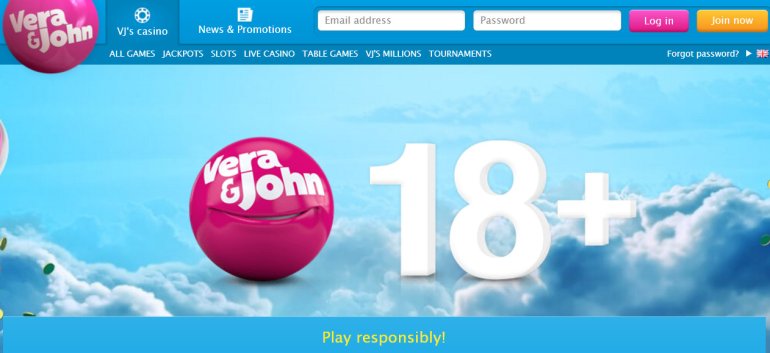 Age Restrictions
Nowadays teenagers use the Internet almost as often as adults. Most children are familiar with online gambling. They watch how casinos are advertised on various sites, read news about lottery winners, hear about betting, and know about poker tournaments.
Naturally, participation of teenagers in gambling is unacceptable. Reputable gambling facilities do their best to prevent children from gambling. They request copies of identity documents that confirm the age of new customers. They can also verify information using special databases.
If there are any suspicions that the customer has not reached the age of majority under the legislation of the corresponding country, the gambler's account is usually blocked until the administration finds out his or her age.
Software
Online casinos often recommend software that blocks access to gambling sites and allows customers to control addiction to gambling. Most often they advise CyberPatrol and NetNanny.
The portal Casinoz recommends that you should familiarize yourself with the capabilities of the Ludoman application. It is multifunctional software that has already helped many of our readers to cope with addiction.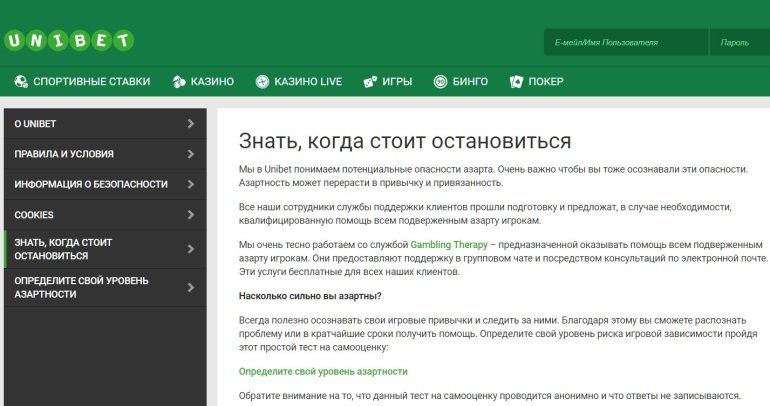 Most Attentive Online Casinos
Which online casino can boast the best application to combat problem gambling? It is difficult to give an unambiguous answer. You can judge by the number of opportunities provided and the general policy of the gambling house towards addicted gamblers.
Some portals allow clients to set all kinds of restrictions. In addition, they collaborate with specialized organizations, publish tests. However they do not hesitate to use the addiction of the customers for their own purposes.
Obvious addicted gamblers are attracted by individual bonuses, free spins, and cashback.
They can reactivate customer accounts if they were deleted earlier in accordance with requests of the clients.
They tempt addicted gamblers who have already stopped gambling with newsletters and information about current promotions.
They can also share contact details about former customers with partner online casinos.
To be sure, such behavior is unacceptable in reputable gambling houses.
We have already told readers of Casinoz how to choose the best casino. The same recommendations are useful in this case.
Conclusions
Never neglect responsible gaming in online casinos, betting sites, poker rooms and any other gambling-associated facilities. Don't become addicted and be reasonable when you risk losing your money.
Articles available on the portal Casinoz will help you to understand the reasons for the development of gambling addiction, notice its signs, and clarify other issues related to problem gambling.
Feel free to share your personal experience of fighting against gambling addiction, ask questions, and offer useful tips.