 About
Surrender rule (a chance to refuse playing on a box with loss of half of a bet) didn't exist in blackjack from the very beginning. To be more exact, it has been added quite recently and not all the professionals could immediately underwent which profit it brings to the player.
However it all is left in the past. Now it is already calculated how surrender reduces casino advantage, while the basic strategy gives absolutely clear recommendations by circumstances it should be used in.
Moreover, a new online game named «Blackjack Surrender» has been presented in online casinos (perhaps, in some real casinos as well), which surrender is possible at any two cards in. Here we offer you to learn more about this version of American blackjack produced by CTXM company.
Rating
Excellent
8.63 /10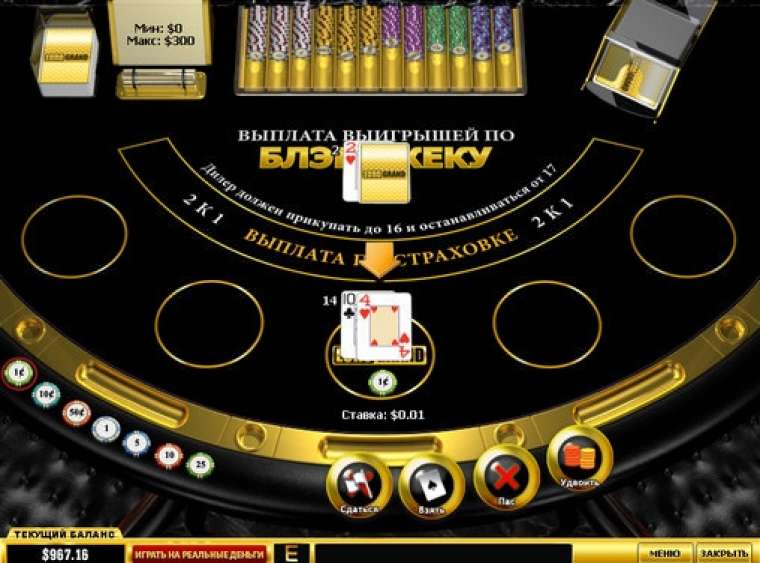 Play Blackjack Surrender
«Blackjack Surrender» is a
free online blackjack
which is played with four standard decks with no jokers. All decks are shuffled before each deal.
«Blackjack Surrender» is American version of this game where the dealer deals two cards to himself, reveals one of them and checks for blackjack if it is an ace or a ten.
The aim of the game remains the same - to get higher score than the dealer has never exceeding twenty one, or win on croupier's overtake.
Bets can be places on one-three boxes. The range of bets is from one to one hundred credits in Adam Eve Casino.
Now let's talk about the key points of rules of «Blackjack Surrender»:
The dealer stands on any seventeen.
Surrender can be made at any first two cards unless the dealer has blackjack.
Double can be made at first two cards as well.
Split is allowed (including different cards of ten point value).
Split on aces can be made only once. Each of the formed boxes are dealt with one card and blackjack is impossible there.
There is an insurance of blackjack in case of an ace in the dealer's hand.
The standard winning box is paid 1:1, blackjack - 3:2 and insurance - 2:1.
According to the information provided by the producer of «Blackjack Surrender» game, it is possible to reach 99,66% payback. It means you have almost equal chances with the casino.
Blackjack Surrender Bonus games
Any bonus payouts are not provided by the rules of «Blackjack Surrender» online blackjack.
Jackpots
A progressive jackpot is not drawn in this version of online blackjack developed by CTXM.

Blackjack Surrender Interface
We won't stop on detailed description of different elements of the interface of «Blackjack Surrender». You can download this game in your original language, so you won't face any problems with control panel and dialogue windows. The game is provided with the informational section and basic parameters of the user's settings.

Conclusion
«Blackjack Surrender» is the beautiful, convenient and high beneficial for the player online blackjack with the multi-language interface. The casino advantage is under one percent here. Of course, it is possible to get such result if only you follow recommendations by the basic strategy. So, please read special publications at Casinoz if you want to play blackjack more successful.
You can also compare «Blackjack Surrender» developed by CTXM with
«Blackjack Surrender»
developed by the specialist Playtech. Its review is available by the link.
Where to play Blackjack Surrender for free or real money?
We recommend you playing «Blackjack Surrender» by real money or in a fun mode in Adam Eve Casino. This model is also available in other online casino, powered by CTXM software. It is also possible to test this blackjack right at Casinoz without registration by the virtual bets.