 About
Cracker Jack - three-reels slot machine with non-progressive jackpot and a single payline. This is a classic slot machine powered by Microgaming, which has a maximum jackpot of 25 thousand dollars.
Crazy Jack - a retro gaming machine that returns us to the past. All the slot machines were like it some time ago. Some of them kept their appearance, slightly improved its functionality. In particular, in this game a wild symbol and a remarkable jackpot were added.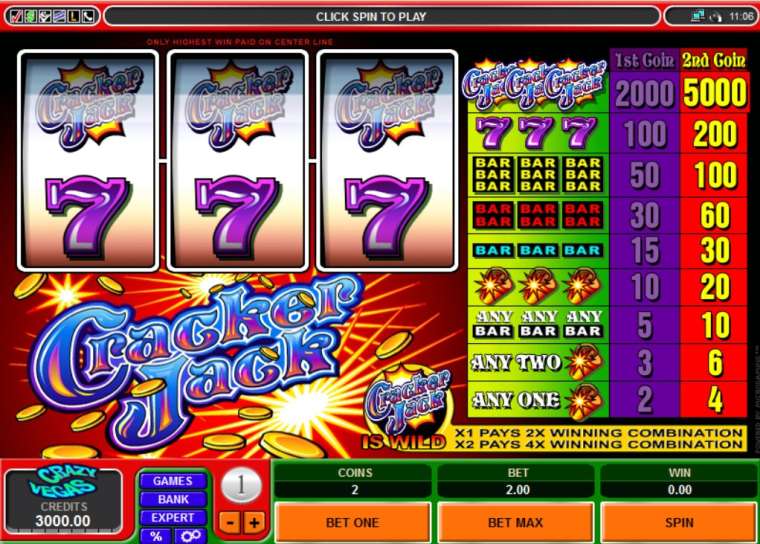 Play Cracker Jack
In the game you can use one or two coins per line on the face value of 25 cents to $5. This means that the overall rate can be from 25 cents to 10 dollars. If you want to bet only one coin per line, then the gain will be less. All of this can be seen when you examine the payout table, which consists of two sections.
Three-reels slot machines are a good opportunity for players not only to bet more coins per line, but also to win while you can. At the same time such options that can be found in the game Cracker Jack find not every slot machine. One wild symbol not only closes the missing character in the game, but also gives you a double win. And when two wild symbols become a part of a winning combination, then your winnings will increase up to 4 times.
For three wild symbols you won't get the multiplier, but you aren't disappointed, because in this case you get the jackpot. At bet one coin per line you will receive 2,000 coins, and if you put 2 coins, then the payment will be 5000 coins.
Cracker Jack Symbols, Wild, Scatter
The symbols of the gaming machine include seven bars of different colors, explosives, as well as the logo of the game.
Jackpots
Jackpot of the slot machine is 25 thousand dollars.
Cracker Jack Interface
Colourful explosions and sparks can be seen everywhere in the gaming machine. On the reels you will see a fireworks display! The latter is a burst of gold coins, that fly directly to you! Are you ready to accept such a gift or you will be free to choose a slot machine without registration? You understand that in this case you get nothing, apart from the pleasure, of course. Compulsive gamblers prefer to play on the gaming machine for money. They say that the game is perceived quite differently, and if you want try to experience these feelings by yourself. You can download the first game machine to make sure that you enjoy the game.
Some slots from Microgaming company include the ability of auto-rotation, which is very convenient for some players.
Conclusion
This slot game is easy to use. Even a novice can master the classic slot machine for a few minutes. And adding to the game the jackpot size of 5000 coins once again have proved just how perspective three-reels slot machines are. And if someone says that it's time to retire, do not believe! Playability of these slots speaks for themself.
Where to play Cracker Jack for free or real money?
Play casino Betfair and let Cracker Jack give you crazy prizes!