 About
We have already mentioned in various publications on the website Casinoz that you should never play American roulette, since it has the highest house edge due to the 00 number. Even special rules that compensate for the loss of bets on equal chances if zero comes up, which are found in some versions of this game, do not deprive it of this lack.
However some people do not want to wager playing European or French roulette for various reasons, preferring the American version. If you are among them, we want to offer you a very convenient and realistic game called Premium American Roulette from Playtech.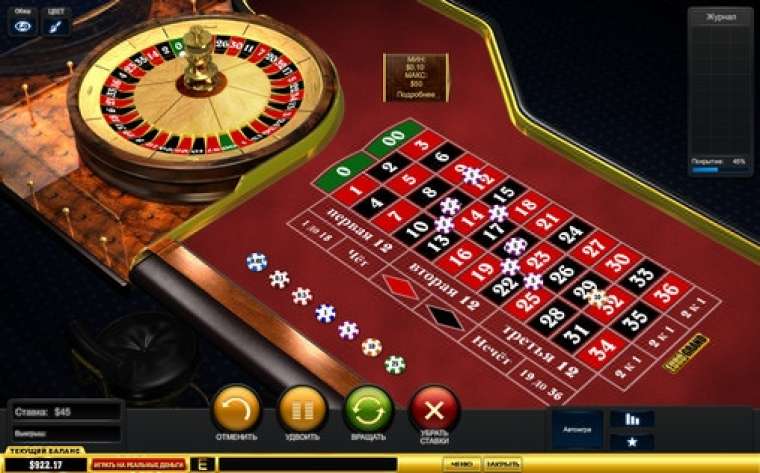 Play Premium American Roulette
Premium American Roulette is an online version of American roulette with the classic rules. It has thirty-eight numbers (1-36, 0, 00), which are arranged on the wheel in a manner that differs from the versions adopted for European or French variations. Users can make inside and outside bets that are common for all types of roulette. However a bet on five numbers is added (0, 00, 1, 2 and 3), which is paid 6:1.
Ranges of bets may vary at different casinos. For example, Tropez Casino allows wagering from one to twenty-five dollars on a single number, and the bet per spin can reach one thousand dollars.
The gameplay includes the selection of coin value and bets. Then the ball is spun. The layout is cleared and the payouts are made. It should be noted that all the chips are removed form the layout, including those that are placed on the winning number. The player has the opportunity to repeat his bet or double it in the next spin.
Premium American Roulette Bonus games
There are no bonus payouts in Premium American Roulette.
Jackpots
There are no progressive jackpots in Premium American Roulette.
Premium American Roulette Interface
The cool interface is a real advantage of Premium American Roulette. First, it is very realistic. Second, it is extremely simple to make bets and it is incredibly convenient to navigate. Only four buttons are used to control the gameplay: Spin, Clear Bets, Double and Rebet.
In the upper left corner of the screen there is a display on which the recent winning numbers are indicated. You can also notice a screen with a zoomed sector of the wheel in which the ball stopped.
Premium American Roulette has various settings that allow users to select the game speed, turn off some bets, adjust the sound, and so on.
Conclusion
Premium American Roulette is certainly beautiful, convenient and effective. Other manufacturers do not have so many models that can be compared to it. But keep in mind that it has 00 and high house edge, especially taking into account the fact that Playtechhas
more beneficial versions of roulette
from Premium series with the higher probability of getting the positive outcome.
Where to play Premium American Roulette for free or real money?
Users can download Premium American Roulette for free at many casinos running on the platform from Playtech. It is usually allowed to play it both for free and for real money. The portal Casinoz offers this roulette without registration in training mode.