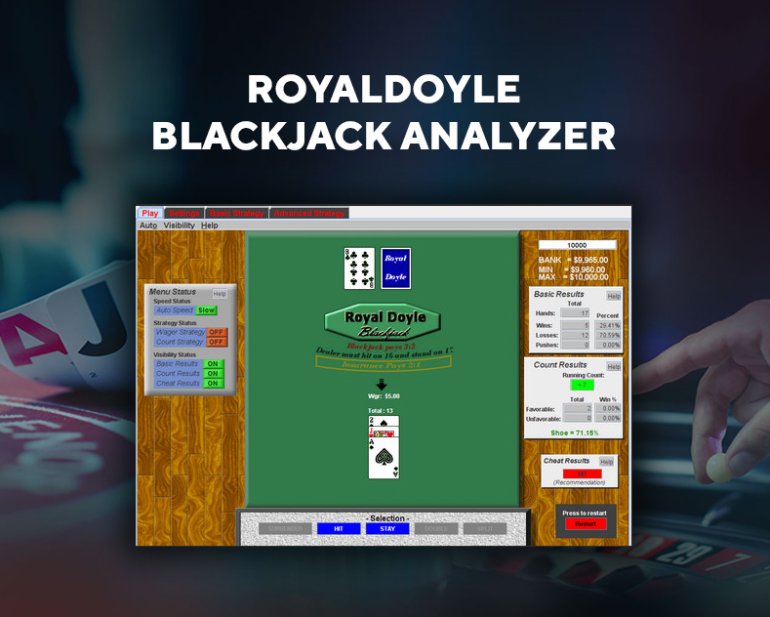 RoyalDoyle Blackjack Analyzer is designed for statistical analysis of blackjack with different rules. It can be used by players of any level - from those who make their first steps to professionals with years of experience. It will be interesting in the first place for those who wants to know in detail the house edge in blackjack. RoyalDoyle Blackjack Analyzer can check almost any blackjack.
A few words about developers
RoyalDoyle Blackjack Analyzer was created in 2005 by a group of software developers addicted to blackjack and constantly playing in real and online casinos. They decided that there was no good enough applications at the market, so their product will be able to fill this gap.
Working on the program, they tried to make it very clear. And it is more than possible.
Capabilities of RoyalDoyle Blackjack Analyzer
RoyalDoyle Blackjack Analyzer is a powerful application that allows you to thoroughly analyze the most versions of blackjack offered in modern casinos.
Instruments of the program allow you to specify all aspects of blackjack rules, including the number of decks of cards, cutting depth, order of a set of cards, the presence of surrender, types pf doubles, the possibility of dividing cards and so on.
The built-inbasic strategy table (total for "soft" hands and splits) is changed in accordance with the entered data. It can also be modified manually.
RoyalDoyle Blackjack Analyzer also offers card counting strategies, changes in bets depending on the situation and even the analysis of winning and losing the series. During the game, these strategies can be combined, whereby the maximum effect is achieved.
The program can operate in manual or automatic mode. In the first case, the user makes decisions, in the second it makes RoyalDoyle Blackjack Analyzer. If you set the highest speed, the automatic analysis tool in a few minutes can play hundreds of thousands of hands and print the final result.
RoyalDoyle Blackjack Analyzer Interface
Unfortunately, the program is available only in English, but anyone who understands what it is for, can understand it. If you are interested in blackjack, you probably know English terms, so problems with RoyalDoyle Blackjack Analyzer are unlikely to arise. Each of the sections of the program is provided with detailed help.
The program is not entertaining, so its interface is nothing superfluous or very beautiful. Each element has a specific function. In short, it is a professional tool.
RoyalDoyle Blackjack Analyzer 3.0 is available
Conclusion
Of course, we reviewed not all the functions and features of RoyalDoyle Blackjack Analyzer. On the site you can download demo of RoyalDoyle.com that will help you evaluate the product. The cost of the full version is $19.95.
Casinoz thinks that RoyalDoyle Blackjack Analyzer is undoubtedly a useful program, but if it is worth to pay twenty dollars - decide for yourself.