What to do to keep the audience interested in blackjack? This game is very exciting, but let's not forget that significant results are possible only by long hours of training and practice. So it is not surprising that new customers in real or online casino blackjack often refuse and prefer a simple game.
So, they establish rules that reduce the casino advantage. Such an approach is to attract experienced fans of the game and new players. But you can still see nuances that put the most venturesome and unrestrained customers at unreasonably risk. It turns out that the rule that should play into the hands of visitors, on a long run is profitable for the casino.
One such innovation is the so-called Charlie Rule offered in some places. It means that the box with the number of cards (five, six, and so on up to ten) automatically wins without busting. Number of points in the dealer's cards usually no longer plays the role, although in some casinos you can play a real blackjack with Charlie.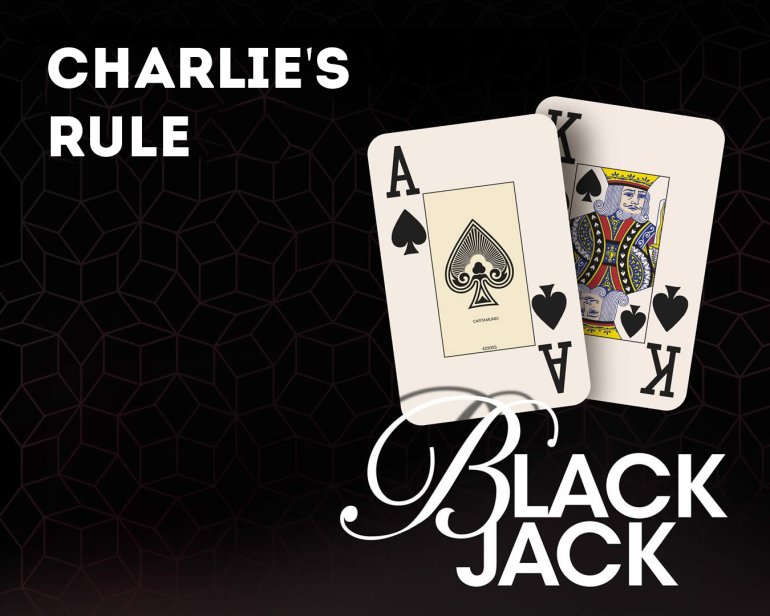 Features of Charlie Rule
Depending on how many cards should come to boxing to work out the rule, it has a different name. We will briefly discuss them.
5 Card Charlie. Less than five cards on the box - it is quite a common situation, so their number is minimal for this rule. On average, the five cards on the box is once in fifty hands, so this version is quite rare in the casinos.
It reduces the house edge to 1.46%, and the balance is tipped for a player. If you hit a blackjack with 5-card Charlie, be sure to pay attention to other rules. More likely that the casino has something else.
6 Card Charlie. The blackjack with this rule is much more common. It reduces the house edge to 0.16%, and six cards come once in four hundred. The basic strategy tables are usually modified specifically for 6-card Charlie.
7-Card Charlie. Here, the advantage is reduced by only 0.01%. This situation can be expected in one hand from 4600. Correct basic strategy for the rule does not make sense, so think of it as an unexpected bonus.
8-Card Charlie. Happens in one out of 79,000. Naturally, you can not take it seriously.
9-Card Charlie. The chances of it are 1:2 200 200, which speaks for itself.
10-Card Charlie. You came to boxing ten cards without busting? Grab your cell phone and take pictures. Then until the end of life you can boast that you got the combination which probability is 1:100 000 000!
What's the catch of Charlie rule?
For the experienced blackjack player there no tricks. They will use correct basic strategy (if that makes sense) and strictly follow it. But too inexperienced gamblers tend to chase the Charlie and typing on a boxing card when you should take a different decision.
Therefore, never deviate from right course games only in the hope that you are lucky with the Charlie rule.
Here is a modification of the basic strategy for blackjack, with a rule developed by Michael Shackleford, the author and owner of the website The Wizard of Odds.
Legend
:
H - take another card
S - stop card set
D - do a double on two cards; otherwise take a map
1 - take if Charlie is one card; otherwise stop
2 - take if Charlie is one card; otherwise stop
If you are interested in more of this rule, you can find more detailed variations of the basic strategies in the Internet.