 About
The famous company BetSoft Gaming has released a series of very unusual video poker games under the common name Pyramid. In these games, gamblers can make three bets simultaneously: on five cards, on the first three cards and on the last three cards of the hand. Each of them provides its own pay table and these bets are independent from each other. In this review of the portal Casinoz we want to introduce the model Deuces Wild of this category.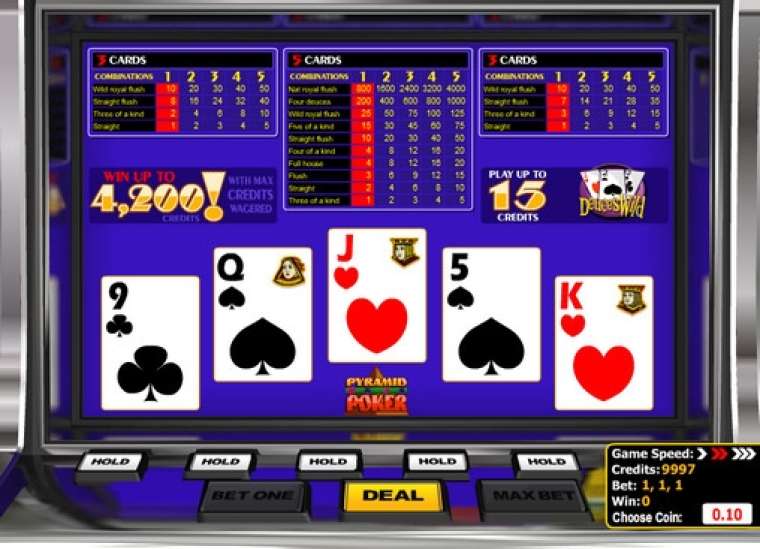 General description
Deuces Wild Pyramid Poker is an online video poker with three kinds of bets. It is played with one standard 52-card deck without additional jokers (their role is performed by deuces). All the cards are shuffled before each dealing.
The game on the basic bet is conducted in Deuces Wild Pyramid Poker according to traditional principles. The client receives five cards and can change any number of them one time for free.
Hands from three of a king to royal flush are considered to be winning in Deuces Wild Pyramid Poker. In addition, five of a kind (four of a kind and deuce), wild royal flush (with the participation of deuce) and four deuces are paid out according to individual odds.
The video poker Deuces Wild Pyramid provides the opportunity to try to increase the payout in risk game. A player should try to find one card of the highest rank among four hole cards.
It is possible to play Deuces Wild Pyramid Poker on one hand from one to five coins per bet from two cents to five dollars. Therefore, if you play using the highest possible bet, up to seventy-five dollars is accepted per one hand.
Playing with the maximum bets doesn't provide players with extra advantages in Deuces Wild Pyramid Poker.

Extra bets
Now let's discuss extra bets. They are accepted only with the basic bet and should be equal to it. One of them takes into account only the first three cards and the second one takes into consideration only the last three cards of the hand.
Winning hands include straight, three of a kind, straight flush and wild royal flush. Since the hand for the first and second additional bets are equal, payout percentage in the two tables is different.
Payouts for these hands occur at the end of the round.


Bonus games
There are no bonuses in Deuces Wild Pyramid Poker.


Jackpots
The Deuces Wild Pyramid Poker has no progressive jackpots.


Interface
It is possible to download the video poker Deuces Wild Pyramid in several languages. It has an intuitive interface which can be mastered in a minute by any novice gambler who knows the rules of video poker. Our advices will help beginners:
Deal allows dealing cards
Bet One helps to choose the bet size (consequent clicking allows making extra bets)
Max Bet provides games with the highest bet
Choose Coin allows choosing the rank of the coin
Game Speed indicates the velocity of the game
Hold allows keep the card with you
Cancel helps to abandon risk game
Double allows starting risk game
Pay tables are located just above the main screen. Deuces Wild Pyramid Poker does not provide advices, so be careful.


Conclusion
Deuces Wild Pyramid Poker will surely be interesting to our readers who like the original versions of video poker. We can not tell anything about the strategy of the game, but we hope that soon we will develop it.
We were pleased with Deuces Wild Pyramid Poker, though we expected better graphics from the company BetSoft Gaming, knowing what great video slots are released by it. However the interface of the video poker is very user-friendly and logical.


Where to play for free or real money?
The video poker Deuces Wild Pyramid is available in many online casinos running on the platform from BetSoft Gaming, including 7Red Casino, where we tested this model. There it is allowed to test gambling games online without registration in training mode. The same opportunity is provided for the readers of Casinoz directly on our portal.


User comments
Comments
User comments