 Jacks or Better Draw Poker Review
The world-renowned manufacturer of software for gambling IGT develops not only colorful and original free slot machines. Its range of products also presents gambling games of other genres. In particular, in this review we want to discuss the video poker Jacks or Better Draw Poker from the series Phantom Belle.
It includes several interesting models, designed in the same style. The most remarkable feature of these video poker models is the fact that the cards are dealt to the customers by a ghost, but they can only see his white gloves. In short, Phantom Belle Jacks or Better Draw Poker looks very impressive, but it deserves your attention not only due to this fact.
Rating
Excellent
8.36 /10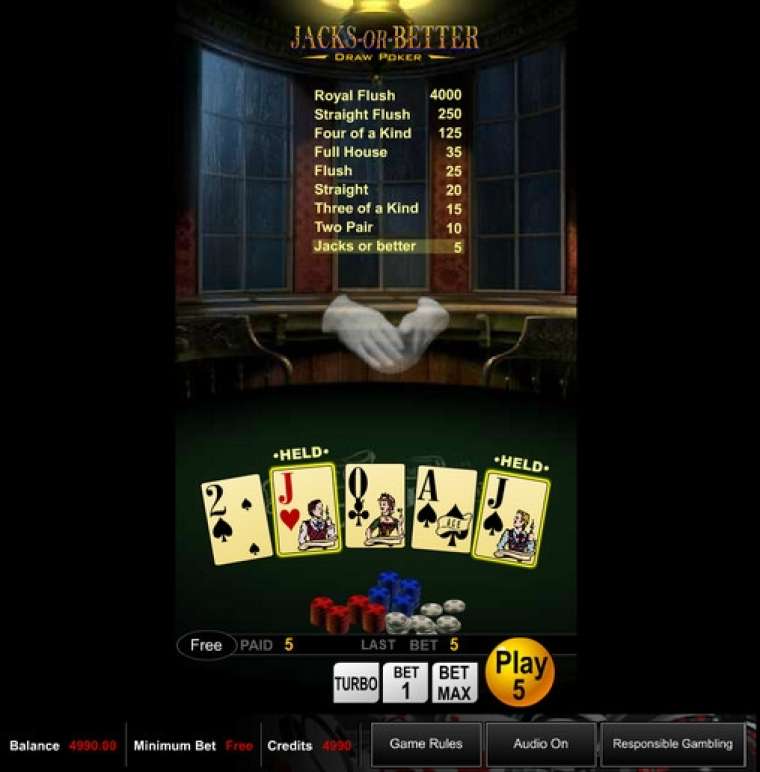 Play Jacks or Better Draw Poker
Jacks or Better Draw Poker is a free online poker from IGT with classic rules (they are described in detail
in the individual article
on the website Casinoz).
The aim of Jacks or Better Draw Poker is to collect a paid combination. It includes classic poker hands starting from the pair of jacks or higher. Per round it is allowed to change from one to five cards for free one time, if necessary. The highest paid hand is a royal flush.
A standard 52-card deck without jokers is used tor Jacks or Better Draw Poker. All cards are shuffled at the beginning of each dealing.
Gamblers can play Jacks or Better Draw Poker using from 1 to 5 coins. If you make the maximum bet the royal flush gives disproportionately high payout in the amount of four thousand coins (compare to 250, 500, 750 and 1,000 in case of bet of one-four coins).
The range of denominations of coins is determined according to the rules of each casino.
The game is standard. Players make bets and receive five cards. Then they leave cards that are valuable. The dealer changes the rest and then payout is made according to the rank of the resulting hand.
There is no risky doubling option in Jacks or Better Draw Poker, so payout is immediately credited to the account.
Jacks or Better Draw Poker Bonus games
According to the rules for the video poker Jacks or Better Draw Poker, bonuses are not provided.
Jacks or Better Draw Poker Interface
The interface of the video poker Jacks or Better Draw Poker will be easily understood even by the beginner. Most readers of Casinoz surely don't need any advices, but still they can be useful for novice gamblers:
Play allows starting a new round
Bet provides an opportunity to select a bet (in coins)
Bet Max allows betting five coins
Turbo is used to turn the quick dealing on
Hold allows holding a card
Draw is used to exchange unnecessary cards
Paid informs gamblers about the sum of payouts
Balance provides information about the amount on the account
Game Rules is used to study general rules
Audio On/Off allows turn on or off the sound
As you can see Jacks or Better Draw Poker has only two user settings: disabling the sound and activation of turbo game mode. There is no need to download this video poker, as it can be run in flash mode.
Conclusion
In general, the main advantage of Jacks or Better Draw Poker is a colorful and very user-friendly interface. Rules are standard, as well as payouts. However there is no doubling, but there is a question whether it is necessary or not. The video poker Jacks or Better Draw Poker has made a good impression, so we recommend that all fans of gambling games of this category should try it.
If you want to master
video poker
Jacks or Better Draw Poker playing with the help of the optimal strategy, read an article devoted to this topic in the special section of Casinoz.
Where to play Jacks or Better Draw Poker for free or real money?
Gamblers can find the video poker Phantom Bell Jacks or Better in different online casinos, which offer products from IGT. In particular, it is available at White Knight Casino, where it is allowed to run online games on conditional bets without registration. Gamblers can also test this poker in training mode directly at Casinoz.