 Aces and Faces Poker Review
Aces and Faces video poker is one of the most popular kinds in this category of gambling games. It is especially popular in the online casinos among the players, who like to receive increased payoffs for some Four of a Kind combinations.
Herewith, this model is presented by different software producers for online gambling, including Oryx Gaming brand, which offers colorful models with multi-language interface. The team of Casinoz has prepared a review of online video poker named Aces and Faces, developed by this company, special for you.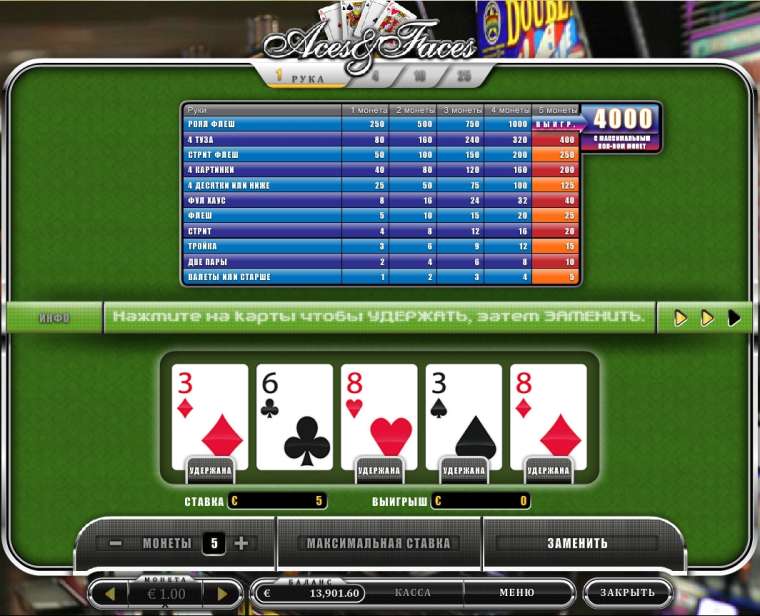 Play Aces and Faces Poker
Aces and Faces Poker is a free video poker with traditional rules of Aces and Faces game. There the standard pack of fifty two cards without jokers is used here. All cards are necessarily mixed before every deal.
The aim of the game in Aces and Faces Poker is to make a combination, provided by the rules. It is allowed to change from one to five cards once. It is free of charge.
The paid combinations of Aces and Faces Poker video poker are all classic poker combinations from pair of jacks to royal flash. A particularity of this kind of game is increased payment indexes for Ace quad and quads of any symbols (jacks, queens and kings).
Playing Aces and Faces Poker video poker is possible by one, four, ten or twenty five lines. The acceptable bet per each of the lines is in range from one to five coins. In case you play by the bet in five coins, the payoff for royal flash increases disproportionally (4000 coins).
The value of coins is still determined by the player. It can be in the following range: 0.01, 0.02, 0.05, 0.10, 0.25, 0.50 and 1 euro. This way the maximal acceptable bet per spin is five euro in case of playing in one hand.
In case you are playing by several lines, first you receive cards at the start hand. When you decide which cards to leave, it would be duplicated by all lines. Additional cards for the rest boxes are dealt out from the special packs.
The total payoff per spin or its half can be staked in the gambling feature of Aces and Faces Poker. Everything is traditional here: you have to find the card higher than the open one from the first attempt. If you succeed, the winning would be doubled. If not, you lose the bet. It is possible to play several times until you reach the limit of five hundred euro.
Unfortunately, we don't have any information about the theoretical payback index of Aces and Faces Poker online video poker.
Aces and Faces Poker Bonus games
There are no additional prize payoffs in Aces and Faces Poker video poker (except of those which are charged for some of quads). The bonus rounds are not provided by the rules neither.
Aces and Faces Poker Interface
The interface of Aces and Faces Poker developed by Oryx Gaming is fully translated to several European languages, so playing it is very convenient even for non-English speaking gamblers. We wouldn't describe the functions of the main buttons, which you can see at the control panel here.
It is possible to select the speed of deal, set up the background music, switch off the various options and etc. in Aces and Faces Poker video poker.
There is a detailed informational section in this game. The short rules and the payment table are available in "Info".
It is not necessary to download Aces and Faces Poker video poker, because this model can be launched right in a browser. It is enough to open it at the website of the online casino.
Conclusion
Aces and Faces Poker is a video poker for the lovers of large payoffs. Exactly this model developed by Oryx Gaming can be praised for the nice multi-language interface, an excellent functionality and a variety of settings. So, you should definitely like it.
Taking in account that the payoff for the largest combination increases a lot in the game for five coins, it is easy to guess that playing Aces and Faces Poker video poker is better by stake in amount of five coins. Its value is no matter. Please read other recommendation about video poker in the special section of Casinoz online portal.
Where to play Aces and Faces Poker for free or real money?
Aces and Faces Poker online video poker is available in a training mode as well as for the game by the real bets in SinCity Casino. By the way, it is possible to test online gambling games even without registration in this online casino. Moreover, you can launch Aces and Faces Poker right at Casinoz in a fun mode.
Your opinion about Aces and Faces Poker video poker is very important for us. Your responses, which you can write in comments, help us making the website more interesting and useful.