 About
Pai gow poker is not one of the most common forms of poker among customers of land-based and online casinos. However many users have been able to notice its advantages and play it with pleasure. If you also like pai gow or you want to master it, Bonus Pai Gow Poker developed by Microgaming will be suitable for you.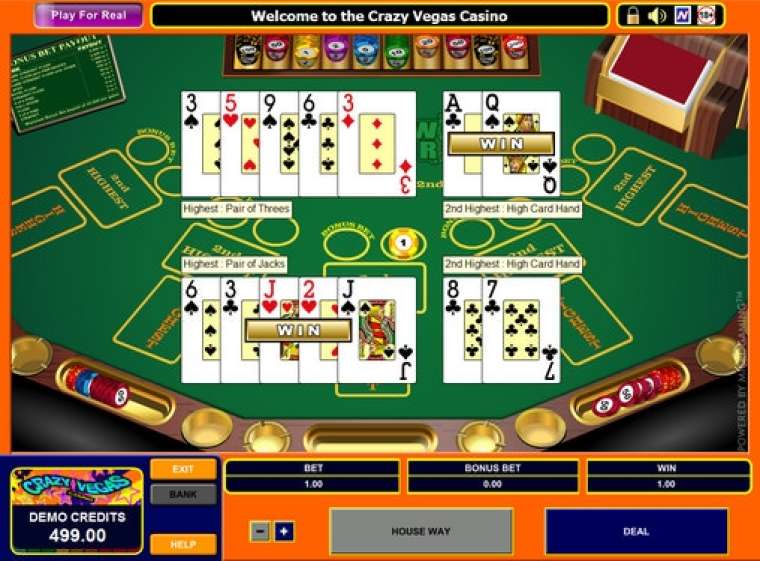 Play Bonus Pai Gow Poker
Bonus Pai Gow Poker is an online version of pai gow poker with the bonus bet released by Microgaming. A 53-card deck (standard fifty-two cards with a joker) is used in it. They are shuffled before each new deal.
The joker can only participate in the following hands: straight, flush, straight flush and royal flush.
The goal of Bonus Pai Gow Poker is to beat the dealer by high and low hands.
The basic bet can be from one to two hundred dollars at Crazy Vegas Casino, and the bonus bet may vary from one to twenty. You can play betting only on one hand.
The client and dealer receive seven cards from the beginning of the game. The player can see the dealer's cards. They have to divide them into two hands: high five-card hand and low two-card hand. It is necessary that the five-card hand should be higher-ranking.
Read more about rules for pai gow poker in the corresponding section on the website Casinoz.
If the player defeats the dealer in both cases, he or she receives a payout according to the 1:1 ratio (minus 5% commission fee). If only one hand wins, a draw is announced. If both hands fail to win, the user loses the bet.
Bonus Pai Gow Poker Bonus games
Users can make a bonus bet on the special field in Bonus Pai Gow Poker. It is not necessary to place it. This bet is independent of the ante. It wins if the seven cards (even before their split) have one the combinations mentioned below.
Payouts for the bonus bets are the following:
Straight - 2:1
Three of a kind - 3:1
Flush - 4:1
Full house - 5:1
Four of a kind - 25:1
Straight flush - 50:1
Royal flush - 150:1
7-card straight flush with a joker - 400:1
Royal flush with a pair of deuces - 2,000:1
7-card natural straight flush - 8,000:1
Commission fees are not charged for winnings from the bonus bet. The highest payout is artificially limited to 25,000. Keep this in mind when you will think over the bet size.
Bonus Pai Gow Poker Interface
The interface of Bonus Pai Gow Poker is not very complicated, though beginners can face difficulties if English is not their native language. Therefore, we are going to explain the functions of the basic elements:
-/+ allows selecting the bet size
Deal allows dealing cards
Play allows playing after a split
House Way allows using the advices of a casino concerning the split of cards
Help provides information
Exit allows exiting the game
Credits shows the number of credits on the account
Bet shows the bet size
Bonus Bet shows the bonus bet size
Win shows the payout amount
It is not necessary to use advices of a casino.
Conclusion
It seemed to us that the only lack of Bonus Pai Gow Poker was a too colorful design. We did not find the other disadvantages of this game. We believe that you will also enjoy it.
The optimal strategy for pai gow poker is discussed in detail in a separate article on the website Casinoz. Use our recommendations if you want to improve your skills.
Where to play Bonus Pai Gow Poker for free or real money?
Crazy Vegas Casino provides you with the opportunity to play Bonus Pai Gow Poker for real and conditional bets. Users can also find this poker at other online casinos running on software released by Microgaming or test it in training mode on the site Casinoz.