 About
Gambling card game Pai Gow is an unusual variation of poker that has very simple rules and more complicated optimal strategy. Earlier Portal Casinoz has published articles on the poker, as well as an overview of several online versions of the game from different manufacturers. Below we discuss the model of Pai Gow Poker released by a well-known company Random Logic.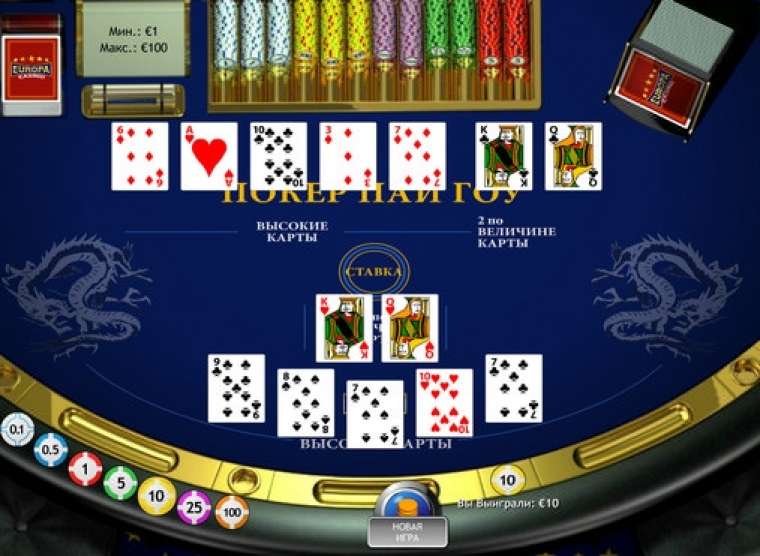 General description
Pai Gow Poker is a variation of poker that is played with one standard deck of fifty-three sheets (with one wild card). All the cards are shuffled before each hand.
Objective of Pai Gow Poker is to beat the dealer's two combinations, the player creates their own seven cards received from distribution. The eldest is a combination of five cards, the youngest consists of the two. This five-card combination has to be more valuable than the two-card.
You can divide cards yourself by two combinations (without breaking the rules) or you can ask for casino tip. In this case, the combination will be formed as if a dealer would have done it in your place (who strictly follows certain rules).
Joker does not replace all the cards. It can be used instead of an ace, as well as to supplement the following combinations: a straight, flush or straight flush.
The most valuable combination in the high hand is five aces (four aces and a joker). The younger the hand - a pair of aces. More attention should be paid to the value of the straights. The oldest of them is straight from ten to ace, and the second value goes straight from ace to five. Next seniority valued as in poker.
If the dealer and the player are formed equally strong combination, the dealer wins.
Casino takes 5% of the player fortune.
The 888 Casino to play Pai Gow Poker can be three tables, which are different ranges of rates: $1 - $300, $5 - $10 and $500 - $2,000.
Bonus games
Bonuses are not provided by Pai Gow Poker.
Jackpots
Progressive jackpot is not provided.
Interface
Our tips will help you to understand interface functions. Note that buttons appear on the control panel only in situations when they can be used.
Rebet - repeat ante
New Bet - make a new ante
Deal - deal the cards
House Way - split card with a casino
Set - accept your card section
Balance - account status
The amount of bet is selected by clicking on the chip stack of needed value. In Pai Gow Poker you can disable the sound, and use the reference section.
Conclusion
Playing Pai Gow will be interesting to fans of unusual varieties of poker. Namely model Pai Gow Poker from Random Logic has a pleasant and user-friendly interface, the classic rules and high functionality. Let us not forget that it is available with a very wide range of bets.
In a separate article in section dedicated to strategies of the Casinoz portal we told about,
how to play poker Pai Gow in a right way
. Please use this publication if you want to achieve maximum results. With it, you can reduce the house advantage up to about 2.7% (which is comparable with the European roulette).
Where to play for free or real money?
You can play Pai Gow Poker for money or for free in the 888 Casino. To experience this casino game, you must open a customer account as it is not available without registration. But do not worry: this process will take just a couple of minutes.