Pai gow poker is based on the ancient Chinese game, which has been transformed into a modern entertainment, appreciated by many casino players. A 53-card deck that contains joker as an additional card is used in pai gow poker at online casinos. The game has one feature that should be known by every player - the outcome of most rounds is a draw. That is why even a player with a small capital can play for a long period of time staying afloat.
At the beginning of the game the customer makes a bet, receiving seven cards. Received cards are divided by the player at his own discretion with the formation of two hands: big (high) and small (low). The big hand has five cards, and the small one is made up of two cards. The rules that are established in the classic poker are valid for the high five-card hand. Therefore, standard poker combinations are valid for it. When you divide the cards into two hands, it is worth
remembering that the small hand should have a smaller combination compared with the big hand. Many online casinos consider a straight (an ace, a deuce, a three, a four, and a five) to be the second-ranking hand. As stated above, there is a joker in pai gow poker. However if you use it, keep in min that it only contributed to the formation of flush, straight flush, and straight. In other cases, it is equal to the ace.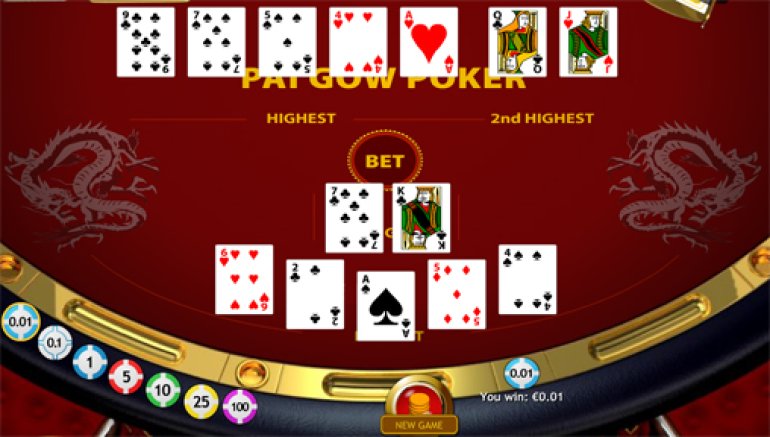 While a player divides his cards, the dealer is doing the same operation. As soon as the player and the dealer divide their cards, they compare their hands according to the table and find out whose hand is higher in rank. To win, the player should beat both hands of the dealer. The winning is paid 1:1 (5% goes to the house as a commission fee). If the player beats only one hand (either big or small), a draw is announced. However if the hands of the player and the dealer are identical, the dealer wins.
Some online casinos provide a service with the help of which the player can split cards automatically in the way the dealer does it. To install this feature, you need to click on House Way. However pai gow poker has such a feature not at all online casinos. Therefore, if it is not available, the player will have to rely only on his own skills. The player can also take advantage of certain strategies for pai gow poker in order to increase his chances of winning.