 About
«Caribbean Stud Poker» hardly needs to be introduced. The regular readers of Casinoz, as well as experienced customers of real and online casinos are well-familiar with this kind of poker where the player's opponent is the house represented by dealer.
They also know that some versions of «Caribbean Stud Poker» provide side bets, which progressive jackpot is drawn by, as well as bonus payouts. Exactly about this kind of game developed by Cryptologic, which was named «Caribbean Stud Poker SP», we would like to talk in the following review.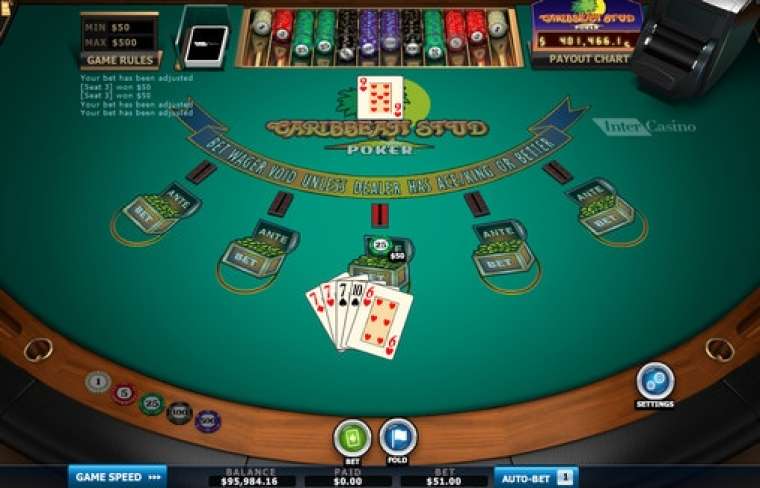 Play Caribbean Stud Poker SP
«Caribbean Stud Poker SP» is an
online stud poker with classic rules
, bonus payoffs and a progressive jackpot.
One standard deck of fifty two cards with no jokers in used for this game. The cards are shuffled before each deal.
Playing «Caribbean Stud Poker SP» is possible only on one box. InterCasino has five tables for stud poker, which differ by betting range: $1-50, $2-100, $5-300, $50-500 и $100-1000. The side bet which the jackpot is drawn by has a fixed amount of one dollar.
Standard poker combinations from ace and king to royal flush play in «Caribbean Stud Poker SP» game.
The gambler places ante bet of selected amount. He can also make a side bet, which we would talk about in the following paragraph, on his discretion.
Then he receives five cards. All of them are laying face up. The dealer deals five cards to himself, but he reveals only one of them. The player weights the situation and decides if he folds the cards and loses ante or continues playing and bets two ante.
If he stays in the game, the dealer reveals his cards and checks for the minimal combination, which is an ace and a king. If case of no combination in this cards, he pays ante 1:1.
If the deal has a draw, he compares his cards with the customer's. In case the dealer's combination is higher, the player loses both bets. If the client wins, his ante is paid 1:1 and bet is paid according to the combination index:
One pair – 1:1;
Two pairs – 2:1;
Three of a Kind – 3:1;
Straight – 4:1;
Flush – 5:1;
Full House – 7:1;
Four of a Kind – 20:1;
Staright FLush – 50:1;
Royal Flush – 200:1.
Any extra features (exchange, sixth card, insurance and so on) are not provided by the rules of «Caribbean Stud Poker SP».
Caribbean Stud Poker SP Bonus games
As it was already mentioned above, it is possible to place a side bet in amount of one dollar in «Caribbean Stud Poker SP», which draws bonus payoffs and the progressive jackpot.
Wins are paid when one of the following combinations is formed on the player's hand:
Flush - 50 dollars;
Full House – 100 dollars;
Four of a Kind – 500 dollars;
Straight Flush - 10% of the current amount of the progressive jackpot;
Royal FLush – the whole amount of the progressive jackpot.
Side bet plays independently of the main, however, it can't be placed on its own.
Jackpots
The minimal amount of the jackpot is one hundred thousands dollars.
Caribbean Stud Poker SP Interface
Well, now about main elements of the interface. Our tips would help you study out the control panel of «Caribbean Stud Poker SP» faster, because «Caribbean Stud Poker» developed by Cryptologic is available only in English.
Deal – deal the cards.
Rebet – repeat the bet.
Rebet & Deal – repeat the bet and deal the cards.
Clear Bets – reset all bets.
Bet – place a bet.
Fold – fold the cards.
Settings – user's settings.
Game Speed – set up speed of the game.
Auto-Bet – the automatic game mode.
The user's settings allow to activate some parameters of the gameplay (tips, automatic bets and etc.).
Conclusion
«Caribbean Stud Poker SP» is the convenient and functional kind of online poker, which can be recommended to any fans of jackpots and bonus payouts. However please don't forget that side bets usually have high casino advantage in video pokers. Please read more about rules of Caribbean poker and the
strategy of this game
in the special articles published at Casinoz.
Where to play Caribbean Stud Poker SP for free or real money?
One of the best online casinos offering «Caribbean Stud Poker SP» game is InterCasino. You can also find this video poker in other gambling houses powered by the software developed by Cryptologic. Our reviews of online casinos would help you to make a right choice. Caribbean poker can be also tested right at Casinoz without registration, but only by the virtual bets.