 About
The name of Midas is frequently met in the myths and history of Ancient Greece. The most famous of these characters was mythic emperor Midas, who was ruling Phrygia in times of Trojan War. He has become famous due to the unusual events which happened to him.
First Midas was a judge of contest of Apollon and Pan by playing syrinx. He liked performance of Pan more and furious Apollon has awarded the emperor with the ass's ears. After it Midas has found and sheltered lost Silenus, the teacher of Dionysos, and the god of winemaking has promised to live up any of his dreams.
Greedy Midas has asked him a gift to turn any object into gold with one touch and Dionysos the joker has granted his wish. In result the emperor couldn't eat and drink because all the things he touched were turning into this precious metal. He was willing to beg Dionysos to take pity on him and take this gift away.
Exactly this story about midas was played out by the developers of AshGaming company in the colorful and unusual video slot named Midas Millions. However, their emperor is living in our time.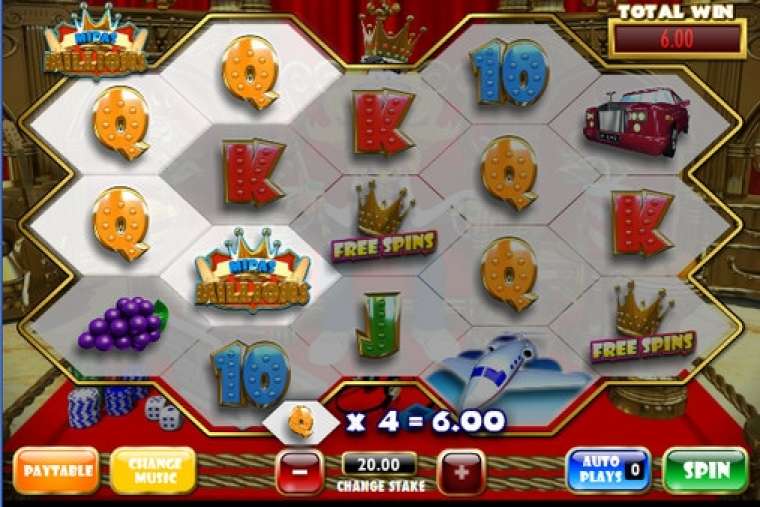 Play Midas Millions
Midas Millions is a free online slot machine without traditional reels and pay lines. At the screen of this slot machine you would see seventeen hexagonal cells with symbols, situated in five columns by three and four icons.
This game is provided with the special symbols, free spins, payoff multiplier and lots of other interesting gaming options. The gambling feature is not provided by the rules of Midas Millions slot machine.
The winning combinations are formed in any direction. It is necessary to pick at least four symbols to make a combination, which have to touch each other by any side. Consequently, it can be start or vented line or even a accumulation of several symbols in the same place.
Midas Millions slot machine provides 118700 ways of forming the paid combinations. An amount of the winning depends on a quantity of symbols in the combination, the index (up to x1000) and an amount of the bet.
Playing Midas Millions slot machine is possible by the bet in range from five cents to twenty euro per spin (by the example of Unibet Casino Black).
Symbols
Midas Millions is a slot machine about luxurious life of the modern emperor. A private jet, a luxurious car, expensive watches, elite champagne - are the symbols, imaged at its reels. There you can also see the value of playing cards from ten to ace, usual for slot machines.
There are also several special symbols in Midas Millions video slot, such as:
Wild (a logo of Midas Millions), which replaces one symbol, helping making the combinations. It can be used only in one group. Midas the emperor merges two Wilds at the same diagonal row turning it and all the rest symbols between them in Gold Wilds.
Gold Wild (a logo of Midas Millions in golden color) replace and turn other symbols into golden. Such combinations are paid out by the double indexes.
Free spins (a golden crown and Free Spins capture) is an analogue of Scatter. Three such symbols at any position of the screen give a right for ten free spins with Locking Wild symbols. Such Wilds keep its places till the end of the spins.
Midas Millions Bonus games
Any thematic bonus games are not provided by the rules of Midas Millions slot machine.
Jackpots
A progressive jackpot is not raffled in Midas Millions video slot.
Midas Millions Interface
It is not necessary to download Midas Millions slot machine, because it can be launched in a flash mode. Here we would like to explain the functions of the main elements of the interface of this game, which is available only in English language:
Spin - start a new round.
Auto Plays - an automatic game mode.
Change Stake - change an amount of the bet.
Paytable - the payment table.
Chancge Music - parameters of the background music.
Total Win - an amount of the payoff for a spin.
The index of the winning combination in a spin, as well as amount of the payoff by it, are displayed right above the control panel.
Conclusion
You should agree that Midas Millions is unusual slot machine, although something similar can be found in the gaming assortments of other producers of the software for online casinos. Although a bonus game is not provided by the rules of this slot, we can't call it boring, because various special symbols live up the gameplay with its original functions. So, it is well-quality model and you should definitely test it.
Where to play Midas Millions for free or real money?
You can find Midas Millions slot machine in some online casinos, powered by the software developed by AshGaming. One of them is Unibet Casino Black, where it is possible to launch slot machines even without registration by the virtual bets.
Please share your impressions of Midas Millions slot machine with us and other readers of casinoz.me. You can write your responses in comments to the review and rate this game.