 About
Dominoes are used in this ancient Chinese game called pai gow. It is the ancestor of several card games, including baccarat and pai gow poker. Unlike other gambling activities, the origin of pai gow poker has no secrets. It was invented and patented by Fred Wolf, a manager of Commerce Casino, in early eighties of the 20th century.
We offer our readers to become familiar with an online version of pai gow poker developed by the experts of the well-known company Cryptologic.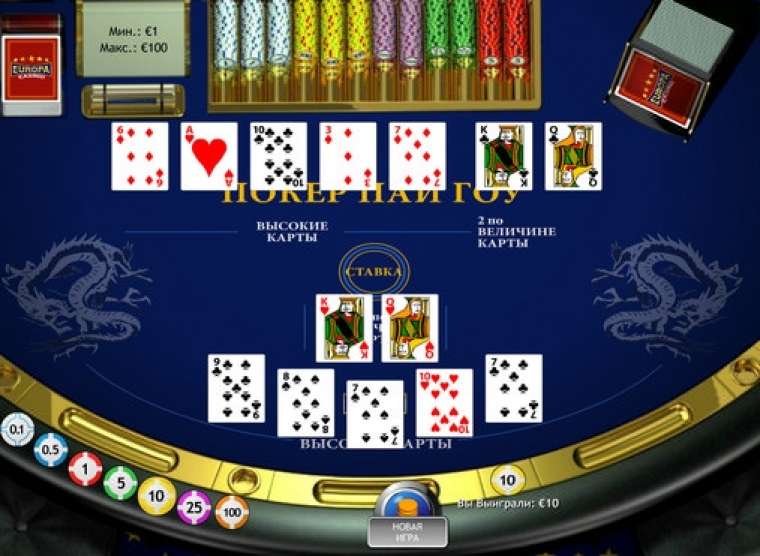 Play Pai Gow Poker
Pai gow poker is an online poker with traditional rules for pai gow. A standard 52-card deck with one joker that has limited strength is used in it. It is used only as an ace and for the formation of a straight, flush, straight flush and royal flush.
The aim of pai gow is to collect in high five-card hand and low two-card hand a higher combination than in the corresponding hands of the dealer. The high hand should have a higher-ranking combination.
The range of bets at InterCasino at the pai gow poker table varies from two to fifty dollars.
Pai gow poker has standard poker hand ranks. The highest ranking hand is four aces with a joker. There is only one exception: A, 2, 3, 4, 5 is the second-ranking straight (straight flush) after 10, J, Q, K, A. The highest-ranking two-card hand is a pair of aces.
The gameplay of pai gow poker includes the following stages:
Selection of the bet size.
Seven cards are dealt to the player.
The cards are divided into high and low hands (in this online game the user should select two-card low hand).
The cards are dealt to the dealer and divided into hands.
Hands are compared to each other.
Payouts are made according to the following rules:
If both player's hands are higher than the dealer's hands, he or she receives payouts according to the 1:1 ratio (5% commission fee).
If both hands have lower ranks, the bet is lost.
If one hand is higher in rank and the second one is lower, the draw is announced.
If both hands are equal, the dealer wins.
Then the new round starts.
Pai Gow Poker Bonus games
This game does not have bonus payouts.
Jackpots
Pai gow poker released by Cryptologic does not offer progressive jackpots.
Pai Gow Poker Interface
Pai gow poker has several buttons. There are the following basic ones:
Re Bet is used to repeat the bet
Pull Bets allows removing all bets
Deal is used to deal cards
Pass is used to fold
Done is used to confirm the low hand
The bet is made by clicking on the desired coin value. In the lower left corner there is a box in which data about the game appear.
Conclusion
Pai gow poker is an interesting version of poker, which is able to inspire users who are yet not familiar with it. It has very simple rules, but it requires knowledge of the basics of optimal strategy. You can learn how to play pai gow poker in the special article published on the website Casinoz.
Where to play Pai Gow Poker for free or real money?
It is possible to download pai gow poker for free at InterCasino and in some other establishments running on software released by Cryptologic. All of them allow you to learn how to play pai gow poker using conditional bets.