 About
Rock On! is a thematic video slot developed by Rival company and devoted to rock'n'roll and its stars of the past and present. A fantastic graphics, sound effects and excellent gaming options make this slot machine even cooler!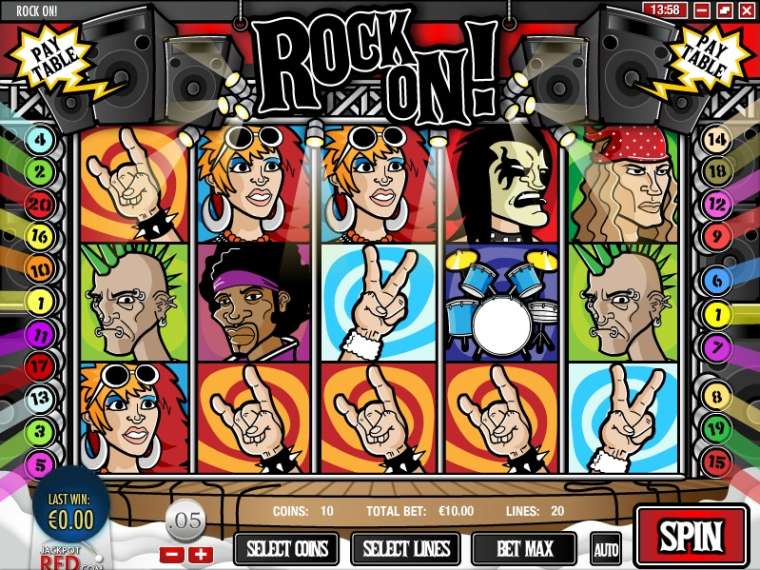 General description
The value of coins available in Rock On! slot machine can vary in range from one to twenty five cents. It is possible to stake up to ten coins per each of the active lines. Taking in account that there are totally twenty pay lines in this game, an amount of the bet per spin can vary from one cent to fifty dollars. Well, are you ready to rock? Actually, this slot machine suits almost everybody! At least, the fans of rock music can't stand on it for sure.
The game is designed in a beautiful way. A bold logo in the header reflexes rock'n'roll style. You can see speakers at both sides of the screen, while the reels seem to be situated at the wooden scene. Every spin is accompanied with guitar sounds, while the reels are in flames while spinning.
The topic of rock music wouldn't be complete without music and sound effects, that's why Rival company has taken care about it. At the background you can hear screening of the fans of this game, as well as guitar and drum sounds. These sounds create a special atmosphere of this game. They essentially improve playability of this video slot. Some games are devoted to wonderful themes, while sounds can spoil everything. In this slot machine everything is oppositely - stunning sound effects improve the game.
Playing Rock On! slot machine you can win free spins when three and more symbols with images of drums drop out anywhere at the screen. You can get five free spins with x5 extra multiplier, while for the combination made of five such symbols you would be granted with an extra bonus in the end of the game.
Symbols
At the reels of Rock On! slot machine you would see the characters which suit the topic of this game. Here you can see Jimmy Hendricks, Elvis Presley, Jean Simmons, Paul McCartney as well as drummers, guitars, emblems of peace and etc. Every symbol is provided with its own animation, for example, Elvis claps his hands.
An image of a green guitar plays part of expanded Wild in this game. It covers the whole reel when it completes any of winning combinations. This symbol also doubles up the winning and you can see a spectacular animation and hear an excellent soundtrack.
Bonus games
An image of Elvis is Scatter symbol of Rock On! slot machine. In case three such symbols appear ay the reels, it triggers the bonus round of this game. Herewith, the bonus game is quite funny. Here you would have to play guitar! Imagine how you are staying at the scene with a guitar in your hands and start rocking this party! Moreover, you are granted with a generous reward for every performance. Well, it would be quite generous here, taking in account that you are a beginner yet. You can get your payoff in the end of the bonus game, while when you return to the standard game, all received credits would be transferred to your gaming account in an online casino.
You can play different famous songs here and the level gets higher with every new one, but it would be compensated more than enough. Please don't forget about it when you enjoy the gameplay and your favorite songs!
Jackpots
An amount of the largest payoff of Rock On! slot machine is 4000 coins. It is equal to ten thousand dollars in case of the maximal bet.
Interface
It is possible to control the gameplay of Rock On! slot machine with help of different buttons, which you can find in the bottom part of the control panel:
You can select the value of coins with help of «+» and «-» buttons. As usually, these buttons are very small and hardly notable, that's why the beginners don't pay their attention on it. Usually, the minimal value is one cent. At least, it was like that in our case. The value of coins affects the budget a lot even if the difference between the values is small.
Then you can see «Select Coins» button, which you can use when you need to select how many coins to stake per line.
«Select Lines» button would let you select active lines. Active lines can be horizontal, vertical, diagonal and absolutely different. Every pay line has its number. When you enter Paytable, you can see that the number of your winning line is blinking after the winning.
Spin - start a new gaming round.
Bet Max - play by the maximal bet and all active lines.
Paytable would provide you information about all the particularities of the game, so you can find out how to in the largest prize taking smallest efforts. Just click at Paytable button, which is situated near the speakers and study all the details.
Conclusion
It's a pity that day consists only of twenty four hours when it is so interesting to try everything and play all the games. Rock On! is a kind of game which is worth of your time. It was worked out well, perfectly designed and offers excellent visual and sound effects as well as the range of incomparable characteristics and options. If you decide to test Rock On! slot machine personally, you wouldn't be disappointed!
Where to play for free or real money?
It is possible to find Rock On! video slot in Jackpot Red Online Casino. It is a secure online casino, where you can enjoy high quality service, while its gaming assortment is always updated, so you are not going to feel bored. If you are looking forward for new slot machines and unusual video slot, here you can find what you need.
Meanwhile, we are looking forward for your responses about Rock On! slot machine. Please share your impressions in comments to the review and rate this game. Your opinion is very important for us.