 About
Does anybody dislike fairy-tales? They are always connected with that period of life when we felt so good and comfortable next to our moms and could fall asleep with her tender voice reading about unseen kingdoms, about wonders which always follow the main heroes and about the good which always wins the evil. Russian folklore fairy-tales reflect the part of Russian people and their national character. Their main heroes are always on the ear in spite of the great number of stories of other peoples and new heroes, which have been created in nowadays. Russian fairy-tales are special. They are original and notable due to their colorful and unique characters. Baba-Yaga, Dragon Gorynych, Princess Frog, the Snow Maiden - you can't find anything like this in folklore of other peoples. Even if you do, they don't have that special character which Russian people have provided their characters with. These fairy-tales were told from generation to generation and each of them has updated it with something new, that's why the fairy-tale is the result of the real folk art. It is something created by united efforts. Now you have an opportunity to read fairy-tales and, in spite of our parents, even play them. Playtech company has taken care about it creating «Skazka» slot machine. Now your favorite characters can also bring you a prize.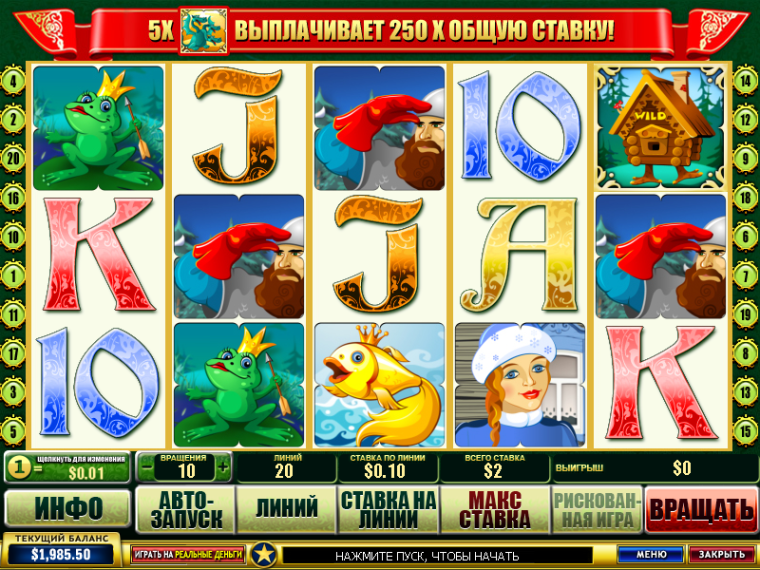 Play Skazka
«Skazka» is the five reeled online slot machine with twenty pay lines, which gameplay is followed by Russian folk melodies, taking us into the special fairy atmosphere of the childhood. All the symbols of this game are taken from Russian folk tales. Here you can see a hut on the chicken legs, which plays part of Wild symbol in «Skazka» slot (it means it can replace other icons of this game), a golden fish from Pushkin's fairy-tale, which has made so much for the old couple which still were unsatisfied, a bogatyr as well as other fairy characters. All of them are the gaming symbols of «Skazka» game.
We were just incredibly lucky playing on «Skazka» slot machine. We have hit free spins three times during the game. First time we got twenty free spins with x2 multiplier and won about fifty dollars. However some time later the fortune has smiled on us again and we got twenty free spins with the same multiplier again, but during this round, when it was almost over, accidentally we got lucky again to have a chance to play another twenty free spins. This way, our total win was 154 dollars by results of free spins.
This game has a very beautiful graphics. Dragon Gorynych, a hut on the chicken legs, a bogatyr which looks to the far and lots of other colorful images are presented here. The game is also rich of animation. However we don't like the Snow Mermaid, to be more exact, its animation, but it is a matter of taste. The Princess frog has a weird make-up here, but in general the design makes a good impression. Even letters and numbers - card symbols are designed in a fairy style with a curvy ornament. They seem to be covered by silk with flower ornament.
In this game you can meet «Free Games» symbol. When it drops at the first and the fifth reels, you can win twenty free spins and all the prizes you get during these rounds are doubled up.
Five Scatter symbols can bring you two hundred fifty bets, four of them - twenty five total bets and three Scatters give you five bets per spin and seem to drop out quite frequently.
«Skazka» slot machine is also provided with the gambling feature where you would have to pick red or black. You can take the current
win
and go back to the regular game or continue playing. The doubling limit of this round is one hundred dollars.
Symbols
The gaming symbols which you can see at the reels of «Skazka» slot machine are designed in style of old Russian fairy-tales, for example, the letters are in style of an ancient writings. Other symbols look like the characters of classic Russian folk takes, such as the golden fish, the bogatyr, the Princess Frog, the Dragon Gorynych, the Snow Mermaid and the hut on the chicken legs.
Scatter symbol of this game is an image of the Dragon Gorynych. Wild symbol is the hut on the chicken legs. The symbols of free spins has nothing original, it is just the proper title.
Skazka Bonus games
The bonus game of «Skazka» slot machine is the round of free spins.
Jackpots
The most valuable symbol of this game, which is paid out by the highest index is an image of the hut on the chicken legs. Five such symbols bring you the jackpot in amount of 10000 coins.
Skazka Interface
You can see the following controlling buttons at the bottom part of the interface of this game:
Spin – start a new spin.
Gamble – play in the gambling feature.
Bet Max – start a new spin by the maximal bet.
Bet per line – select an amount of the bet per line in coins.
Lines – select active lines.
Auto start – the automatic game mode.
Info – information about the game.
Conclusion
On our opinion, «Skazka» online slot machine is very generous for payoffs. We don't know how it is connected with the fortune, but we played three times and had good results every time.
Where to play Skazka for free or real money?
We recommend you to experience the atmosphere of the fairy-tale playing in
William Hill Casino
which very popular in the web, or you can also try less famous
Titan Casino
which always provides the customers with high quality of service.Your responses about «Skazka» slot machine would help us making Casinoz more interesting and useful for the readers. Please share your impressions in comments to the review and rate this game. Your opinion is very important for us.