General Description
Pontoon is a kind of American version of Spanish 21, which is often confused with British blackjack. That is why the latter can also be found under this title. In this article we are going to consider Pontoon, and British blackjack will be discussed in another article.
The 48-card decks without tens and jokers are used in this version of the game. This principle allows distinguishing two games, which are sometimes referred to as Pontoon, since the other variation is played using 52-card decks. The number of decks may vary from four to eight. The croupier uses a shoe or a shuffling machine to deal cards. It is possible to play at any blackjack table.
Aim of the Game
The aim of Pontoon is to score a 21 or the number of points that is as close to 21 as possible without exceeding it. If the total score is less than twenty-one points, it should exceed the score of the dealer.
Card Values
The value of cards in pontoon is similar to their values in blackjack.
Number of Players
The number of players is limited by the quantity of boxes at the table. However players can make combined bets on one box without exceeding the maximum limit.
Gameplay
Having shuffled cards and prepared them for the game, the dealer offers players to make bets. Then he deals them two cards and places one card face up. Players draw cards on the boxes one by one as long as they want. If a Pontoon or 21 is collected, he immediately pays for it. If the player exceeds 21, he or she loses.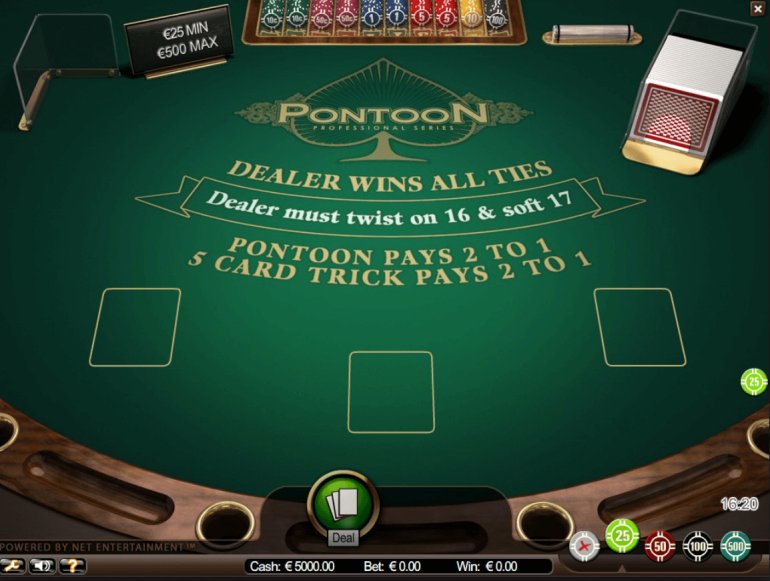 Then the dealer starts drawing cards. He hits on up to seventeen points. The dealer hits on a soft (with an ace) 17.
Winning boxes are paid 1 to 1, expect for special cases.
Special Payouts
Pontoon that is a two-card initially dealt hand that consists of an ace and any ten-value card is paid 3:2.
The five-card hand whose score is 21 is paid 3:2.
6, 7, 8 of different suits is paid 3:2.
7, 7, 7 of different suits is paid 3:2.
The six-card hand whose score is 21 is paid 2:1.
6, 7, 8 of one suit (except for spades) is paid 2:1.
7, 7, 7 of one suit (except for spades) is paid 2:1.
The seven-card hand (and more) whose score is 21 is paid 3:1.
6, 7, 8 of spades is paid 3:1.
7, 7, 7 of spades is paid 3:1.
Bonus payouts are not valid if you have doubled a bet.
Additional Rules
Users can also use the additional rules while playing. They are common for most versions of blackjack and other similar games. However they have some differences.
Split - It is allowed to split some cards (it is prohibited to split a king and an ace.)
Double - Users may double only on a 9, 10, or 11 if you have any number of cards. If you double on a soft hand, an ace is scored at 1 point. However if the dealer collects a pontoon, he will take only the initial bet of the player. It is allowed to double after a split (except for aces).
Surrender - It is allowed to surrender before hitting in case of any dealer's upcard. However if the dealer has a face-up ace or any ten-value card, a special marker will be placed on this box, and the remaining half of the bet can not be withdrawn till the end of the round. If the dealer collects a pontoon, the bet will be completely lost. Users can also surrender if they have doubled their bets. In this case, the dealer collects an amount that is equal to the initial bet.
Versions
According to the rules for Pontoon, at different casinos the dealer can draw two cards (one of them face down). The number of splits can be limited. The re-split of aces can be prohibited. There are also special rules for doubling the bet.
Statistics
If you play according to the basic strategy in the game with the rules mentioned above, you can reduce the house edge to 0.4% that is much lower than in classic blackjack.