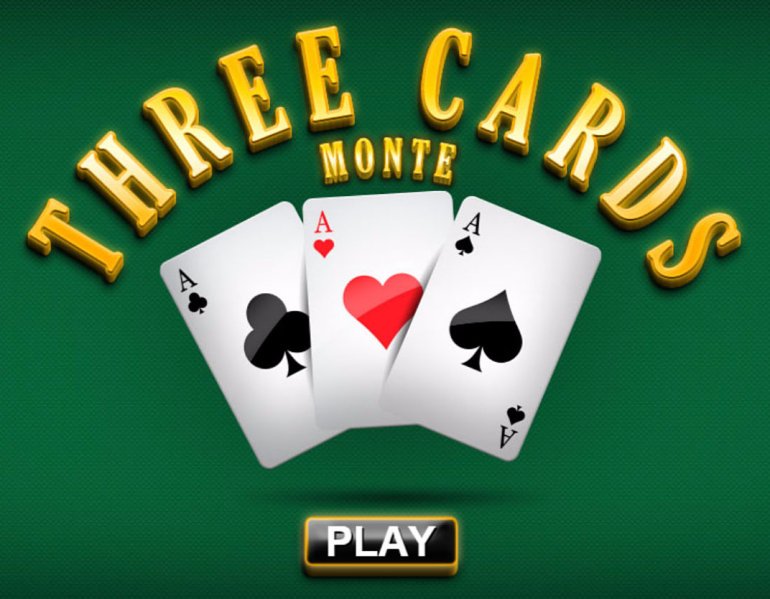 Three Card Poker is a quite new gambling game, which has been available at casinos since recently. However it has a lot of fans, and their number is growing. There is a detailed description of Three Card Poker rules on the portal Casinoz. Our site also provides detailed reviews of several online versions of this game released by different manufacturers of online gambling software.
We want to teach you how to choose the most profitable Three Card Poker, select the strategy to follow while playing, and avoid the most dangerous mistakes. In short, we will tell you everything you need to know about this kind of poker.
How to Choose the Best Variant of Three Card Poker
Talking about the best poker, we are implying the version with the most favorable rules. In other words, it is a variant that has the lowest house advantage.
It is quite easy, since the basic rules for Three Card Poker are almost the same (we are not going to pay attention to them again) at all casinos. The main differences are related to multipliers for bonus wagers and Pair Plus (PairUp) bets.
We want to offer you to familiarize yourself with the range of multipliers observed in some establishments.
Pair Plus
Pair - 1:1
Flush - 3-4:1
Straight - 5-6:1
Three of a kind - 25-40:1
Straight flush - 35-50:1
In some versions of Three Card Poker the Pair Plus bet is paid separately for a mini royal flush (queen, king, ace of one suit). The multiplier varies from 50:1 to 200:1. However payouts for other hands are usually low.
The most common multipliers are 1:1, 4:1, 6:1, 30:1, and 40:1, respectively. According to such rules, the house edge for the Pair Plus bet is equal to approximately 2.3%. Some changes can either increase or decrease this figure. For example, if payouts for a flush are reduced to 3:1 (other multipliers remain the same), the house edge rises almost to 7.3%. Therefore, it is important to pay attention to this factor while choosing a version for Three Card Poker.
Bonus
Straight - 1:1
Three of a kind - 3-4:1
Straight flush - 4-5:1
It should be noted that the high multipliers are more common in online establishments, so that you should not play Three Card Poker with low payouts. You should rather find another model.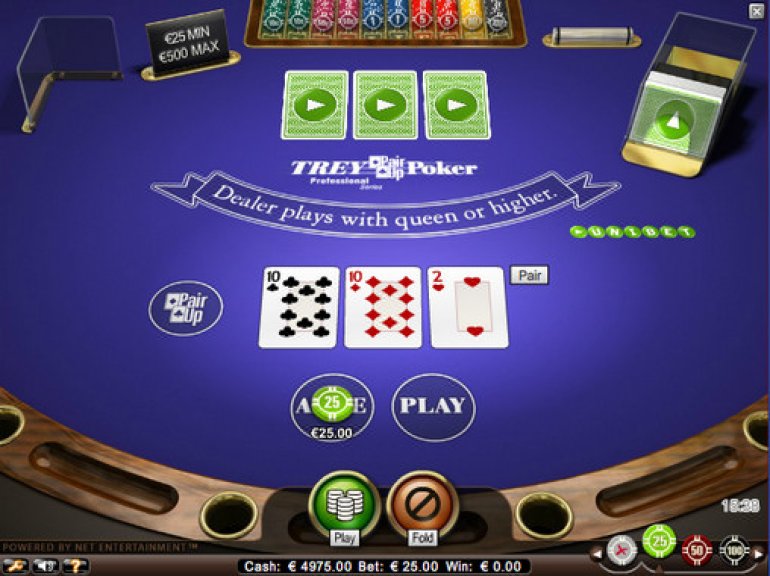 Some casinos may offer Three Card Poker with side bets that allow winning progressive jackpots. However they are very unfavorable to customers, so we do not recommend that you should make them. That is why we are not going to describe them.
Odds in Three Card Poker
There is no sense in paying too much attention to odds. We just want to remind you the probability of the formation of different hands in Three Card Poker with the mini royal flush.
No hand - 74.39%
Pair - 16.94%
Flush - 4.96%
Straight - 3.26%
Three of a kind - 0.24%
Straight flush - 0.2%
Mini royal flush - 0.02%
These figures may help to better evaluate your chances.
Three Card Poker Strategy
Common recommendations include an advice to select versions with the most favorable multipliers and non-progressive bets.
Making an ante, call when you have Q, 6, 4 and better (Q, 7, 4, or K, 3, 2, or Q, 6, 5, and so on). This strategy reduces the house edge to 3.37% in case of high bonus payouts (as mentioned above).
If you always call when you have a queen, regardless of the value of the other two cards, the house edge will rise to 3.45% (the difference is not very significant, so don't stuff your head with these useless details). If you raise on any cards, you increase the house advantage to 7.65%.
To sum up, we can make a conclusion that the best way to play Three Card Poker is to make a Pair Plus bet, choosing the version with the best multipliers.