 About
Abra-Kebab-Ra! online slot machine was developed by Microgaming company. First you can test a demo-version of this game. It is possible to download this video slot free and then start playing this slot machine online, getting profit from the real bonuses, but not from virtual.
Abra-Kebab-Ra! can easily become your favorite slot machine. It has everything necessary for it. Quick test of the demo-version can mess you a bit. At the first sight, it is quite simple. However, don't you think that everything is finishes here. We advise you to play this game longer and numerous options, hidden in this game, would pleasantly surprise you. Have you ever heard a proverb «All is not gold that glitters»? Well, in this case imperfectly suits the situation. As well as an ancient oily lamp, which became really valuable, this free online slot machine without registration can be the real golden bottom for you. In case of proper usage, you can get the same profit from it, as in «Arabian Nights» fairy-tales.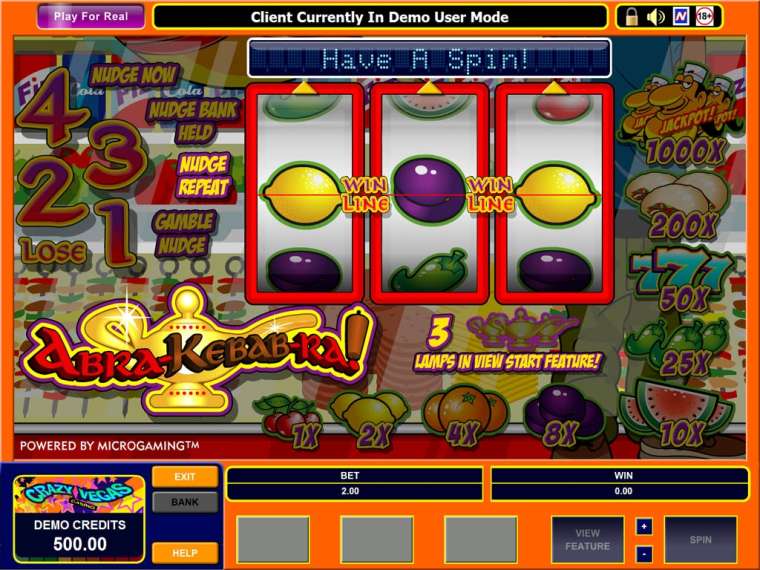 Play Abra-kebab-ra!
Abra-Kebab-Ra! slot machine has only one pay lines and it is possible to stake only one coin per it. However, you still have a small choice. You can select from eight different values of coins. Taking in account such feed data, a normal question occurs: what can we talk about, which can be winnings with such characteristics of video slot? Such games are good only for the very beginners! But please necessarily read the following review to understand that this game is worth of your time. As soon as you understand everything, you become interested in this game and love this slot machine. It is provided with Nudges and Hold functions, integrated bonus games and much more other exciting gaming options, which promise you great payouts.
Playing Abra-Kebab-Ra! slot machine is not difficult. The main options of this video slot are Nudge, Hold and Shifta! They are activated randomly. When Shifta! function is activated, you can hear «Your wish is you command» phrase. This expression is famous all over the world. And you have reasons to be glad, because the reels are starting to spin automatically and you are going to receive a good payoff.
The second interesting options of this game is Hold option. It is easy to guess how it works. You have a choice and you can select which reels to hold. You can stop spinning the reels for one round and hold them. It is also possible to hold the reels when you see to many symbols with an image of lamp at some of the reels. We would talk about this symbol below.
Probably, you think that the developer has finished his work on these options. However, you are wrong. We can happily inform you that the range of gaming options of Abra-Kebab-Ra! slot machine goes beyond it. The most interesting features are below. There is another wonderful option, which can be activated when three symbols with images of lamps cover other symbols at the reel. It is the bonus options - Hi/Lo Bonus Round.
In this round you are going to see three ladders: a red one, green and blue. In the bottom of each of the ladders you can see a small window, which displays numbers from one to twelve. Your aim is to make numbers spinning and guess which the following round is. Just imagine, for example, if you have number 11, the chances that the number is lower than 11 are high and it is an easy puzzle.
Correct answers would help you to go up by the stairs and receive a good prize. The red ladder increases your payoffs 2000 times. Can you imagine how this option increases a state of your bankroll? At the other side you can see the blue ladder. It is nudges ladder. Here you can get up to fifty nudges, which can be used in the main game, so spin the reels and make a desired combination. The red ladder also opens a door to other bonus options, which are integrated into the game. Isn't it wonderful? Probably now you think that all the games are messed in a heap, but it is not right. Just try and you see how it works. The gameplay is quite interesting and unusual. You wouldn't be disappointed for sure.
And now the last thing before we finish the review of the particularities of this game. Abra-Kebab-Ra! slot machine is provided with a Genie bonus option, which is activated after each three correct answers in guess-game. Using Help page you can find out how to move further and we would explain it in details as well.
In fact, you just need to wait till blinking stops and you can select the proper option.
In case, everything is very easy in this game. It is even strange that our explanations have taken so much space and time. Just start playing and you get it. Abra-Kebab-Ra! is one of the best slot machines in its kind. We highly recommend you not to lose an opportunity to play it for fun. Due to the numerous options you can see that your payoffs are essentially increasing.
Abra-kebab-ra! Symbols, Wild, Scatter
The gaming symbols of Abra-Kebab-Ra! slot machine are images of cherries, plums, watermelons, oranges, peppers, sevens, a genie, which is the most valuable symbols of this game, that it clear. You can see an image of a golden lamp in the corner of some symbols. Three lamps at the reels trigger the bonus option.
Abra-kebab-ra! Bonus games
There are following bonus options, which you can get in Abra-Kebab-Ra! slot machine:
NO LOSE: The following round guarantees a winning. If you stop at 1 or 12, you can use this bonus later.
REEL SKILL: You can use this feature to stop the wheel at the best numbers.
MULTILOAD: this option adds a random quantity of points to all stacks.
EXTRA LIFE: Here you can't lose if you receive one of these options.
EXTRA STEP: Please use these steps to move the wheel to the better number.
CHANGE NUMBER: This option changes number to make the following round better.
Talking about integrated bonus games, this video slot can offer you the following:
Abra-Kebab-Ra! - here you can see three lamps with multipliers. You have to choose one of them. While genie cuts meat, you can see fruits. All received prizes are multiplied by lamp multiplier and added to your winnings.
Kebab-a-rama! - After the winning you get another chance to receive a prize, which you can add to the total winning. If you lose this time, the game would be finished.
The Spice is Right - Here Hi/Lo wheel is spinning and stops randomly. Three numbers at the reels are summarized and you win this value, multiplied by the multiplier's bet. After it you get another chance to spin the wheel and repeat everything once again.
Turkish delight - it is a winning series. A random quantity of winnings is used here, while you can win the total quantity of all these winnings.
Lamb, bam! Thank you man! - Here you have to save your money and collect prizes.
Kofte up the cash - it is a bonus option in shape of roulette. The roulette spins around outside positions of the reels. Please use your skill to click stop and then the light would slowly stop at some of the fruits, which you get a prize for.
Pitta the action - the reels are spinning and you have to stop it. Please hurry up: if you don't make it, they would stop randomly.
A load of shish - a game in «spin and win» style.
Round & round - here the reels are spinning. Every symbol at the winning line adds one position to the ladder until the reels are stopped. Then you can win the largest prize, which is highlighted in the payment table.
Been There, Doner That - a game in «Spin and win» style. You can see the winning series one after another. You can collect one these prizes or wait the following, which can be higher. But don't wait to long, don't be greedy!
Burger me! - Here you have to stop a fruit and get a prize for it.
Jackpots
The jackpot of Abra-Kebab-Ra! slot machine is 1000 bets. The jackpot symbol is an image of a genie.
Abra-kebab-ra! Interface
The interface of Abra-Kebab-Ra! video slot is designed in the oriental style and is lighten up with gloss of a golden lamp. Drawn behind the name of the game, it became the logo of this slot, which is quite successful. The genie is designed in quite a humorous way. It look more like a Caucasian from the market.
The reels take just a part of the interface. At one side of them you can see the list of options, at the other side and in the bottom the payment table is situated.
In the bottom of the control panel you can see only Spin button, which starts a new round. Next to it «View feature» button is situated, which lets you see the bonus game of Abra-Kebab-Ra!.
Conclusion
Abra-Kebab-Ra! is a colorful game, which is going to surprise you with unpredictability and variety of gaming options. Time goes fast playing this game. We like the dynamic gameplay and the genie with golden ring on its finger. You can try to find something for you in this video slot.
Where to play Abra-kebab-ra! for free or real money?
You can find your genie in Crazy Vegas online casino and it gives you everything you wish. Abra-Kebab-Ra! is a free online slot machine, while you can receive the real prizes only while playing by the real money.
Please share your impressions of Abra-Kebab-Ra! slot machine with us and other readers of Casinoz. You can write your responses in comments to the review and rate this game. Your opinion is very important for us.