 About
The article "Versions of American blackjack" published earlier on the portal Casinoz covers the three most popular versions of this game that are available in brick and mortar casinos of the United States. We are going to remind you that these versions include Atlantic City Blackjack, Vegas Strip Blackjack and Downtown Las Vegas Blackjack.
Microgaming released dozens of online games, which were virtual analogues of numerous variants of blackjack. There are also models with American rules among them. In this review we are going to discuss the game called Atlantic City Blackjack Gold from the excellent Gold Series.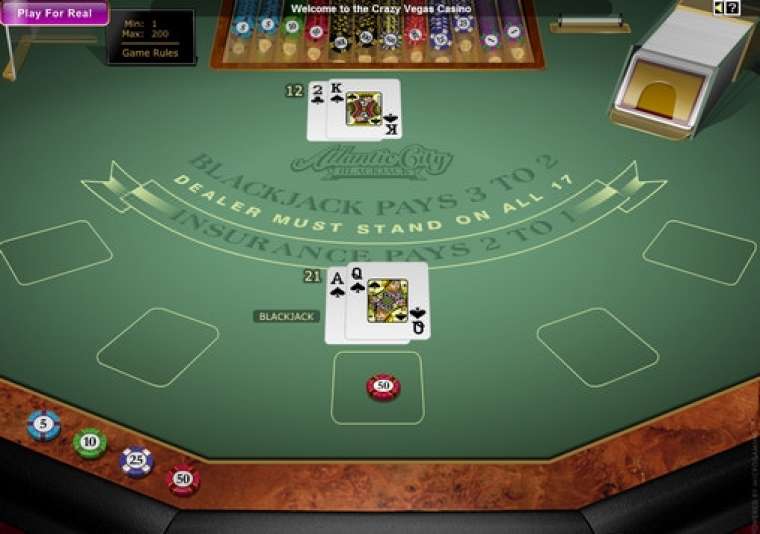 Play Atlantic City Blackjack Gold
Atlantic City Blackjack Gold is a free American online blackjack, which is played according to the rules adopted in Atlantic City.
Eight standard 52-card decks with no jokers are used in this game. The cards are shuffled before each deal.
You can wager only on one box. The betting range varies from one to two hundred dollars at Crazy Vegas Casino.
There is no need to discuss the rules for blackjack in detail, since they are available in a special section of the portal Casinoz. Therefore, we are going to focus only on the basic aspects:
The croupier deals two cards to himself and checks for blackjack if the upcard is an ace or a ten.
The dealer stands on any 17.
It is allowed to double on any two cards.
It is allowed to double after a split.
It is possible to split three times till the formation of four hands.
It is possible to split different ten-value cards.
Aces can be spilt only once and only one card is added to each of them.
Hands that are formed after a split can not give blackjack.
It is allowed to surrender and insurance against blackjack is provided.
The standard payouts are valid in Atlantic City Blackjack Gold:
Ordinary winning hand - 1:1
Blackjack - 3:2
Insurance - 2:1
Such rules for blackjack are valid in land-based casinos of Atlantic City.
Atlantic City Blackjack Gold Bonus games
Atlantic City Blackjack Gold does not offer bonuses.
Jackpots
Progressive jackpots are not provided in Atlantic City Blackjack Gold.
Atlantic City Blackjack Gold Interface
The design of Atlantic City Blackjack Gold immediately allows guessing that this game is from the Microgaming Gold Series. We are not going to explain the function of one or the other button. Anyone who knows how to play blackjack is familiar with all the terms, which are provided in it.
If you hover the mouse cursor over a board with the indicated betting range, the pop-up window with the brief description of rules appears.
Atlantic City Blackjack Gold has basic user settings. It is possible to disable various parameters of sound, to activate automatic rebet mode and to increase the game speed. Users can also discard cards in the discard tray.
The optimal strategy table is not available in Atlantic City Blackjack Gold.
Conclusion
Atlantic City Blackjack Gold is an excellent flash version of Atlantic City Blackjack. If you like such rules, this game will be suitable for you.
To improve your skills in blackjack, read publications on the portal Casinoz.
Where to play Atlantic City Blackjack Gold for free or real money?
Crazy Vegas Casino is one of the best online casinos, which provide the opportunity to play Atlantic City Blackjack Gold both for free and for real bets. Users can also find the game in the other establishments running on software released by Microgaming. Readers of Casinoz have the opportunity to test this blackjack without registration in free mode.