 About
If you read the previous reviews of online games, published at casinoz.me in different time, you would be hardly surprised by free online slot machine, where the part of the gaming symbols is played by gem stones, burning after the combinations are made. Such models can be found in the gaming assortments of different software producers and, as a rule, are quite popular among the gamblers.
One of such video slots (in spite of the fact that we write about it just now) is Bejeweled game, which was released by Cryptologic company.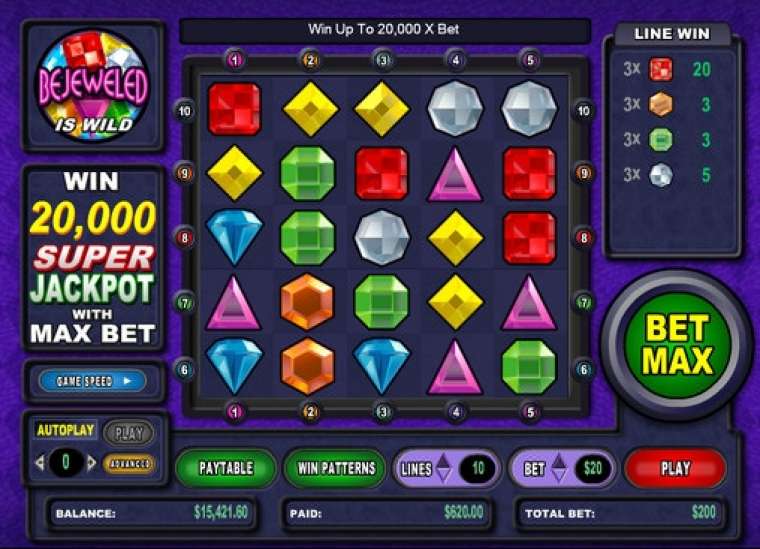 Play Bejeweled
There are no traditional reels in Bejeweled slot machine. The screen of the game is a squared net of twenty five cells, which are filled with gem stones dropping from above. There are ten pay lines in this game: five vertical and five horizontal. Any quantity of lines can be activated by the player.
Playing Bejeweled slot machine is possible by the bet in range from ten cents to twenty dollars per line. This way, it is possible to stake up to two hundred dollars per one round.
The winning combinations of Bejeweled slot machine are formed of three and more similar stones, situated next to each other at the active line horizontally and vertically. The payoffs by the combinations are transferred to the player's account and then the symbols disappear and gem stones, situated above them, move to the free places, while new symbols drop out from above. This process continues until there are no combinations at the screen.
The payoffs are calculated by multiplying the bet, staked per one line, by the index of formed combination (up to x500 by the standard symbols). The winnings by all lines are summarized and only the highest combination by each of them is charged with payoff.
The gambling feature, which could double up the payoff, is not provided by the rules of Bejeweled slot machine.
Symbols
As it was already mentioned above, the symbols, imaged at the screen of Bejeweled slot machine, are ten stones of different shapes and colors. There is also Wild symbols in Bejeweled game, which is able to replace other symbols in the combinations. It is an image of the logo of Bejeweled slot machine. Moreover, this symbol gives an opportunity to fight for jackpots.
Bejeweled Bonus games
Any thematic bonus games are not provided by the rules of Bejeweled slot machine.
Jackpots
Several jackpots of fixed amount are raffled in Bejeweled video slot, such as:
Five Wild symbols at lines from first to ninth give a payoff by x1000 index.
Five Wild symbols at the fifth line and any five similar symbols at the lines from sixth to tenth give a payoff by x8000 index.
Five Wild symbols at the tenth line (the top horizontal one) - a payoff by x20000 index.
A progressive jackpot is not raffled here.
Bejeweled Interface
The interface of Bejeweled slot machine is available only in English language. There are lost of buttons and windows at its control panel, so we would like to explain its functions. The following tips would be useful for there beginners:
Play - start a new round.
Bet Max - start a new round by all active lines.
Bet - select an amount of the bet.
Lines - select a quantity of active lines.
Win Patterns - look through the pay lines.
Paytable - look through the payment table.
Autoplay - an automatic game mode.
Game Speed - choose speed of the game.
Balance - a state of the player's account.
Paid - an amount of the payoff.
Total Bet - an amount of the total bet.
Right to the main screen you can see the table, where the winning combinations appear. It is possible to switch off the voice of the dealer in the user's settings of Bejeweled slot machine, as well as sound and animation.
Conclusion
Bejeweled is an unusual video slot, which has little in common with slot machines of traditional kind. First of all, it is recognizable by function which lets other gem stones appear at place of the symbols, included into the combinations, so one round can last for indefinite time, bringing numerous payoffs.
Where to play Bejeweled for free or real money?
Bejeweled video slot is available in different online casinos, powered by the software developed by Cryptologic company. All of them provide an opportunity to play by the real money as well as by the virtual bets. Moreover, you can launch this slot machine even without registration in a training mode right at casinoz.me.
Please share your impressions of Bejeweled slot machine with us and other readers of casinoz.me. You can write your responses in comments to the review and rate this game. Your opinion is very important for us.