 About
Cash Hunter is a game, which shows us a hunter, which went to safari. As soon as you launch this slot machine, you would see him driving his car by the desert sands. He is equipped quite impressively. A spare lies right inside of the car, while you can see petrol barrels on the roof. The hunter in glasses and safari hat is in a desperately decisive mood. Well, for you it's also time to prepare for winnings, which you can receive playing Cash Hunter slot machine in an online casino!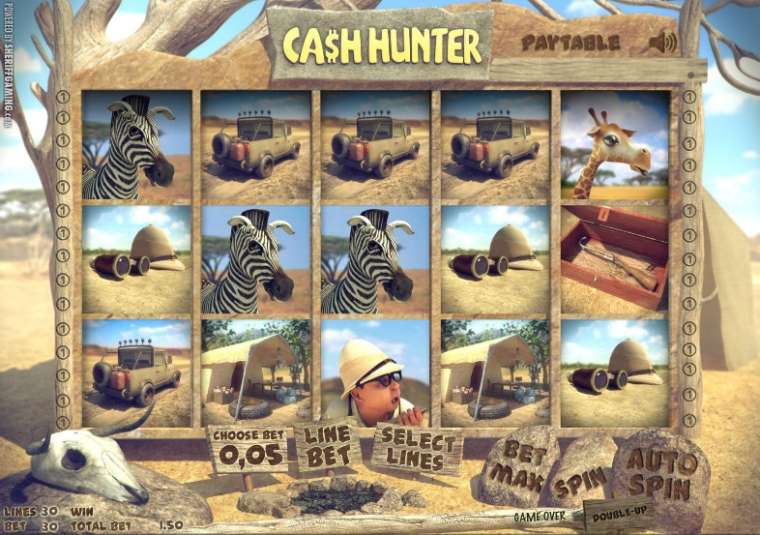 Play Cash Hunter
Well, it is a hard job to go by steps of those who were burnt by sun rays. Here you can see graves of gone animals, while the buttons are imaged in style of grave stones and signs, which are standing in the ground at the graves. However, don't be desperate, but go forward bravely, as well as the hunter from Cash Hunter slot machine.
Cash Hunter video slot has thirty pay lines and five reels. It is possible to stake from one cent to one dollar and win in this game. You can stake up to five coins per line.
Wild symbol of this model is an image of the hunter. It can replace symbols with images of a gun, a lion, a giraffe, a zebra, a tent, a car and a hat with binocular, which are lying at the sand.
Scatter symbol is an image of a map with a flask and watches, a kind of hunter's set. You can receive thirty free spins for such symbols in case five Scatters appear anywhere at the reels. Meanwhile, you would be granted with twenty free spins for four Scatters dropped out in Cash Hunter slot machine. Three such symbols with images of hunter's stuff would bring you ten free spins.
The round of free spins start automatically and everything you have to do here is to follow the events.
The prizes for Scatter symbols are also quite generous. The highest is 250 coins. It is possible to receive extra spins as well, to be more exact - thirty free spins when five Scatters appear at any position of the reels or twenty spins for four such symbols.
An expanding Wild symbols of this game appears only at the third reel.
Symbols
The gaming symbols, which you can see at the screen of Cash Hunter slot machine, are images of a zebra, a giraffe, a safari hat, a hunter's tent, a hunter's car, a lion and other stuff necessary for safari. The most valuable symbol of this game is an image of a gun.
Cash Hunter Bonus games
During the bonus game of Cash Hunter slot machine, which is the round of free spins, you can enjoy wonderful prizes, including 5000 coins fro five symbols of the hunter or 1000 coins for five symbols of a gun.
Jackpots
It is possible to receive the jackpot of Cash Hunter video slot for five symbols of the gun at the screen. An amount of the jackpot is 1000 coins. This symbols is second by its value and can bring you 500 coins.
Cash Hunter Interface
The interface of Cash Hunter slot machine is quite realistic and the hunter is very funny. Actually, he doesn't look like hunter at all. Just a four eyes with a belly. It seems that he has get into the desert by mistake, but it is obvious that he is not going to turn back. Every time lucky combinations are formed at the reels, which bring you some winning, the hunter confidently says: «Oh yeah!». Joint efforts can easily lead you to the winning, so keep trying together with the main hero.
You can see the following controlling elements at the control panel:
Choose Bet - select an amount of the bet per line (you can change it by click).
Line Bet - an amount of the bet per line.
Bet Max - start a new spin by the maximal bet.
Spin - start a new spin.
Auto Spin - activate an automatic spin.
Double Up - play in the gambling feature to double up your winning.
It is very convenient to play Cash Hunter slot machine in the automatic game mode. If you want to enjoy the gameplay, you can click at «Spin» button and start every new spin manually. An amount of the maximal bet of this game is 150 coins. It is the way to receive the maximal winning and it perfectly suits the high-rollers.
There is also the gambling feature, which can help you to increase your winning. Here you would have to stake per red or white. Such strange selection of colors is caused by the fact that the hunter spins the compass arrow where you can see such colors. You can wether win in this game and double up your prize, you lose it all. It is a very gambling round for those who are ready to risk. For example, I have won seventy five dollars, took part in the gambling feature and staked per white. I was lucky an my bet has been doubled up and brought me profit in amount of one hundred fifty dollars. I decided not to continue and clicked at Collect button.
Conclusion
We have good impression of playing on Cash Hunter slot machine. The main hero is designed perfectly, as well as all the rest participants of the game. The animation is lively and funny. The giraffe cranes his neck surprisingly, the lion is roaring, the zebra is nickering like a horse, while our scared hunter turns into expanding symbol at the third reel like if he was trying to cover from somebody. Actually, there is nothing surprising - many wild animals are looking at him from the rest reels. We also like ground squirrels, which are situated next to the controlling buttons and laughing. In the other words, this slot machine is quite lively and interesting. You can forget about everything while playing, but please don't forget that your aim is not just to enjoy the game, but also to win while staking. By the way, there is nothing difficult in winning playing this game, so you should try your fortune.
Where to play Cash Hunter for free or real money?
You can play Cash Hunter slot machine in Jackpot Red online casino, which invites everybody interested in this game to make safari in Africa.
Please share your impressions of Cash Hunter slot machine with us and other readers of casinoz.me. You can write your responses in comments to the review and rate this game. Your opinion is very important for us.